Joe Paterno Retiring: What's the Mood Like in State College?
November 9, 2011
Rob Carr/Getty Images
Happy Valley is a quiet, peaceful, typical college town.
The heart and soul of the town is the football team, run for the last 45 years by the same man in a blue tie, khakis and oversized glasses. Joe Paterno, more commonly known as JoePa, is the face and embodiment of the Penn State football program.
He has stressed that he and his program "win the right way" and the classic blue and white jerseys go to show that no one is bigger than the program. This past week, those very values have been shaken to the core with Joe Paterno's statement that this will be his last season as coach of the Penn State Nittany Lions. 
While the fog of speculations swirl around the University, there is another group that has been often overlooked: the student body. These are the students who fill Beaver Stadium, wear their Penn State gear with pride and make Happy Valley ring with the cries of "WE ARE PENN STATE."
These are the students also hurt the most.
As Ryan Naylor, a freshman explained, "I feel shocked and disappointed, I've grown to love this school, and it's hard to believe some of the things that have happened."
Now that a few days have passed, the anger has also set in for alumni and parents. Chris Andrews, who runs the @AndrewsSports Twitter feed, said, "My daughter is a Penn St grad. I love the school. Man, they are (expletive) this up beyond belief."
"I feel angry at how school officials handled the situation. I would like to see president Graham Spanier resign and all other school officials who didn't do anything be held accountable" says Naylor.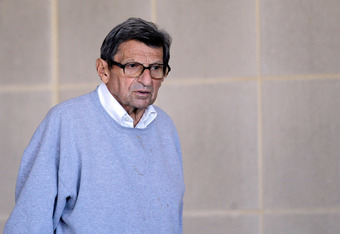 Rob Carr/Getty Images
But then where does this leave Joe Paterno? The support of the student body is behind Joe Pa.
As Naylor says "he did what he was legally responsible to do" One student, who wishes their name kept private, said "All I know for sure is students are supporting Joe… I think a lot of people will agree he helped make the University what it is today."
"It is very clear that the majority of students want Joe Pa," said Riley Stetson, another freshman at Penn State. "I know it sounds kind of weird, but he's kind of like a grandfather to me. My family went here, my grandparents got married here, I've been coming to games since I was little, watching Penn State is a huge tradition for me and watching Joe retire like this is sad."
Only history will tell us if Joe Paterno is remembered like the grandfather to many or his fellow Big Ten legend Woody Hayes in the years after this scandal has run its course. This is a man who according to freshman Laura Wheeler is "Not only a football coach but an inspirational person to us all. even though he will no longer be coaching he will still be in the spirit of every single WE ARE! chant."
Being from Pennsylvania, I have been to State College a couple of times, still wear my "Linebacker U" shirt and love seeing the Paterno masks on fans during white outs. State College, a town rooted in traditional family values and an unyielding pride for their school, will not feel the same in the near future.
It is disheartening to see how the actions of one man, the neglect of a great man, and the deceit of a few authoritarians has left a scar in Happy Valley.
But life will go on.
Time will heal.
And as Ryan Naylor reminds everyone, "We are STILL Penn State."
Andrew Pregler is a Contributor for Bleacher Report. Unless otherwise noted, all quotes were obtained first-hand.