Big Ten Title Watch: Mapping the Road to Indianapolis for Each Contender
November 9, 2011
Justin K. Aller/Getty Images
The Big Ten title race took another strange turn this week as two Legends division teams suffered serious setbacks and Iowa jumped back into the driver's seat after an inexplicable loss to Minnesota the previous week.  
Let's take a quick look at each of the teams vying for a championship spot in Indy.
The Front-runners:
Penn State 5-0
Remaining games: vs. Nebraska, at Ohio State, at Wisconsin
Controls its Destiny? Yes.
Penn State had a bye week to prepare for the three-game gauntlet that is coming to end the season.  
The Nittany Lions have the hardest schedule, but the largest margin of error out of all the teams trying for a chance at the conference championship game. Penn State needs only two wins out of the remaining three games, but each team on the schedule has already played at least two of the Big Ten's upper tier.  
So far, Penn State has played arguably five of the worst six teams in the conference.
Prediction for this week: Penn State gets the win as Nebraska's offense is shut down and Penn State's offense does just enough. The Nittany Lions stay in the driver's seat for the division title for the time being.
Michigan State 4-1
Remaining games: at Iowa, vs. Indiana, at Northwestern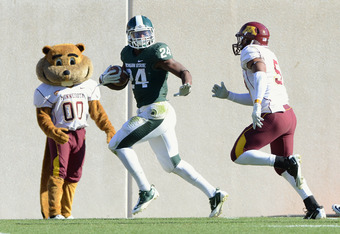 Mark A. Cunningham/Getty Images
Controls its Destiny? Yes.
Of all the teams that benefited from the crazy week in the Big Ten, Michigan State arguably got the most good news. The Nebraska loss now renders the Husker tie-breaker immaterial if Michigan State wins out, and the loss by Michigan puts the Wolverines a full two Michigan State losses away from a shot at the title.  
While wins by Iowa and Northwestern, combined with the Spartans' escape from Minnesota, indicate the Legends division will be closer than originally thought, Michigan State has the easiest path of all four Legends division hopefuls, thanks to a game against Indiana.
Prediction for this week: My gut tells me Michigan State wins and exorcises quite a few demons from Iowa City. But, my heart tells me Iowa has a few more tricks up its sleeve. Have to go with my gut—Spartans win and all but lock down the division.
Iowa 3-2
Remaining games: vs. Michigan State, at Purdue, at Nebraska
Controls its Destiny? Yes.
Losing to Minnesota put Iowa's back to the wall in the conference race. The Hawkeyes had two conference losses, no room for error and games against the three other teams fighting for the Legends division title. However, a win against Michigan has all but launched Iowa back into the thick of the race. Iowa still has to win out, but getting Michigan State at home is a huge advantage in the short term.
Prediction for this week: As stated above, Iowa just doesn't have enough to overcome Michigan State at home.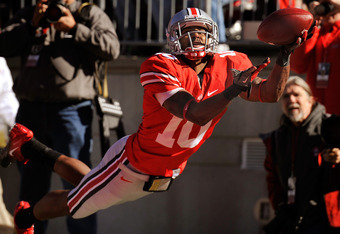 Jamie Sabau/Getty Images
Waiting on a Loss:
Ohio State 3-2
Remaining games: at Purdue, vs. Penn State, at Michigan
Controls its Destiny? No. Needs a Penn State loss.
The Buckeyes continue to hang around in the race for the Leaders division, and with a little luck could be next in line for the title game berth. While Ohio State has two tough games to finish the season, a win against Penn State will provide a valuable tiebreaker if Penn State loses against either Wisconsin or Nebraska.  
Furthermore, Ohio State's win over Wisconsin means that as long as Ohio State wins out, it is in line before the Badgers. While the Nittany Lions control their own fate, Ohio State has arguably a better shot at the trip to Indy.
Prediction for this week: Ohio State beats Purdue. Period.
Nebraska 3-2
Remaining games: at Penn State, at Michigan, vs. Iowa
Controls its Destiny? No. Needs a Michigan State loss.
Nebraska was sitting pretty, but an upset loss to Northwestern turned the division race on its head and gave the advantage to Michigan State. Now, not only does Nebraska have to worry about navigating a tough schedule that includes road trips to Happy Valley and Ann Arbor, but Nebraska also has to do it all knowing that without a loss by Michigan State, the title game is out of reach.
Eric Francis/Getty Images
Prediction for this week: Nebraska struggles on the road in Happy Valley and is permanently removed from the conference race.
Waiting on a Miracle:
Wisconsin 3-2
Remaining games: at Minnesota, at Illinois, vs. Penn State
Controls its Destiny? No. Needs both Ohio State and Penn State to lose once.
Wisconsin got things back on track this week, but it could very well be too little too late. The Badgers not only have the most favorable schedule of the three Leaders division challengers, but also the longest shot at the title game. While Penn State or Ohio State is guaranteed one loss in their matchup, Wisconsin is still hoping for a very specific set of outcomes over these next three weeks to set up a tiebreaker scenario that Wisconsin would be able to win (e.g. a tiebreaker with Penn State, not Ohio State).
Prediction for this week: Wisconsin wins and lives to hope another day.
Michigan 3-2
Remaining games: at Illinois, vs. Nebraska, vs. Ohio State
Controls its Destiny? No. Needs Michigan State to lose twice.
Michigan is by all rational measure, out of the race for Indianapolis. Michigan State needs only to win two games in a schedule that includes Indiana and Northwestern. Even then, Michigan would still have to win a game in Champaign before sweeping home games against Nebraska and Ohio State. The Big Ten is crazy, but it ain't that crazy.
Prediction for this week: Michigan wins and it doesn't matter because so does Michigan State.