Miami Dolphins: Kim Kardashian to Blame as Suck for Luck on Life Support
November 6, 2011
Peter Aiken/Getty Images
With the Miami Dolphins pulling off an upset of a win (and "Suck for Luck" fans are surely upset) against the Kansas City Chiefs on the road (in the "loudest stadium in the NFL"), the Suck for Luck fan campaign is in serious jeopardy. 
The Indianapolis Colts, who are in the driver's seat for a potential tiebreaker, did what they do best this season, lose. The Colts lost another game Sunday afternoon against the Atlanta Falcons, 31-7.
If the Miami Dolphins were to lose out on Andrew Luck, look no further than Kim Kardashian as the reason why the team will lose out on a franchise changing quarterback.
Last week, reports were spreading that Bush met up with Kardashian at BAR MASA, a sushi restaurant in New York City when his team was in town to face the Giants. 
Bush would go on to rush for 103 yards (second 100-yard rushing game of his career) on 15 attempts in a game that nearly gave Miami its first victory.
Albeit, Bush had his first 100-yard rushing game against the same Giants squad, but nevertheless it came after his October 29th meeting with his ex who was legally married to NBA forward Kris Humphries at the time. 
Bush's good fortune did not stop on Sunday as his big runs moved the chains for the Dolphins leading to touchdown throws by Matt Moore and a rushing touchdown by Bush himself. When it was said and done, the Dolphins won 31-3 and Bush had 13 rushes for 92 yards and three receptions for 50 yards.
The Dolphins are not only a game behind the Colts for the coveted quarterback, but it now is amongst the group that includes the Seahawks, Broncos and Cardinals for teams who may pursue a quarterback in the first round of next April's draft.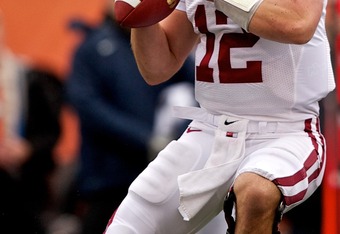 Craig Mitchelldyer/Getty Images
Considering the remainder of their schedule, the Dolphins can very well get a few wins if they ride Reggie Bush's new mojo. What was thought to be a difficult schedule down the stretch might now be a bit easier against teams like the Redskins, Raiders and Bills (twice) who might prove to be favorable for Miami. 
As for more conspiracy theories, maybe the Dolphins were wowed by Matt Barkley's performance in the games against Stanford and Colorado enough to let the Colts have it with Luck and deal with a dilemma down the line involving him and Peyton Manning. Barkley threw for a USC-record six touchdowns this past weekend and is making a steady climb on draft boards. 
Perhaps Bush wants Barkley, a fellow USC player to play with the Dolphins next season? Would Barkley be receptive to the notion of playing with a player primarily responsible for USC's ineligibility in bowl games this season, a season in which the Trojans are playing well enough for one?
Whatever the case, the Dolphins are continuing their same old habits, going for mediocrity and not taking advantage of the opportunity to change the franchise with a rare commodity in  Luck.  
It will now be time for fans to come up with a catchy phrase for the other quarterback prospects, "Fall Flat for Matt?" "Park for Barkley?" "Blow for Jones?" "Losing for Landry?"
We will soon see if fans take to these soon or mourn their lost shot at Luck.