New York City Women's Marathon 2011: Ethiopa's Firehiwot Dado Shines in NYC
November 6, 2011
Ethiopa's Firehiwot Dado came from behind in epic fashion to snatch victory from Mary Keitany of Kenya.
The New York City marathon isn't Dado's first marathon win by any means, but it's certainly the most significant one of her career thus far.
It didn't come easily. She had to battle from behind to catch not only a falling Keitany in Central Park, but also fellow Ethiopan Buzunesh Deba.
Dado's final time was 2:23:15, with Deba narrowly missing the win with a 2:23:19 finish of her own.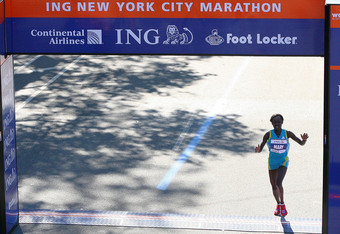 Keitany continues to come up just short. She's made a habit of becoming a bridesmaid and never a bride at this marathon, coming in third for the second year in a row in a grossly disappointing outing, given her high expectations coming into the race and a quick start.
It seemed for some time that she would actually take it all. She was out to such a significant lead, it didn't look like Dado, Deba or anyone else would have the closing speed to catch her.
It became clear in the later miles that Keitany couldn't keep up the blistering pace she set for herself. Dado pulled ahead, followed closely by Deba. This is a painful loss for the second- and third-place runners, but both can be proud of the efforts they put forth.
The competition was fierce, but in the end it was Dado who was able to dig deep and pull out a win.