MLB: Former Oakland A's Owner Charlie Finley Should Be Elected to Hall of Fame
November 5, 2011
Getty Images/Getty Images
Consideration of an owner of a baseball team for the Hall of Fame is not easy. After all, for the most part, owners are simply men who happen to have the fortune and business savvy to purchase a sports franchise. Their sports acumen is sometimes not necessarily strong; their taciturn presence can be anonymous, and their influence on the team's day-to-day competitive success is rather nonexistent.
Most of the time.
So it can be difficult to assess the true value of a singular owner and how that value translates to their overall legacy on their team and, moreover, throughout sports in general.
That does not apply to Charlie O. Finley, however, the former owner of the Kansas City and Oakland Athletics, who is eligible for election into the Baseball Hall of Fame as a candidate on this year's Golden Era Ballot. In fact, his ownership featured enough famous—and infamous—moments, they could garner Hall-of-Fame candidacy all on their own.
Finley purchased a majority stake in the Kansas City Athletics in 1960 and soon applied his natural-born sales ability to his floundering franchise. In an age that may have been thin with boisterous advertising agencies and bereft of the ample public relations managers, Finley himself was the entire marketing department—and more. He did it all.
Recognizing that his team needed more fans, Finley employed a gimmicky approach to increase the turnstile traffic. To boost attendance, he utilized every imaginable—and unimaginable—marketing ploy in the book. He brought in a mule as a pseudo-mascot. Used orange baseballs during games. Signed a designated runner on his roster. He even held a moustache-growing contest among his players.
All in an effort to draw attention to his team, even in the midst of poor on-field performance. It was obvious that Finley cared a great deal about the business and success of his franchise and had his fingerprints on almost every aspect of his team's output, both from a competitive standpoint and a promotional one as well. But his impact on the game of baseball extended far beyond his own clubhouse.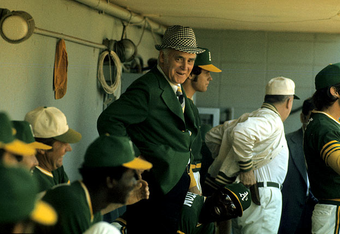 He also was one of the main advocates for the American League's adoption of designated hitter in 1973—a move that he felt would improve the excitement and action of the slow-paced sport. He also provided a formal alias to the team—the A's—in 1970, giving the stodgy Athletics name more panache. And his introduction of the Athletics' famous green-and-gold uniforms colored up the MLB palette. He was always looking for ingenious ways—and cheap ways—to improve the movement and appearance of the game.
Throughout all of his P.T. Barnum to enhance his team's exposure and his profit margin, Finley also found time to field a winning team. In his 20 years as owner of the A's, his once-moribund squad won five straight division titles and three consecutive World Series championships, from 1972-74.
Finley also was the farmer of homegrown talent that included Hall of Famers Rollie Fingers, Catfish Hunter and Reggie Jackson. So to say he was all business was only partly true. He did care about winning. He just made sure that winning helped contribute to his bottom line.
In many ways, Finley was the baseball equivalent of his intercity contemporary, Oakland Raiders owner Al Davis. Both were mavericks who helped their respective sport evolve. Both loved their teams to a fault. Both rubbed their personnel the wrong way.
Finley is as famous for his miserly relationships with his players (after his three World Series titles, he broke up his team and fired his manager after losing the 1975 ALCS) as he is for his talent as an owner. But nobody can discount his involvement on the transformation of the game of baseball.
His salesmanship generated bright new ideas to promote his ballclub. Those new ideas were innovative influences. Those innovations became revolutionary. And his revolutionist approach made him a legend.
The Golden Era of baseball is deemed from 1947 to 1972, and any players, managers, executives and umpires are available for selection by a 16-member committee appointed by the Hall of Fame Board. Voting is set to take place on December 5th.
Here's hoping that Finley is appreciated for his imprint on the Oakland Athletics as well as his contributions to America's pastime.