NFL Week 9 Picks: Favorites That Will Leave Betting Lines Way Behind
November 4, 2011
Gregory Shamus/Getty Images
The spread—it's what goes on a bagel and what gets beaten around by NFL teams on a weekly basis (just like the Indianapolis Colts and the Miami Dolphins).
Imagine that.
It's even easier to imagine these three teams soundly ditching their respective spreads for sizable wins this weekend.
(Note: all betting lines are courtesy of sportsbook.com)
Atlanta Falcons
The Colts' average margin of defeat this season exceeds 16 points per game, yet they check in just seven points behind the visiting Falcons in Sunday's lines.
Granted, much of Indy's margin can be attributed to that ghastly 62-7 loss in New Orleans a couple weeks ago.
However, the Falcons seem to have found themselves again, picking up back-to-back wins before their Week 8 bye. Matt Ryan and the Atlanta offense has had an unusually rough go of things this season, but should find Indy's defense a fine remedy for what ails them.
If you think Indy can beat the spread in its favor, consider that the Colts have lost by less than a touchdown only twice this season. And that was before the season was completely hopeless.
Kansas City Chiefs
As for that other winless team, the Dolphins seem headed down the very same path on which the Colts currently find themselves.
After hanging tough in most of their games this season and nearly pulling out wins in their last two since an embarrassing 24-6 loss to the Jets, the Fins might just be ready to phone it in for Andrew Luck.
All the better for the Chiefs, who once looked to be on that track before winning each of their last four games to force a tie atop the AFC West. Matt Cassel certainly won't mind throwing against the NFL's 27th ranked passing defense, or picking up a fifth consecutive win for that matter.
As for that four-point spread, KC should be able to beat that too.
San Francisco 49ers
Usually, there's significant danger in picking a West Coast team to beat the spread when playing on the East Coast, much less winning.
But these circumstances are peculiar, indeed. The 49ers have won each of their three games in the eastern time zone this season, yet are favored by only 3.5 points against Washington.
The Redskins dropped each of its last three, including an embarrassing 23-0 defeat to the Bills, tempered only by the fact that it was suffered in Toronto.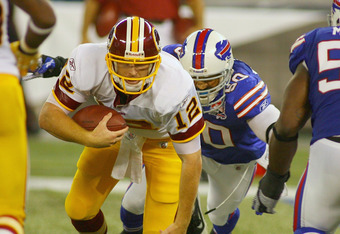 Rick Stewart/Getty Images
Whatever that means.
Washington would be lucky to find the end zone even once against a stout San Francisco defense, regardless if John Beck or Rex Grossman is calling the shots under center.
If the 'Skins can't throw the ball against the Niners, they'll be hard-pressed to find any room to run against the league's stingiest rush defense.
What I'd like to know is, how the Niners possibly win by fewer than 3.5 points in this one.