LSU vs. Alabama: Predicting Value for Each Key Element
November 3, 2011
Jamie Squire/Getty Images
By now you probably know this—LSU and Alabama will play in a football game Saturday night that's been talked about since it became clear that the two schools are alone on college football's premier tier.
Writers and talking heads alike tend to recite the same clichés about the otherworldly abilities of Alabama RB Trent Richardson, the speed and tenacity of both defenses and the past successes of both of the game's head coaches, both charismatic and otherwise. This is generally followed by a score prediction with little to no explanation at how they've arrived at their arbitrary numbers.
I may not be right, but damn it, it's time to predict and defend the reasoning behind each specific point going on and coming off the scoreboard in my prediction. Also, I know it was your understanding that there would be no math in my columns, but I lied.
Les Miles (Coach, LSU)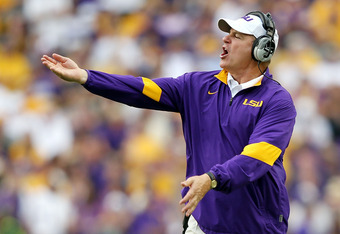 Jamie Squire/Getty Images
Too much is probably made of the "Mad Hatter" and grass-eating stuff—he's just a refreshingly aggressive decision-maker coaching a sport that's become, by nature, increasingly conservative in its play-calling. Similarly, the grass thing is just Miles communing with nature and/or being a little bit off. From the little I know, this plays as completely acceptable in Baton Rouge. For his aggression and consistent ability to construct a sentence in a way only he fully understands, LSU receives +4 points.
Tally: 4-0 LSU
Nick Saban (Coach, Alabama)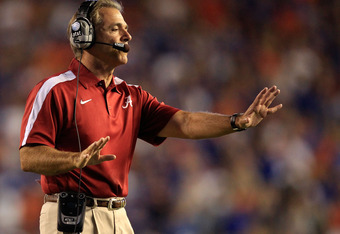 Sam Greenwood/Getty Images
The strength of Saban as an on-field coach lies in his abilities to build thoroughly aggressive, confusing defensive schemes and react quickly to offensive adjustments. For better or worse, though, LSU has never been a team looking to out-scheme anyone offensively, but rather a squad happy to run in an uncomplicated way through or around defenses until a reasonable opportunity for play-action comes along.
Also, the last time Mr. Saban presided over a game this large in Tuscaloosa, he oversaw a one-point Tide loss after a 24-0 lead. Worth noting. Alabama receives +5 points. 
Tally: 5-4 Alabama
Tyrann Mathieu (CB, LSU)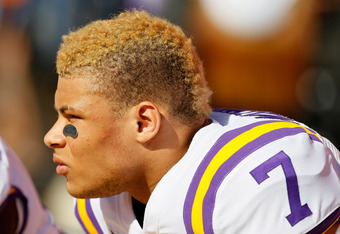 Kevin C. Cox/Getty Images
After his suspension for participation in the more synthetic of herbal vices, it feels like he may be somewhat undervalued. Right, because that's what you want to do—undervalue the Honey Badger's ability to take what he wants. If you want to believe Verne Lundquist won't let out a "ho-HO!!" after Mathieu finds himself in the end zone, that's your business. LSU receives +3 points.
Tally 7-5 LSU
Trent Richardson (RB, Alabama)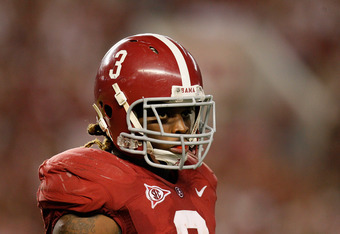 Kevin C. Cox/Getty Images
I'm certain of this—Trent Richardson won't have a pretty good game. He either answers the Andrew Luck Heisman bell and has something like 143 yards and two touchdowns against LSU, or he rushes 17 times for 60 yards and doesn't get in the end zone. In any case, his ability to turn three yards into nine is good enough for points. Alabama receives +3 points. 
Tally: 8-7 Alabama
Sam Montgomery and His Large Friends (DL, LSU)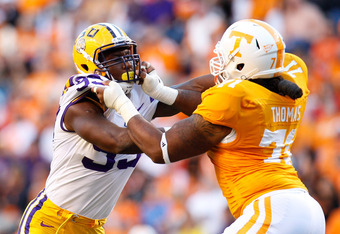 Kevin C. Cox/Getty Images
Picking which defensive line will have more of an effect on the outcome is like picking your favorite child (or Miller Lite twin), but when only one has proven itself to be strong enough to push around SEC offensive lines AND chase down Oregon skill players sideline to sideline, I lean slightly in the direction of the bad men from Baton Rouge. It's not to say Alabama's can't, only LSU's have. LSU receives +4 points.
Tally: 11-8 LSU
101,000-Plus People Wearing Crimson and Houndstooth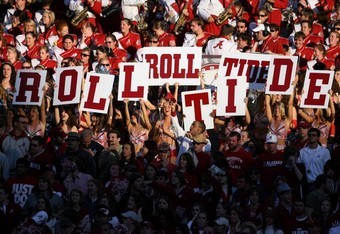 The home crowd will be loud, 1 percent-level wealthy, and they'll be good for a false start or four. The younger males will have unfortunate bangs, and the females will mostly be wearing sundresses. Most everyone will be waving pom-pons (correct spelling and pronunciation) because, well, nobody really knows why or has an acceptable enough answer for grown, mostly professional adults to be waving silly frilly sticks. Alabama receives +3 points.
Tally: 11-11 tie
Jarrett Lee's unJarrettLee-ness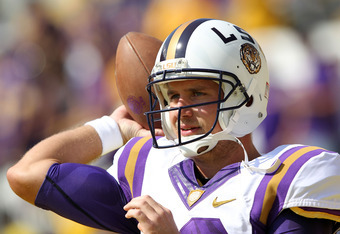 Jamie Squire/Getty Images
Oddly enough, the exact impact of the quarterbacks, while meaningful, isn't actually paramount. Both signal-callers are incredibly efficient, but neither consistently game-changing, and nor do they need to be. Probably too much fun has been had at the expense of Jarrett Lee's early, uh, struggles, but with the offensive talent increase since then, Lee has become a QB who can begin and end a drive with a single throw. He won't be asked to make 35 decisions, but at this point, the 20 or so he will make will probably be met with more success than McCarron's 25. LSU receives +4 points.
Tally: 15-11 LSU 
Barrett Jones and His Magical Pathways (Alabama OL)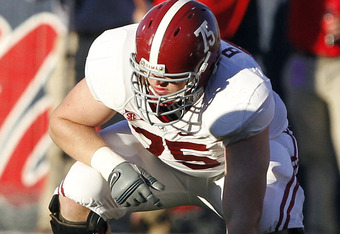 Butch Dill/Getty Images
Beyond the interesting life that Jones leads off the field (he's smarter and more well-rounded than all of us combined), there's a very simple reason for the space and time Tide RB Trent Richardson has to decide whether to drag or convince an approaching linebacker to tackle someone who isn't there.
Similarly, there's a reason new starting QB A.J. McCarron has an extra couple seconds to sweep the bangs out of his eyes and make that one extra read. That reason is 6'5" and goes well over 300 lbs. Alabama receives +3 points.
Tally: 15-14 LSU
The Australian Punter (P, LSU)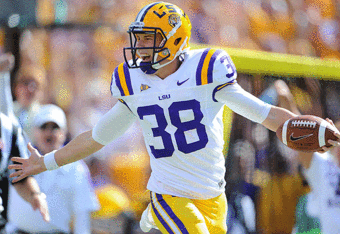 More often than not, special teams decide which direction an even matchup tilts. LSU's Brad Wing possesses that rare punter combination of being lethal with both one and two feet. And he's from the Southern Hemisphere. For that, LSU receives +2 points.
And the win. 17-14 LSU.
Dan Rubenstein co-hosts The Solid Verbal college football podcast and can be followed on Twitter here.