2011 Breeders' Cup: Beauty and Baffert Look To Steal Classic
November 3, 2011
An unlikely combination seeks their first taste of Breeders' Cup Classic (Grade I) success on Saturday when trainer Bob Baffert and jockey Chantal Sutherland team up with Game On Dude in the $5 million 1 1/4 mile race that highlights the Thoroughbred World Championships at Churchill Downs this weekend.
The Hall of Fame trainer ranks fourth all-time in Breeders' Cup earnings with $10.7 million. Despite winning seven Breeders' Cup races along with three Kentucky Derby scores, he's been shut out in seven Classic attempts.
"I never dreamt that in my life," said Baffert of the possibility of winning his first Classic with a female rider. "It's exciting for Chantal. I feel really comfortable with her because she really gets along with the horse."
The scratch of his other Classic entrant, 30-to-1 long shot Prayer for Relief, leaves Baffert with nine runners over this year's 15 championship races.
The silver-haired wizard's first Breeders' Cup success came in 1991 with Thirty Slews in the Sprint, the first of three times he's captured the six-furlong dash.
Baffert's initial try in the Classic with Silver Charm in 1998 was his closest, when the near-miss Triple Crown candidate from the year prior settled for second, less than a length behind winner Awesome Again.
"It's just amazing to be in it, but then to be riding in the Classic for Bob Baffert on a fantastic horse like Game On Dude, it's exciting," said Sutherland, who got her first taste of the Breeders' Cup in 2008 at Santa Anita aboard a pair of long shots who finished off the board.
Although she's never ridden at Churchill Downs, Sutherland will get some experience under her belt over the two days before the Classic.
Her other big mount comes Friday in the $1 million Breeders' Cup Filly and Mare Sprint (Grade I) aboard 20-to-1 long shot Great Hot, who she's guided to a pair of stakes wins this year, including the Raven's Run (Grade II) in her last start at Keeneland on October 22.
"I feel very proud of myself," said Sutherland of achieving her goal to ride on racing's biggest stage. "I think I have so much more still to learn and to grow and accomplish. I have to say this is a dream come true. To have it come to fruition is just amazing. I'm grateful to all the people who supported me."
A native of Toronto, Sutherland established herself as one of the top riders at Woodbine over the past decade, while also having success as a model having been featured in Vogue and being named one of People magazine's "100 Most Beautiful People."
A brief stint riding in Southern California in 2008 gave her a starring role in Animal Planet's reality TV show Jockeys, and she began riding full-time there at the end of 2010 with the start of Santa Anita's winter/spring meet.
"My real reason to come out here is because I wanted to be in the Breeders' Cup and riding in all these big races. (Hollywood) is an added bonus," said Sutherland, who also has a role in HBO's upcoming series Luck.
"I'm not going to ride forever so I'm looking to my future. The long-term plan is a career that has to do with racing or maybe acting, but this seems to be more of an opportunity for me than it has been in Canada."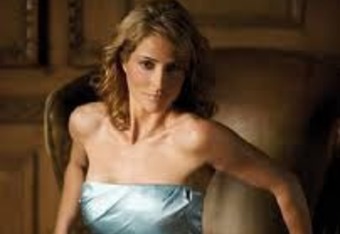 What had been a disappointing meet at Santa Anita turned around quickly for Sutherland when she was given the mount on Game On Dude for the Santa Anita Handicap (Grade I) on March 5.
Baffert's go-to rider Martin Garcia got the prized mount aboard second-choice First Dude, who finished sixth in the Big 'Cap. When the dust settled after a game of musical jockey chairs for the "other" Baffert, Sutherland landed on the eventual 14-to-1 winner, thanks in small part to her friendship with Baffert's wife, Jill.
"They're friends, but it was me. I make that call. I was wanting somebody that could make that weight at that time," said Baffert regarding the 115 lb. assignment for the gelded four-year-old son of Awesome Again (Yes, the same horse that beat Baffert's Silver Charm in the '98 Classic).
"I would have gone with a heavier weight if I thought Chantal couldn't get the job done. When she came out in the paddock she actually didn't look nervous. As sweet or naïve as she may come across sometimes, when she gets on there, she's a tough girl and she's very competitive. She rode a very smart race and let the horse run and that's what we were looking for."
Game On Dude's next two races came outside of California in a pair of Grade III races, which resulted in second and third place finishes. Sutherland was not in the irons for either one.
She earned the mount for good when she was back aboard for a runner-up effort in the Hollywood Gold Cup (Grade I) on July 9, beaten just a nose by First Dude, who was retired due to injury after the race.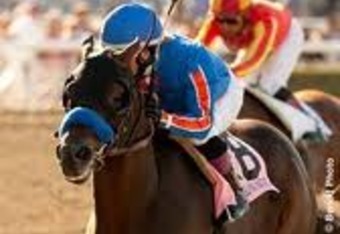 "What I like about Game On Dude, he's like a big lap dog. He's so sweet like a golden retriever. He's loyal and beautiful," said Sutherland of the horse she proclaimed has bigger balls than any guy she's ever dated after they earned a "Win and You're In" berth to the Classic using their customary pace-pressing style to capture the Goodwood (Grade I) at Santa Anita on October 1.
"For some reason it feels like he knows who I am. It's really interesting and it makes you feel like you fall in love with them when they do that. But at the same time, he reads me, and when it's business and racing, he's a pit bull."
Before the Goodwood, Baffert instructed Sutherland to get to the early lead at all costs, a strategy that almost backfired when Tres Borrachos, who runs in the Breeders' Cup Dirt Mile (Grade I) earlier Saturday, was sent as well, resulting in extremely quick internal fractions.
"He needs to get into a really fast pace. He can't get on the lead and slow it down," said Baffert of the horse that is owned in part by retired baseball legend Joe Torre. "He needs to run at least 23 [seconds for the first quarter mile], 46 [seconds for the first half mile]. If he goes any slower than that he doesn't have that same kick. Hopefully, there will be a horse to go with him to keep him going. When he turns for home, he's very brave."
Despite the success that Sutherland and other female jockeys have had, the sport is still largely male dominant and it's tougher for females to get mounts on the best horses.
"Women hit their prime at 30-35 as far as it's time to have a family and settle down. In most careers, women can have it all, but in horse racing it's almost next to impossible to have a child and be a rider," said the 35-year-old Sutherland.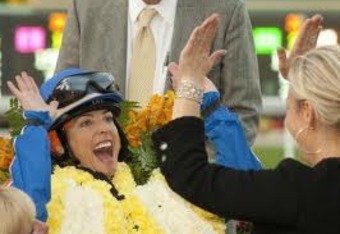 While her male counterparts can have successful riding careers well into their 40s and beyond, the window for Sutherland to take advantage of her opportunities at the top of the sport is likely to close much sooner.
"I imagined the race and how I feel coming out of the gate," said Sutherland, who has ridden for Baffert just 12 times. "I practice it every day when I run five miles. I practice it in the gym … the stretch run. Pushing my weight, doing my push ups. I see it. I see Game On Dude. I see me. I see me fighting. I see a great race in front of me."
And the feeling if they were to cross the wire first?
"Euphoric, amazing."
Marc Doche is a Featured Columnist for Bleacher Report. Unless otherwise noted, all quotes were obtained first-hand.
Make sure to follow me on Twitter @mdoche for much more and visit www.pick4blog.com for daily selections and analysis!
To view my horse racing channel on YouTube click here!
Listen to my weekly sports podcast on MixCloud here!
Also check out my So Cal Scoop Blog on Horse Racing Nation!