Nebraska Football: Was Beatdown of Michigan State Bo Pelini's Signature Win?
November 2, 2011
Eric Francis/Getty Images
As Nebraska quarterback Taylor Martinez knelt down for the final time in the Cornhuskers' surprise 24-3 win over the Michigan State Spartans, the crowd of 85,461 erupted into chants of "Go Big Red."
Husker Nation was in love with its football team. The defense finally looked salty and earned their vaunted Blackshirts in a big way. The vastly-improved offensive line took another giant step forward on the path to reclamation.
Martinez played the best football of his life outside of the Ohio State game. The legend of Rex Burkhead grew and grew with each and every carry against one of the nation's best defenses, coming off a victory against heralded Wisconsin, where they'd given the Badgers their first loss of the season.
In his fourth year as head coach of the Nebraska Cornhuskers, has Bo Pelini finally earned his signature win?
Nebraska's win put them in great position in the Big Ten Legends division race. The Huskers are now in a three-way tie with Michigan State and Michigan, and because they own the tiebreaker against the Spartans, they control their own destiny with Northwestern, Penn State, Michigan and Iowa on the horizon.
If the Huskers were to win out, they would be bound for the Big Ten title game in Indianapolis—and a likely rematch with the Wisconsin Badgers.
Needless to say, Nebraska's Big Ten Championship prospects were not looking this good a week ago, when Michigan State pulled off that stunning upset of Wisconsin just a week after downing Michigan and put themselves in the driver's seat of the Legends division.
In fact, I found it amazing how many people picked the Huskers to win this one, considering the same Badgers that the Spartans beat in so dramatic a fashion had thrashed Nebraska 48-17 just a few weeks before.
But on Saturday, Nebraska really looked "back" for the first time since Pelini declared as much after a 33-0 demolition of the Arizona Wildcats in the 2009 Holiday Bowl. Perhaps not coincidentally, that was Ndamukong Suh's last game in a Husker uniform.
The Blackshirts—we can finally call them that now—held an offense that had put up 28 points against Michigan and 37 points against Wisconsin to just three points and 187 total yards—by far the fewest of the year in both categories where Nebraska's defense and Michigan State's offense were concerned.
The defense finally seemed to find their confidence, and the players played as one cohesive unit for the first time this season.
All-American candidates Lavonte David and Alfonzo Dennard led the way for the Blackshirts, but young players that will be integral parts of next year's defense stepped up and showed that this unit can be dominant even without stud seniors David Dennard and Jared Crick, lost to injury.
Junior linebacker Will Compton had arguably the best game of his career against the Spartans. He "only" totaled seven tackles, but it was the way he did it—flying to the ball in a manner reminiscent of his highly regarded counterpart—that made it so impressive. His play gave Husker fans a small sense of relief, despite David's pending departure to the NFL after this season.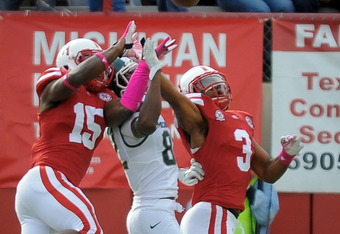 Eric Francis/Getty Images
Another player who had a big game was sophomore cornerback Andrew Green. Green has been heavily criticized all year for his spotty play, getting burned multiple times and drawing some pass interference penalties.
On Saturday, though, Green proved that, just as Carl Pelini said, the light had come on for him in practice the week before. He had seven tackles and repeatedly shut the receiver in front of him down.
Eric Martin also got in on the action, recording two impressive sacks while playing in a stand-up defensive front. Martin is working his way into the defensive scheme and could be a very valuable pass rushing specialist for the Huskers for the rest of the season.
Cameron Meredith and Daimion Stafford also had great games. All five of those players will be back in black next season.
Offensively, the Huskers may have had their best game since 2008 when Joe Ganz was carrying the team. The only game that really compares is the 34-point effort against Ohio State just three weeks prior to Michigan State.
Remember when the players and coaches were saying their quarterback was a completely different player compared to last season? Taylor Martinez is beginning to prove them right.
Martinez didn't have a great statistical game against the Spartans, but his leadership and game management skills were as good as they have ever been, and after ESPN "experts" Mark May and Rece Davis cracked jokes at his expense during the halftime show, Martinez came back out and completed six of seven passes for 80 yards and a touchdown.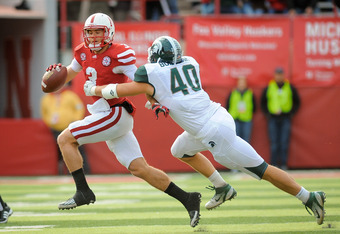 Eric Francis/Getty Images
Most of that production came on two long third-quarter touchdown drives that consisted of a whopping 26 total plays and ended up consuming over 11 minutes of clock. The two drives were giant victories for the Nebraska offense, because it showed that this team can move the ball and score on great defenses even when the big play is taken away. That was a testament to Martinez's improvement to this point.
Another stud, Rex Burkhead, only continued to build on a legacy that could rival that of Suh's by the time his career is finished at Nebraska.
Burkhead touched the ball a whopping 36 times, totaled 157 yards, and scored three touchdowns. The play of the 5'11", 220-pound junior was arguably the biggest difference maker for the offense against a ferocious Michigan State defense.
Burkhead will continue to be the focal point of this offense, and as long as he is, this unit will be very tough to stop.
As a team, the Cornhuskers finally seem to be taking on Pelini's tough mentality. Both units are in attack mode, the program is overflowing with confidence going into yet another tough stretch of schedule, and the whole team seems to be improving with each week.
Lincoln, Neb. is brimming with life once again. We have to look back on that huge comeback over Ohio State and wonder: would we have beaten the Spartans if we hadn't beaten the Buckeyes?
It's hard to say, but you can tell the past few weeks have been big for Nebraska's momentum.
Clearly, Nebraska's win over Michigan State—as well as the past few weeks as a whole—had Bo Pelini's fingerprints all over it. You better believe his signature was on it too.
Pelini wouldn't tell you that, though—he won't have a signature win in his mind until he has a championship.