Mark Ingram Injury: Updates on Saints Star's Week 9 Status and Fantasy Value
October 31, 2011
J. Meric/Getty Images
Rookie running back Mark Ingram hasn't been rookie of the year material in New Orleans, but he is their top rusher.
He missed their Week 8 game against the St. Louis Rams, and the Saints running game suffered tremendously.
In fact, they were so bad they actually lost to the Rams.
UPDATE: Friday, Nov. 4 at 2:27 p.m. ET by Eric Bowman
The New Orleans Saints official Twitter page released some gut wrenching news about Ingram today.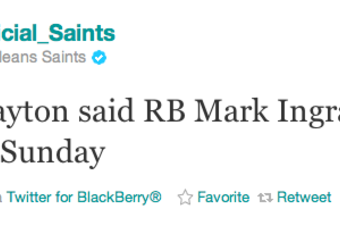 Ingram was a late scratch last week, and his heel was unable to heal during the Saints preparation for the Buccaneers, and now he will not play. 
He should've been on your bench already, but if wasn't it's time to make a lineup change. Pierre Thomas and Darren Sproles will have to step their game up so the Saints avoid losing two games in a row. 
UPDATE: Friday, Nov. 4 at 12:02 p.m. ET by Eric Bowman
Ingram's status for Sunday continues to be up in the air, but it's always best to get his thoughts on how he's feeling. It's even better when it comes straight from him.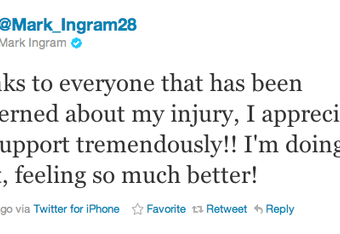 He may be feeling better, but that doesn't necessarily mean he's good to go on Sunday. It's very likely he will be a game time decision. 
Although, missing practices this week doesn't bode well for his fantasy owners. At this point, Ingram needs to be on your bench. The Saints would love to have him out there, but there's no need to risk further injury.
Stay tuned to see if Ingram hits the practice field today, which will give us a better understanding of where he's at. 
UPDATE: Thursday, Nov. 3 at 2:50 p.m. EST
Mark Ingram's status for Week 9 against Tampa Bay does not look good. According to Mike Triplett of the Times-Picayune, the rookie running back did not practice on Thursday because of the bruised heel that kept him from playing against St. Louis. 
New Orleans Saints tailback Mark Ingram and linebacker Jonathan Vilma were held out of the team portion of practice again Thursday. Ingram seems likely to miss his second straight game with a bruised heel. 
The Saints have not had a great running game this season, but Ingram was starting to find a little rhythm before suffering the injury. Now, he is missing critical development time. 
The good news is that Drew Brees is the quarterback for this team, so the lack of a stable running game does not hurt the team's performance too much. 
Ingram's heel injury is expected to be updated later in the week.
In his absence, the Saints activated running back Chris Ivory. 
St. Louis held New Orleans to 56 yards on 20 carries.
Pierre Thomas ran the ball seven times for 23 yards, Darren Sproles carried six times for 16 yards and Ivory carried six times for 18 yards.
It is safe to say that Ingram is in no danger of losing his spot as the feature back in this offense.
The loss for New Orleans came a week after they ran all over the Indianapolis Colts.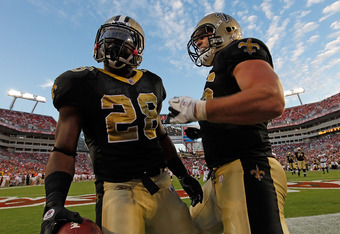 J. Meric/Getty Images
The most shocking fact here is that St. Louis was ranked 32nd in the league against the rush coming in.
Again, Ingram's 3.9 yards per carry average certainly isn't a dominant number, but there is something to be said for the change of pace that he and the other two backs combine to throw at defenses.
Ingram is still a matchup starter if and when he returns healthy.
The Saints would love for that to be the case this week, too. The next two games come against NFC South opponents, and the division race is very, very tight.
We'll update on Ingram when more is known.