Jon Gruden Has Driven a Stake Through the Heart of My Monday Night Football Buzz
October 31, 2011
Alexandra Wyman/Getty Images
While a large chunk of the American football-watching population gets ready for tonight's epic tilt between the Chiefs and Chargers on Monday Night Football, I and other humans who actually take the time to think critically will be wrestling with the decision to either listen to the broadcast or hit the mute button and crank up the Mastodon.
I say this because I can no longer stand to listen to Jon Gruden tell me how every player, head coach, general manager, owner, line coach, coordinator, quality control specialist and strength coach is the greatest to ever walk the face of the earth.
Tonight, we will get to hear how Thomas Jones is "as tough a runner who has ever played the game." That Antonio Gates is "the most dangerous offensive weapon in the history of the National Football League."  And don't forget about Norv Turner: "That guy has as creative an offensive coaching mind as anyone who's ever lived!"
The problem is, we hear this every week about every player and every coach who has come under the Jon Gruden Sphere of Hyperbole.
I pine for the days when Ron Jaworski lavished praise only on every quarterback who ever played on Monday night.  Gruden has called Jaworski's bluster and raised him an aircraft carrier's worth of mawkish hype.
Jon Gruden makes Ron Jaworski look like H.L. Mencken.
Gruden is the latest and loudest of the ESPN-birthed coach-jock drones.  In this new world, analysts fall into two camps: ex-jocks who refuse to say anything critical about their fellow sports fraternity brothers, and ex-coaches who refuse to say anything critical of any team, owner or player because they want to land a coaching gig in the future.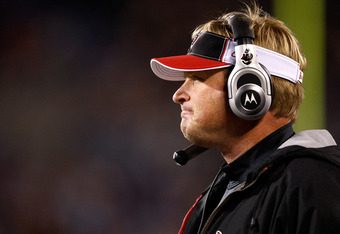 Streeter Lecka/Getty Images
Gruden isn't alone in stroking football egos, but he jumps to the head of the class because he is a part of the Monday Night Football broadcast; the NFL's most prominent stage.
I imagine that Gruden's prep notes for tonight's game look something like this:
Phillip Rivers: Great. Dynamic. Full of excellence.                                         
Ryan Matthews: Dynamic. Awesome. Stimulating.
Antonio Gates: The Best. Awesomely dynamic and really excellent.
Norv Turner: Great mind. Innovator.  Stimulating, excellent and great.
Matt Cassel: Has it all. Great. Underrated. As good as Johnny Unitas.
Thomas Jones: Hall of Fame career. Awesomely excellent. 
Dwayne Bowe: Dynamically dynamic. Also very awesome.  Might be the best in the game.
Todd Haley: Great mind. Innovator. Stimulating, awesome and excellent.
The problem with Gruden's over-the-top smoke-blowing is that it makes everything he says completely unimportant. 
He's like the doctor from Seinfeld who thinks everyone is "breathtaking," nothing he says matters because everything he says is the same.
If every team was great and awesome, then no teams would ever lose and everybody would make the playoffs and win the Super Bowl every year.
In this world, pixies would dance and unicorns would sing.  Sean Payton would be just as brilliant as Bill Belichick, but so would Rex Ryan, and Mike Tomlin. So would John and Jim Harbaugh, Mike McCarthy and everyone else who holds a laminated play chart over their mouth when they talk to a quarterback.
I want no part of this world.  I want winners and losers.  I want coaches who are brilliant and coaches who make stupid mistakes.  I want first-round draft busts and free agents who try harder than others and become stars.
I want players who truly excel.  I want praise based on quality of play.  I want derision offered when and where it's deserved.
I don't want Jon Gruden to tell me that Jackie Battle is as good as Walter Payton or that Vincent Jackson is as good as Jerry Rice.  And I really don't want him to tell me that Romeo Crennel is the greatest defensive mind since King Leonidas of Sparta.
I just want him to tell me what's happening and why.  I want him to let me know if a guy blows a block or makes a bad read. I want cogent, critical game thoughts and analysis.
The sad thing is, I know I'm not gonna get it. 
Please, NFL owners.  Hire this man. 
I would love to be able to enjoy Monday Night Football again.