Albert Pujols, St. Louis Cardinals: What Do They Need to Do to Repeat in 2012?
October 31, 2011
Dilip Vishwanat/Getty Images
The St. Louis Cardinals just won the most thrilling and incredibly entertaining World Series in history, rallying against the Texas Rangers, who twice were one strike away from winning it all themselves. It was truly one of the most remarkable efforts, as the Cardiac Cards—facing back-against-the-walls odds throughout the season and the playoffs—won their 11th World Series title in franchise history.
With the baseball season over, the question for next year immediately arises: Can the Cardinals win it all again in 2012?
To be sure, there are several variables for St. Louis to repeat, most obvious and glaring of which is superstar first baseman Albert Pujols' free agency. The all-world Pujols will be the most talked about player on the market this winter, and questions abound about whether he will re-sign with the Cardinals, the team and franchise he has been with for his entire 11-year career. Other factors will also impact not only Pujols' decision but also the Cards' ability to win consecutive titles.
One of the major considerations to Pujols' return is the status of manager Tony La Russa, whose contract expired upon the completion of the World Series. Though much speculation has been made regarding La Russa's intentions to come back, it's likely that this title will provide him the enthusiasm to return with the Cardinals. Obviously La Russa's decision is dependent upon the Cards' ability to re-sign Pujols. However, it's vital for St. Louis to re-sign La Russa, who, after his third World Series championship, is one of the most decorated managers of all time.
Whether Pujols is back or not, La Russa is key to the Cardinals' success. Without him, there is absolutely no chance for the Cards to repeat.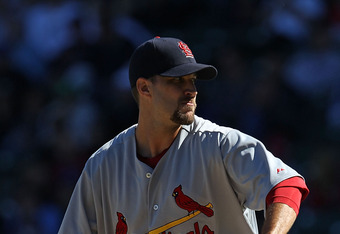 Jonathan Daniel/Getty Images
Free Agency a Big Issue
Aside from Pujols, though, there at least 18 different Cardinals who completed the final year of their contracts in 2011, and are free agents this winter, including World Series MVP David Freese. Moreover, four of those players are arbitration eligible.
The Cards already made one move that will help keep their team intact, re-signing outfielder Lance Berkman, who was named the National League Comeback Player of the Year this past season. The 35-year-old switch-hitter was an important contributor to the Cards during the playoffs. Berkman's versatility and veteran presence keeps the Cards stable in the outfield and he could possibly play first base should Pujols not return.
Additionally, St. Louis also secured right-handed starter Adam Wainwright, who missed all of last season while recovering from Tommy John surgery. Wainwright will be a critical part of the Cards' rotation after placing in the top three in the Cy Young Award voting in 2008 and 2009. His return should solidify the pitching staff in the event that starter Edwin Jackson is not re-signed, which is certainly likely. St. Louis pitching ranked in the middle of the pack in the National League this past season and surely the Cards need Wainwright to defend their title in 2012.
To keep the core of their team intact, the Cards must sign Freese, who proved that he will be a solid third baseman for years to come. His dynamic playoff run will no doubt increase his value this offseason. It's imperative that the Cards keep the hometown hero in St. Louis. With a full season as a starter, Freese will only demonstrate further how important he can be to the Cards' success.
Other players to consider re-signing include an infielder, with Nick Punto and Ryan Theriot as candidates to replace shortstop Rafael Furcal, who was acquired at the trade deadline, and whose 3-year contract just expired. The 34-year-old Furcal should not be kept, after a down season and an even more horrible playoff performance in which he batted .195 and an abysmal .569 OPS in 18 games this postseason. The Cards will probably sign Punto, as Theirot is arbitration-eligible and could command upward of $4 million.
St. Louis also needs to exercise their option for catcher Yadier Molina, who came up big during the World Series, batting .333 and leading the team with nine runs batted in. His Golden Glove-caliber defense and handling of a maligned pitching staff are solid. Meanwhile, reliever Jason Motte is also eligible for arbitration, and should be re-signed, too, as his performance this postseason showed how lights-out he can be as the full-time closer.
Above it all, the most important piece to the Cards' repeat puzzle is Albert Pujols. It's no secret that he will be the most coveted free agent this winter, potentially bid for by the likes of the Rangers, Chicago Cubs, Washington Nationals and, of course, the New York Yankees. Pujols is to St. Louis as is the Gateway Arch or Budweiser beer. The Cardinals won't be the same without Pujols. They'd be like non-alcohol Bud Lite—diet non-alcohol Bud Lite. What's the point?
Pujols Highest Paid?
Though rumors suggest that he could be the highest-paid player in baseball, Pujols does not seem like a person who wouldn't at least consider giving St. Louis a hometown discount. Fortunately for the Cardinals' front office, he has been doing so for his entire career, never earning more than $17 million in any given season, despite making a case for being the greatest right-handed hitter in baseball history. So many speculate that the 31-year-old Pujols will finally demand the price that he is worth, which some say could be upwards of $30 million per year.
Would the Cards make that offer? Could the Cardinals pay him that much? If so, for how many years?
Those will be the questions parroted throughout this winter, over and over again, until St. Louis comes to a decision on what they want to do. The problem is, they should address what they need to do. Without Pujols, the Cards have no chance at a repeat, let alone a title in the foreseeable future, plus the loss of a fan base that adores him and would be more than devastated to see him leave—especially if he goes to a National League team, particularly a Central Division rival.
Whatever the price tag, the Cardinals should pay it. Watching Pujols leave—in the prime of his career—would be the most difficult loss in the history of their franchise, more than any other World Series loss. If he were to sign with another team, it could undoubtedly place a curse on the Cardinals reminiscent of Babe Ruth's on the Boston Red Sox for the better part of an entire century. True, the Cards will presently savor the flavor of their fantastic World Series win—for the time being. Soon, they will have to focus their attention on what it takes to win another title.
No team has repeated since the 1998-2001 New York Yankees. If the Cardinals want a chance to, they have a lot of things to consider this offseason.
And it all starts and ends with Albert Pujols.