Week 8 Start 'Em, Sit 'Em: Bengals WR A.J. Green Becoming a Weekly Must-Start
October 29, 2011
Justin Edmonds/Getty Images
Every week, there are certain fantasy studs that you simply have to start no matter what, such as Tom Brady, Adrian Peterson and Calvin Johnson.
There are also a good number of players you know you should sit each week, such as a fringe running back like Alfonso Smith going up against an extremely tough Baltimore Ravens rush defense.
And then there are those players with whom you have no idea whether to start 'em or sit 'em.
Here are a few not so obvious guys at each major fantasy position that you might not know what to do with, but for whom the stats and other information dictate one way or the other.
START 'EM
Quarterback
Ben Roethlisberger (vs. NE)
Basically, when you play against Tom Brady and the Patriots, you need to keep up in the scoring column if you want a shot at winning. Big Ben will do just that this coming weekend.
Last year, both Brady and Roethlisberger went nuts with Ben throwing for three touchdowns and 387 yards as the Steelers lost 39-26. I expect the same type of showdown on Sunday with it basically being a toss-up as to who ends up doing better.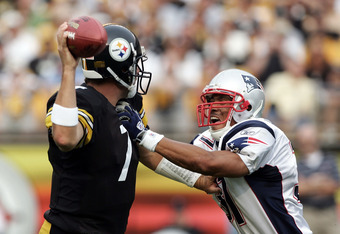 Harry How/Getty Images
With the Pats D giving up the most fantasy points to opposing QBs this season (actually tied with Denver), Roethlisberger just might come out on top.
Tim Tebow (vs. Det)
Ohhhh, Mr. Tebow, you are just as dirty as they come, aren't you.
After pretty much a full game of doing absolutely nothing for both the Broncos and fantasy owners, all it took was a little more than five minutes at the end of regulation for Timmy to accumulate top five QB fantasy stats for the week. That's kind of sick and wrong, my friends.
Now, even though the Lions defense is better than the Miami D he faced last Sunday, they've certainly been softened up as of late, especially against the run…which happens to be Tebow's bread and butter.
Eli Manning (vs. Mia)
Besides that first game of the season against Tom Brady, the Dolphins pass D has played pretty decent ball and isn't nearly as bad as their stats might look. However, that doesn't mean they won't give up some serious fantasy points to Manning this weekend.
The Giants coming off their bye week is good news for Eli owners on two fronts. First, the team will be well-rested and as healthy as they've been maybe all season. Second, Eli loves playing in the game after the bye week as he's averaged 314 yards and thrown eight TDs (only one INT) in post-bye-week games over the last three seasons.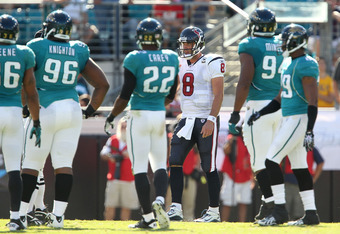 Mike Ehrmann/Getty Images
Others To Consider if You Are In a Bind:
Matt Hasselbeck (vs. Ind)
Matt Schaub (vs. Jax)
John Beck (@ Buf)
Andy Dalton (@ Sea)
Running Back

Chris Johnson (vs. Ind)
Would it shock me to see Chris Johnson flop against one of the worst rush D's in the league at this point? Not in the slightest, but that's not what I'm expecting.
There's no doubt "CJ2K" has been the most disappointing player in fantasy so far this season, but things could turn around real quick for the former All-World RB this week, with the Colts having allowed the most fantasy points to opposing running backs so far this season.
He has a nice schedule ahead of him for the rest of the way, so let's hope he can do something this weekend and prove himself worthy of more fantasy starts down the stretch.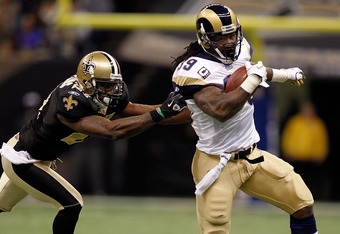 Chris Graythen/Getty Images
Steven Jackson (vs. NO)
Steven Jackson has faced two top of the line rushing defenses in a row now (Green Bay and Dallas) and put up double-digit fantasy points against both of them. Watching him play in those two games, not only does he look bigger than normal, but he also looks to be running with more purpose than I've ever seen him play with before.
New Orleans' defense is nowhere close to the caliber of Green Bay's or Dallas', so with the punch S-Jax seems to have in his legs right now; 100 yards and a TD sounds pretty good.
Darren Sproles (@ StL)
Sproles has been amazing so far this year and should be able to put up his best game yet this weekend.
With Mark Ingram already being ruled out, Darren could end up seeing a good 20 touches against the worst rushing defense in the league.
This one is pretty much a no-brainer. Get him in your lineup.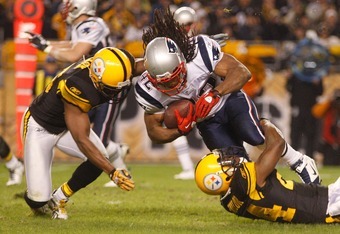 Jared Wickerham/Getty Images
Others To Consider:
DeMarco Murray (@ Phi)

BenJarvus Green-Ellis (@ Pit)

Knowshon Moreno (vs. Det)
Pierre Thomas (@ StL)
Wide Receiver

Marques Colston (@ StL)
Colston has been a monster the last two games, putting up 14 catches, 216 yards and three touchdowns. Brees has obviously fallen back in love with him, targeting him 18 times during that span as well.
Now we all know St. Louis can't stop the run worth a lick, but what you might not know is that they've also given up the second-most fantasy points to opposing wide receivers this year as well.
Ohhhhh boy, this one could get ugly.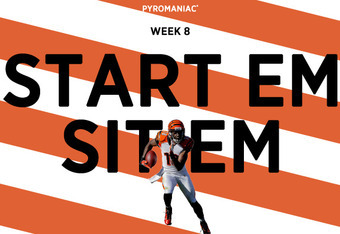 A.J. Green (@ Sea)
With the way rookie receiver A.J. Green has been playing all season long, you might even be able to consider him a WR1 the rest of the way.
Seattle has a tough-as-nail rush defense that allows just 3.1 yards per carry, so with the Bengals being without starting RB Cedric Benson this week, you can guess they'll be passing more often than not.
Watch Green get a good 10-plus targets and put up a real nice stat-line because of it.
Jabar Gaffney (@ Buf)

With Santana Moss out for at least the next three to four games and possibly more than that, Jabar becomes the de facto WR1 in this Redskins offense.
The thing is, Gaffney was already seeing just as many targets as Moss was, so without him around, he might be in line for a TON more.
Buffalo can be beat both on the ground and through the air, so I expect some serious scoring to go down in this one with Gaffney being on the receiving end of at least one TD.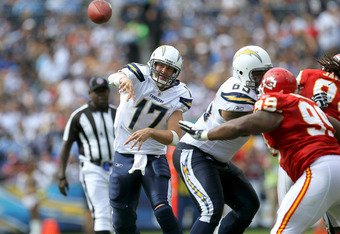 Stephen Dunn/Getty Images
Others To Consider:
Nate Washington (vs. Ind)
Greg Little (@ SF)

Michael Jenkins (@ Car)

Mario Manningham (vs. Mia)
Demaryius Thomas (vs. Det)
Emmanuel Sanders (vs. NE)
Kevin Walter (vs. Jax)
Not Your Usual Tight Ends to Consider:
Jake Ballard (vs. Mia)
Ed Dickson (vs. Ari)
Jared Cook (vs. Ind)
Daniel Fells (vs. Det)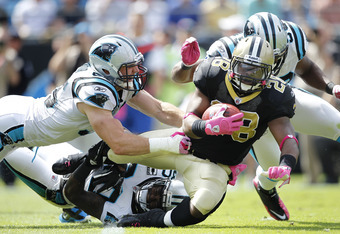 Joe Robbins/Getty Images
Visanthe Shiancoe (@ Car)
SIT 'EM
Quarterback
Philip Rivers (@ KC)
Rivers has been a bit of a mystery this season after putting up top five fantasy numbers in 2010. He hasn't thrown three TDs in a single game yet and has actually put up one or less in four straight games now after having just six such games in total last year.
That said, Rivers normally has good numbers against the Chiefs, but I wouldn't trust him just yet.
Even though Gates is back and looking ready to dominate again, I'd wait until Rivers shows that he still has those stud-like fantasy games in him before starting him.
Tarvaris Jackson/Charlie Whitehurst (vs. Cin)
Tarvaris Jackson is likely still a bit too banged up to play a full game, and Whitehurst isn't good enough to do anything against a top five Bengals pass D.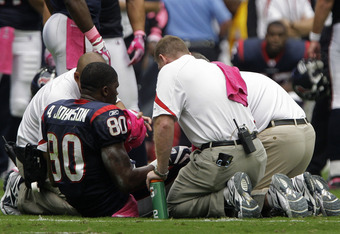 Thomas B. Shea/Getty Images
Don't even think about it with these two.
Other QBs You Should Consider Sitting:
Kevin Kolb (@ Bal)
Running Back

Mark Ingram (@ StL)
Ingram has already been ruled out due to his injured heel, so make sure he's out of your lineup
Montario Hardesty/Peyton Hillis (@ SF)
Hillis is still injured, but nobody can run on the 49ers anyway, so keep Hardesty benched as well.
Marshawn Lynch (vs. Cin)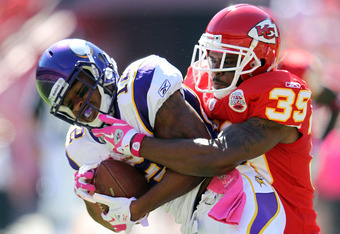 Jamie Squire/Getty Images
Lynch hasn't had a 100-yard game in the regular season since 2008. The Bengals have only given up seven 100-yard games in the last three years combined!
Seriously, just don't play anybody on the Seahawks this week...or almost any week for that matter.
Other RBs You Should Consider Sitting:
DeAngelo Williams/Jonathan Stewart (vs. Min)
Alfonso Smith (@ Bal)
Wide Receiver

Andre Johnson (vs. Jax)
Turns out Andre couldn't make it through the practice week feeling good enough to play, so the Texans are going to give him another week to rest his injured hamstring.
Other WRs You Should Consider Sitting: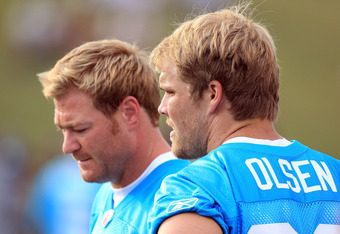 Streeter Lecka/Getty Images
Sidney Rice (vs. Cin)
Percy Harvin (@ Car)
Lance Moore (@ StL)
Danario Alexander (vs. NO)

Tight End

Todd Heap/Rob Housler/Jeff King (@ Bal)
In six games, the Baltimore defense has allowed just 14 receptions and the least fantasy points to opposing tight ends, so you'll probably want to avoid this trio.
Marcedes Lewis (@ Hou)
Marcedes has been plain awful this season while the Texans have allowed the fourth-least amount of fantasy points to opposing tight ends this season.
Since he's being used as more of a blocker this season in order to protect their rookie QB, you'll want to keep him on the bench this week, if not drop him altogether.

Jeremy Shockey (vs. Min)
Minnesota is one of the best teams in the league at rushing the passer, so I expect at least one of the Panthers tight ends to be kept in to block. Shockey will be that guy.
Other TEs You Should Consider Sitting:
Scott Chandler (vs. Was)
Click here to see all the Rankings For Week 8
Listen & subscribe to our Pyro® Weekly Podcasts: http://pyromaniac.buzzsprout.com
Follow Pyro® on Twitter:  https://twitter.com/pyroman1ac
Follow Pyro® on Facebook:  http://www.facebook.com/pyromaniac