Houston Rockets Need to Make a Big Splash to Contend
October 27, 2011
Andy Lyons/Getty Images
There's nothing worse than being stuck in the middle.
First is ideal, but even finishing near the end of the line has its advantages. That is especially true in sports, where having one of the worst records gives you first crack at landing a superstar through the draft.
The Houston Rockets are currently lodged in the middle of the pack and have been for the past two years. They've been competitive, finishing with the best record of the NBA's 2010 and 2011 lottery teams, but that has ultimately prevented them from landing a Blake Griffin or Derrick Rose at the top of the draft. 
Houston has been unlucky, too. The 2009 season was one without former All-Star Yao Ming, and last season began with his return and ended with his retirement after another foot injury forced the big man's hand.
Yao's absence and subsequent retirement leaves the Rockets void of any star power. Kevin Martin is a borderline star, as is Luis Scola. Kyle Lowry and Patrick Patterson can still develop into one, but if they are to have any shot at contending for something more than the seventh or eighth playoff seed out west, general manager Daryl Morey must finally reel in a big catch.
Problem is, if he intends to go the route of free agency, Morey's a year late. The Rockets were strapped for cash in July 2010 when megastars like Dwayne Wade, LeBron James, Dirk Nowitzki, Amare Stoudemire and Chris Bosh were on the open market.
When the new collective bargaining agreement is hammered out and a short, frenzied free agency period begins, Houston is expected to have significant cap room. The question is, who's worth using it on?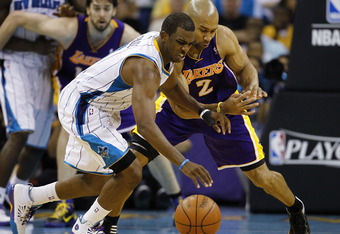 Jeff Zelevansky/Getty Images
Taking a run at the Memphis Grizzlies' Marc Gasol makes the most sense. He's young (26), extremely talented and, most importantly, fills the team's biggest hole (center). Gasol averaged 11.7 points, 7 rebounds and 1.7 blocks last season, numbers that increased to 15-11.2-2.2 during the Grizzlies' surprise playoff run. He also looks to be a good fit next to Scola.
Gasol is a restricted free agent, giving Memphis the right to match any contract offer. Logic suggests the Grizzlies will do just that in an effort to keep their young core together, but there's no guarantee they will after giving Zach Randolph and Mike Conley massive contract extensions during last season. 
Morey could choose to overpay Gasol to scare Memphis away, but he's never been one to hand out bad contracts. Considering the rest of his options, however, Gasol might be a worthy investment. Thaddeus Young, Jeff Green and Tyson Chandler deserve a nice paycheck—yes, the free agent cupboard is that bare—but will any of them change Houston's fortunes the way Gasol would?
The other option is via trade, which could be more difficult depending on the terms of the new CBA. Chris Paul is in the last year of his contract with New Orleans, and a deal for Orlando's Dwight Howard isn't as far-fetched as you might think. 
No matter the route Morey decides to take in his attempt to bring in a star-caliber player, the M.I.T grad must continue to use his best asset: his brain. The summer of 2012 promises to be as exciting as the "Summer of LeBron," with Paul, Howard, Rose, Kevin Love, Deron Williams, Steve Nash, Russell Westbrook and Andrew Bynum due for big paydays. Overspending today could prevent Morey from being a player tomorrow, in a far more lucrative market.
The Rockets must act now, but do so cautiously. Or else they run the risk of being stuck in mediocrity.