BiBi Jones' Stupidity Puts Rob Gronkowski in Awkward Place
October 27, 2011
Joe Scarnici/Getty Images
New England Patriots tight end Rob Gronkowski has had one of the strangest weeks of his life, and it all could have been avoided if people just used their heads. 
Gronkowski recently posed for a photo with porn star BiBi Jones, and since it hit the world wide web via Twitter, just about everyone had to give their two cents on the situation, including Jones. 
This could have been a non-issue, but social media, mainly Twitter, caused an uproar, especially after Jones said this on a sports radio show. Per NESN:
"He wanted me to get him more Twitter followers," said Jones in an appearance on Toucher and Rich on 98.5 The Sports Hub on Monday morning. 

"Nothing happened," she said. "I wish something happened, but nothing happened. "I really, really, really wish it would have happened."
Was the last sentence really necessary from Jones? Absolutely not, as it made things for Gronkowski pretty complicated. 
He's not very bright for agreeing to the photo in the first place and putting it on Twitter, but then again, he's just like every other 22-year-old on Twitter trying to get more followers. 
Unfortunately, Rob, this wasn't the brightest way to go about doing it.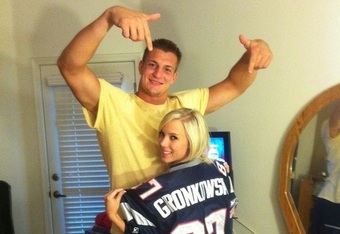 As if to make matters worse, Gronkowski then took his shirt off.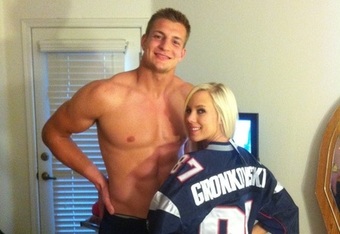 Clearly that had to be her idea, right? Even if it wasn't, she is of course going to welcome it. 
Gronkowski wasn't thinking, and Jones' mouth led to a crazy story that elevated much higher than it ever needed to. Why do I feel like this isn't the first time her mouth has gotten her in trouble?
Even Jones knew there might be backlash for putting it on Twitter, but of course she isn't going to deny the chance to further her image. 
She makes money by exploiting herself, and this was an opportunity to put her face with a famous athlete. 
There a number of people who had no idea who Jones was until this story occurred.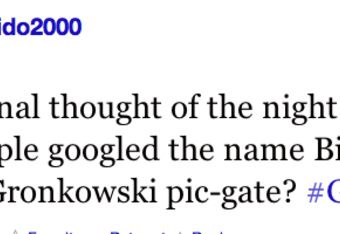 Was she trying to increase the sales of her videos or something? I would be interested to see if they have risen after this silly incident. 
Gronkowski has been a standout player for the Patriots in his young career, and he is a big part of why New England has been so successful this season. 
This ordeal has exploded further than he imagined, and he can thank the porn star for keeping this a relevant story. It didn't need to happen at all. 
Still, though, it occurred, and Gronkowski was put in a very awkward situation. Talking to Patriots' owner Robert Kraft about your night with a porn star is something no man would ever want to do. 
It led to a Gronkowski apology that was really unnecessary, but social media blew the story up. Per NESN:
I didn't intend anything to hurt the reputation of anyone on the New England Patriots, or on behalf of Robert Kraft. That's all. It was just a simple picture. That's all. From here on out, I'm just here to talk about the Pittsburgh Steelers and the big game this weekend.
He continued apologizing, and well be left shaking his head for awhile because this story isn't going to die anytime soon.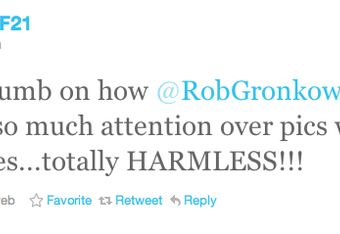 Gronkowski is an adult and if he wants to hang out with a porn star, so be it. The apology wasn't needed, and a lot of people feel the same way. 
However, Jones is clearly milking it for all it's worth. 
Jones is fed up with the story too, but she isn't going to miss an opportunity to make matters worse for Gronkowski (language NSFW).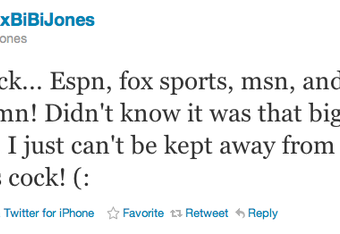 Wonder how Rob felt after that tweet? 
At least Gronkowski is playing it smart right now, as he hasn't tweeted anything about this whole ordeal. That certainly hasn't stopped others from sharing their thoughts though. 
Gronkowski was burned here because he put his image out there with a porn star who obviously had more intentions that helping him get more Twitter followers.