Arsenal Opinion: Why It Is Time to Stand Up and Applaud Laurent Koscielny
October 26, 2011
Paul Gilham/Getty Images
It is often said that a first impression is the best impression. And, usually, that assessment is right. But not in football. Football fans know that football is anything but usual.
What the first impression does is ensure that the tag created about a player sticks no matter how good he plays, and it takes a lot of time before that first impression finally goes away. When the particular player doesn't happen to be an attacking midfielder or a striker, the task of removing the tag becomes that much more different.
People will remember players for their poor performances only, often forgetting that, for every poor game one has, they might have had many more dominant ones. Players will face unfair criticism often. Does this sound like any Arsenal players? For me, its Laurent Koscielny.
Signed from Lorient in the summer of 2010, Koscielny endured a tough start to the league. He was nervous, seemed out of depth, lacked the physical presence required to be successful in a fast paced league like the Premiership and his game was riddled with mistakes. But, with the turn of the year, there was a remarkable upswing in Koscielny's form.
Partnering the surprisingly superb Johan Djourou at the heart of the defense, the duo formed the best defense in the league, at least temporarily. Koscielny performed remarkably well alongside Djourou and went a long way in vindicating Wenger's faith in him. The reason several doubted his ability and talent stems largely from his form early in the 2009-10 season. The injury to Thomas Vermaelen and, with Johan Djourou still recuperating from the injury that left him out of the 2009-10 season, meant that Koscielny was left to partner fellow summer signing Sebastian Squillaci.
Although Squillaci did perform well in some of his early games against the likes of Sunderland and Bolton, his career has been in freefall ever since he came to Arsenal. Inexperienced with the pace and rigors of the English Premier League and left partnering a slow, struggling defender, Koscielny was hardly given the best circumstances to thrive. He put in some poor showings against the likes of Tottenham and Newcastle, games which Arsenal went onto lose.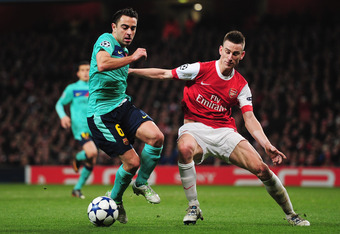 Shaun Botterill/Getty Images
All this resulted in the fans and media labeling him an average buy. Although the fans have showed their support and have understood the talent of the Frenchman, the media have never warmed to his talents as a player and rarely give him credit when he puts in a good shift. This lack of credit and recognition means that each time he puts in a below average performance, he is remembered only for that.
As fans who constantly read these articles, we are influenced and often unwittingly form our own opinions on the basis of them. Let's face it, more often than not, the media loves cooking up stories about how bad Arsenal is.
Koscielny has been a victim of this and, if his recent performances are to be taken into account, he definitely is a fantastic defender.
Koscielny isn't the kind of defensive leader in the mould of Thomas Vermaelen. He is the kind of defender who plays superbly when partnered with a quality centre back, and his performances with Vermaelen, Per Mertesacker and previously with a superb Johan Djourou are testimony to this.
Although the performance against Blackburn was a blemish on the record, I would say he has ensured that when Vermaelen does return, the Belgian will be pushed to the limit by Koscielny and Mertesacker.
Last season, there were several instances that showcased the potential of the Frenchman. It is indeed fitting that his best performance of the season had to come against the best team Arsenal faced, Barcelona. Up against the Catalan giants at the Emirates, he held his own against an attack that featured the likes of Lionel Messi, David Villa and Pedro.
Even against the likes of Manchester United and Chelsea he was mammoth at the back, as Arsenal won both matches. Yet, you probably haven't heard him receive credit for these performances.
Even this season when the team was shocked against United, shipping in eight goals, he was the Gunners' best defender. He also had good games against the likes of Newcastle, Udinese, Borussia Dortmund, Marseille and Stoke, all fixtures which could easily have been problematic for the Gunners.
Koscielny has all the traits required to be a top class defender and he has been using his assets to great effect this season.
He isn't tall like the likes of Vidic, Pique and doesn't possess the sheer intimidation brought by someone like Samba. Instead, what he offers is a rugged determination, a never say die attitude combined with a certain elegance and poise that makes him clean and equally effective.
His two red cards in his first few months of English football earned him a reputation of being a slightly dirty player but, in reality, he is anything but. Both his red cards weren't for violent conduct, and he was profoundly unlucky in the first one against Liverpool.
His tackling is more often than not spot on, and his tackle to deny Aaron Lennon in last season's Carling Cup is worthy of a watch every time. His pace, blessed with a superb tacking ability, means that even when behind an opponent he has the required skills to not just catch up, but to rectify the situation.
His composure on and off the ball is another bonus, and the assured manner with which he brings the ball out of attack is another notable feature of his game. How many times have we seen him start an attack from back with some truly exemplary passing that we would expect only from a midfielder?
Whether it be quick players with a penchant for tricks or tall players relying on their ability, Koscielny has shown that he can handle all comers. His heading skills are quite superb for a man only 185 cm tall and, as shown last Sunday against Peter Crouch, he can handle himself with ease.
Koscielny is a defender with great technique and has no qualms having the ball in his feet. His pace and composure make him a very difficult customer. 
Some might say I am getting ahead of myself after just a few good performances from the Frenchman, but I have been saying for nearly 10 months now that Arsenal has a gem in this player. His last few performances have been exceptionally good. Against Sunderland and Stoke in the EPL, and against Marseille in the Champions League, he performed admirably and was hands down the man of the match at France, as he put in an inspired defensive performance alongside the ever improving Mertesacker.
Koscielny's performances have been consistently good for quite some time now. Even towards the end of last season when Arsenal's defense struggled, it was Koscielny who proved to be a beacon of hope as he put in some unspectacular yet very good displays. He put in some remarkable shifts against some of the toughest oppositions he faced and was instrumental in Arsenals' wins over Chelsea, Manchester United and Barcelona.
I have no doubt that, had Koscielny come from a big club for a big fee, he would be praised for every good performance. But because he came from Lorient for a modest fee, and since he was an unknown quantity, his quality has been rated solely on the basis of a few patchy performances at the start of his Premier League tenure.
Every time he puts in a fantastic shift, he hardly gets any notice and the game against Marseille was the perfect example. But Arsenal fans have slowly started to realize the talent and potential of this player who, along with Thomas Vermaelen and Per Mertesacker, will play crucial roles in how Arsenal's season progresses.  
Koscielny has shown remarkable fortitude to bounce back from his initial struggles after many wrote him off, and it is never easy to perform when people are constantly doubting your abilities. Despite the roadblocks in his way, he has overcome and will be looking to build on his good form and establish himself as one of the league's best defenders.