NFL Power Rankings: Tim Tebow and Denver Broncos Aren't Moving Anywhere
October 26, 2011
Scott Cunningham/Getty Images
The Denver Broncos are coming off of a huge win on the road against the Miami Dolphins. Or was it at home? Who could tell?
The Broncos offense, led by Tim Tebow, took a 15-0 deficit with less than five minutes remaining in the fourth and somehow managed to turn it into an 18-15 win in overtime.
Simply put, don't expect the Broncos and their widely popular frontman Tebow to move anywhere in the NFL Power Rankings—or their division for that matter— anytime soon.
The end of this game was arguably the most exciting moment of all in the NFL's Week 7 action.
This has seemingly drawn attention away from the 55 minutes that started the game—and put most viewers to sleep early.
For 91 percent of the Dolphins and Broncos matchup in regulation, Denver played some of the worst offensive football that many had ever seen.
Moments before the miraculous comeback that saved the Broncos—and Tebow's reputation—began, they had accounted for a total of two passing yards on the day.
That's right—two yards.
Tebow's off-target throws and poor down-field reads had accounted for only 24 yards on his personal stat line and his sacks brought the team total down to two.
They did manage to run the ball significantly well considering the opposing Miami defense had nothing else to defend.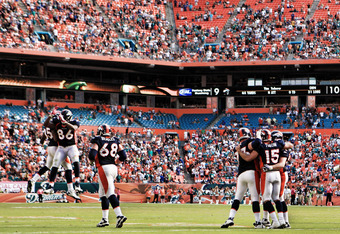 Marc Serota/Getty Images
Denver's defensive unit did manage to keep the game within reach as the offense struggled to find the red zone or convert a third-down conversion for three quarters.
Von Miller continued his Defensive Rookie of the Year pace and the Broncos secondary aided as well with some tremendous pressure on Dolphins' quarterback Matt Moore.
Defense alone, unless you're the 2006 Chicago Bears, will not win games consistently, especially when the Broncos move on to face the up-and-coming—yet recently sliding—comeback specialist Detroit Lions in Week 8.
And let's not forget that this game was played against the undeniably worst team in the league in 2011.
Is it possible to move down the NFL Power Rankings after a win?
You better believe it.
Anybody in their right mind—or who fears the continuous verbal lashings of Tebow's most adamant followers—will most likely not go as far as to drop the Broncos after Tim's first win of the 2011 season.
I for one, wish they would. This week's comatose offensive performance put a bad taste in my mouth that even a miraculous come-from-behind win can't wash out.
Week 8 against Detroit may very well bring Denver's reputation and position in the league right back to where they stood in 2010.
An organization embodied by an underqualified quarterback, an underachieving defense and eventually back to an under-the-radar team altogether—which is all they've earned thus far.
Broncos fans rejoice in the success while you can as this team and all it's hype is planning a trip back down to Earth this weekend.