New York Rangers 101: Grading Each Player from Game 7 at Winnipeg
October 25, 2011
Lou Capozzola/Getty Images
After every game of the 2011-2012 season, each Rangers player will be assigned a letter grade based on his individual performance, impact on the game, and outlook going forward.
In Game 7 of the regular season, the New York Rangers defeated the Winnipeg Jets 2-1, finishing off their season-opening, seven-game road trip with a record of 3-2-2. 
Let's take a look at the grades:
Grade: A
Ryan Callahan—With one lucky bounce, Callahan turned another average performance into a game-winning goal, showing that good things do happen when the puck is shot somewhere in the vicinity of the opposing goaltender (hear that, Derek Stepan?). Captain Clutch made his first appearance of the season, displaying excellent separation ability and anticipation before throwing the puck in off the skate of a distracted Winnipeg defender. Where Callahan really impressed, however, was in the final two minutes of the game, keeping a desperate Winnipeg team trapped deep in their own defensive zone with an inspired and aggressive forecheck. Oh, let's not forget four blocked shots—including one around the ankle that brought back painful memories of Zdeno Chara.
Ruslan Fedotenko—For me, Fedotenko still doesn't pass the eye-ball test; he doesn't impact the game enough on a consistent basis to warrant being a top-nine forward on this team. However, I have to give credit where credit is due and admit that he is probably the reason the Rangers won this game. Excellent body and stick position in front of the net gave the Rangers a 1-0 lead and his first goal of the season (See: What happens when you keep it simple). More notable, however, was a fantastic pass and drive to the net on the power-play that set up Callahan for the game winning goal. The effort put forth by Fedotenko on that play distracted the defenseman, allowing Callahan to bank in a goal on an attempted pass from the right-side.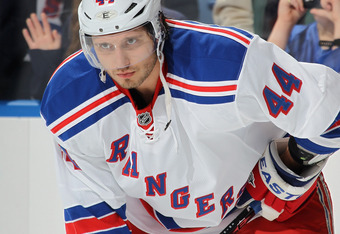 Bruce Bennett/Getty Images
Dan Girardi—Not only do I not blame Girardi for the goal against (Prust needs to let the clearing attempt leave the zone), but I commend him for another all-around dominant defensive performance. He also chipped in with two power-play assists (could he be the new power play quarterback?), including a perfect shot off the angled stick of Fedotenko in the high slot. Behind Henrik Lundqvist, I would peg Girardi as the second biggest reason the Rangers were able to finish this road-trip with a record above .500 despite struggling through the large portion of each game.
Michael Del Zotto—Del Zotto topped his previous performance against Edmonton with his best of the season in a winning effort.  Not only did he avoid any major defensive miscues, but he also logged over six minutes of power-play time and added a secondary assist on Fedontenko's tally (although Girardi probably deserves more of the credit).  While Winnipeg doesn't have the greatest offense, it was a very encouraging defensive performance from MDZ.  If he can keep this up we could see Tortorella give him more crunch time minutes as the season continues.
Marty Biron—Biron stepped in last night and held down Hank's fort to earn his first win in his first start of the season. Biron was solid, especially when the score was tied in the third period. Biron stopped 27 of 28 shots, and earned the right to wear the Broadway hat during his postgame interview. It wasn't smooth sailing the entire game, however, as Biron mishandled the puck behind the net in the second period and heard a bomb from Dustin Byfuglien ring off the post in the third. Any time you can get a win with Lundqvist on the bench, it's a good night.
Grade: B
Steve Eminger—Eminger was the Rangers best player in the first period, exhibiting his usual steady defense and even chipped in with two creative passes on the offensive end for scoring chances. Although his minutes were limited by the poor play of his defensive partner, Eminger put in another solid game for a depleted Rangers defensive core.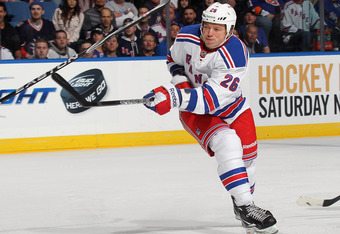 Bruce Bennett/Getty Images
Ryan McDonagh—For the first time on the Canadian road-trip, we did not see the dynamic offensive play that we are becoming accustomed to seeing from McDonagh. The opportunity to play that style is not going to be there every single night, so it was good to see McDonagh continue his rock solid defensive play while logging just under 25 minutes of ice time. I do think he needed to step up on Antropov a little more aggressively realizing that there was no Winnipeg player in front of the net, but overall another great game.
Tim Erixon—I have always subscribed to the theory that if you don't notice a defenseman, it means he had a good game. Erixon's 17 minutes may not have been completely mistake free, but he didn't get beat all night and seems to be progressing nicely toward earning that last roster spot once Staal and Sauer return.
Brandon Prust—It was another day at the office for Mr. Prust as he continues to make Tortorella look like a genius for benching him in Vancouver three games ago. He was all over the ice, contributed a fight, and seems to be playing with a lot of confidence right now. Prust, however, did mishandle a clearing attempt from Girardi and collided with Boyle in the defensive zone, leading directly to the Nik Antropov goal.
Grade: C
Brandon Dubinsky—Dubinsky began to show some signs of life last night, registering three shots on goal and displaying some excellent late-game forechecking ability to keep Winnipeg off the board in the final two minutes. However, the scoring opportunities are still nowhere to be found as the puck can't seem to stay on his stick for longer than a few seconds. Compounding his problems, Dubinsky continues to be an atrocity in the face-off circle. I'd like to see Stepan start taking some draws on that line after winning three power-play face-offs pretty cleanly in the game last night.
Marian Gaborik—Gaborik continued his early season offensive surge in the first period, creating multiple scoring chances and flying past helpless defenders on the offensive rush. Then what happened? Gaborik barely played in the third period, registering just under two minutes of ice time. Hopefully, everything is okay healthwise; I guess it's possible that a lack of scoring or power play effectiveness might have kept him on the bench. I hope, for Tortorella's sake, that was not the case.
Brian Boyle—Boyle played a key part in the first Rangers goal, as he planted his 6'7" frame right in front of Chris Mason to block his view of the play. Mason was late in getting over on Fedotenko's redirect giving the Rangers the lead.  Unfortunately, this play was one of only a few bright spots for Boyle, who won only 5 of 13 face-offs, and had a minimal impact on the rest of the game.
Derek Stepan—For all that Stepan is starting to do well, he is becoming a liability on offense and on the power play because he cannot seem to hit the net. His shots aren't even close. I counted four separate instances in which Stepan missed the net on a fairly wide open shot by more than two feet. I like his playmaking talent, his awareness in the offensive zone, and even his emerging face-off ability, but until he can continue to master the simplest concept in hockey—shooting the puck on goal—he will continue to struggle.
Grade: D
Artem Anisimov—Relegated to fourth line duty for the majority of the game, Anisimov seemed to work his way back into the regular line rotation in the latter stages of the third period. If not for the need for a second faceoff man on the ice late in the game, Tortorella could have benched him all together and you wouldn't have heard any complaints from me. Anisimov was once again a total non-factor in the offensive zone and you have to wonder what his confidence level will be going forward.
Mike Rupp—Rupp was on the ice for only five minutes last night. He seems to be getting the same treatment as Boogaard did last season, as I continue to wonder what Tortorella has against playing enforcers.
Kris Newbury—see Mike Rupp
Wojtek Wolski—I would be a little more upset with Wolski if this wasn't his first game back. He was completely out of the flow of the game tonight, showing no passion or work ethic on either the offensive or the defensive end. Having said that, it was good to see him get some playing time with Dubinsky and Callahan, a confidence booster he can hopefully build on going forward.
Grade: F
Brad Richards—This "F" has been a long-time coming for Broadway Brad. The power play quarterback has been air-mailing passes and throwing balls in the dirt all season and the problems are starting to escalate. Maybe Richards should take get some tips from third-line grinders Fedotenko and Boyle, who worked the front of the net with the man advantage last night to perfection. Or, maybe Richards should spend some time with Girardi, who might tell him to simply shoot the puck. Either way, the honeymoon is now over. Richards has been lazy in the defensive zone passing up multiple opportunities to backtrack for loose pucks (remember Brad, you are the center), and has been nothing special in the faceoff circle or anywhere else on the ice. 
Jeff Woywitka—While Woywitka seemed a step slow—probably due to having the night off in Edmonton—his play on the ice was adequate enough to warrant a higher grade. The problem was that he only played for just over 10 minutes. If Tortorella can trust Woywitka to play for short minutes against an offensively challenged team like Winnipeg, how many minutes can he be expected to play against a team like Philadelphia? These lost minutes get picked up by your workhorses—Girardi, McDonagh, and now Del Zotto—and can put a serious strain on a defense over an 82 game season. Woywitka can almost certainly expect to be on the outside looking in on Thursday night with Sauer back in the lineup.