Vancouver Canucks: Why David Booth Could Be the Perfect Fit
October 25, 2011
Joel Auerbach/Getty Images
We aren't even a month into the season and already the Vancouver Canucks have pulled off the biggest trade since the deal that brought Keith Ballard to the club just north of the Washington state border.
What's even more interesting about the David Booth trade? This deal was made with the Florida Panthers to boot.
Do Mike Gillis and Dale Tallon have some sort of secret relationship going on here? I guess I'll never know. 
Maybe these two guys get along really well; or maybe Tallon owes Gillis something from years ago and that's why he is giving up key players like the aforementioned Ballard, Higgins (more on him in a second) and the newly-acquired Booth. 
When we take a closer look at the Canucks, we see a side littered with some of the top talent around the league.
The Sedin twins, Alex Burrows, Ryan Kesler and Chris Higgins make quite a formidable top 5 forwards in the top 6 group. 
Over the span of this season (and the end of last), Alain Vigneault tried Mikael Samuelsson, Cody Hodgson, Marco Sturm and many others in that spot. But none really panned out with any sort of consistency.
Since Chris Higgins joined the Canucks, he has been the poster-boy in exemplifying effort, intensity, willingness and drive—things that are seen all too infrequently these days. 
There are few players on the Canucks roster who work as hard every single night. It's incredible to watch a player so committed to helping his team. Ryan Kesler plays that exact sort of game, which helps explain why those two have been so incredibly effective together.
Now I'm not going to sit here and tell you that Mikael Samuelsson and Marco Sturm don't want to win. 
I think that, to some extent, every player in the league wants to win the Stanley Cup. These guys just don't bring the same consistent production to the table Higgins can provide. 
Is Chris Higgins ever going to be a 50-goal scorer? It's about as likely as the Canucks bringing back Dan Cloutier to be their No. 1 goaltender. 
That being said, can we count on Higgins to finish checks, play hard on the boards and score the odd goal? Absolutely. And that's exactly where he shows his value.
So where does all this come from to end up on the subject of David Booth?
When you look at Booth's career you see a man oozing potential. You see a guy who had a great year in Florida a couple seasons ago only to never reach that level again. Was that career stagnation due to injury? Playing time? Or simply due to just playing in a small market like Florida? 
I honestly don't know the answer. You'll have to ask David Booth the real reason for his travails.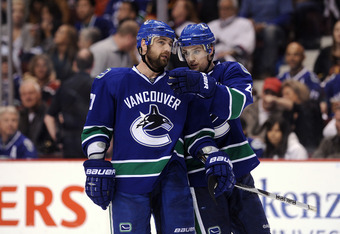 Harry How/Getty Images
Does this remind you of any players to come through the Canucks system?
Hold on—here we are back on the subject of Higgins. He had a great year with Montreal in which he scored 27 goals before tailing off sharply for reasons that we most likely will never learn. 
Coming to Vancouver appears to be the best thing that has happened for him in a long time. It has reinvigorated his career, in similar fashion to what we now see happening with Booth.
I really do believe that with a management team that is as dedicated to winning as Vancouver's, David Booth can produce at a level that meets his (and our) expectations. 
With Alain Vigneault calling the shots as coach, we could see the blossoming of a real young star in this league. You don't just lose the talent to net 30 times in a season overnight. 
Booth also has a superb personality. 
Watching his first meeting with the media today, you can see that he is a great person. He seemed loose and light in a situation that was completely new for him. Of course, coming from Florida (not exactly a hotbed for hockey) doesn't make the whole "media" transition any easier. But the way he handled it today really showed me that he was excited to be in Vancouver.
Now, I'm not going to drink any kool-aid and tell you that Booth is going to light the league on fire and score 60 goals this season. 
However, do I believe that he can score 30 goals playing with Chris Higgins and Ryan Kesler? There's not a doubt in my mind. He is exactly the kind of player the Canucks have been searching for on that second line. 
I understand that my positive view on things before he has played a game doesn't mean a lot. But on paper, there really isn't any reason not to be excited. David Booth could be a really good player for a really long time in Vancouver. 
Let's hope this works out!
Follow me on Twitter: @michaelstuart93