Dan Wheldon Crash: How Will It Affect the Rest of the NASCAR Sprint Cup Season?
October 25, 2011
Chris Graythen/Getty Images
The conclusion of the race at Talladega may indeed be the last visual effect of Dan Wheldon's tragic crash on October 16, at least for NASCAR in 2011. At the race, a moment of silence was held for him.
Decals were placed on the cars, commemorating his life and racing career. T.J. Bell attempted to qualify the No. 77 Ford Fusion into the race, but was unable to finish in the Top 43 during qualification. In terms of the rest of the season, that will be about it.
There are only a handful of races left. There are only five drivers with a true fighting chance to win. The championship is on everyone's mind. 
Drivers in the Chase are focused solely on the possibility of a championship. Drivers out of the Chase are focused on either helping a teammate earn a championship or avoiding a situation that would significantly alter the chase standings. 
To dwell on the tragedy of Dan Wheldon is not really part of a race car driver's DNA. Points leader Carl Edwards is not concerned with Dan Wheldon right now. His Rousch Fenway Racing teammate Matt Kenseth is probably of the same mindset.
Every human must reflect on troubling events such as these when they occur, but they must also transcend that trauma if they are to continue in their given profession. A soldier cannot run away after he loses his friends in battle, nor can a firefighter avoid putting out more fires even when he has lost a colleague during an emergency.
If Dan Wheldon's loss has lasting effects on the drivers, they might as well take off their helmets and try to become NASCAR analysts/reporters.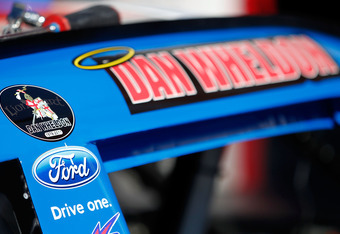 Geoff Burke/Getty Images
It does help that the ever-dangerous Talladega Superspeedway is now behind the 2011 season. None of the remaining tracks (Martinsville, Texas, Phoenix and Miami) have nearly as violent histories.
The real effects of Dan Wheldon's death will be seen next year, when NASCAR returns to Las Vegas. The atmosphere will be heavier; the coverage will surely be more somber than usual.
It is quite likely that NASCAR will mandate the cars run a silent lap 11 in tribute to him. Or, they may duplicate the five tribute laps run by the IndyCar drivers after the race was cancelled. That remains to be seen, but that will be the major effect of Dan Wheldon's passing.
NASCAR will move on, temporarily, from the passing of Dan Wheldon for the remaining four Chase races.
We will all be reminded of his tragic accident again next year, upon the return of stock cars to Las Vegas Motor Speedway.