Manchester United: No United Player Deserves to Wear Shirt After Man City Loss
October 23, 2011
Laurence Griffiths/Getty Images
It really wouldn't be an overstatement to declare that no Manchester United player deserves to wear that prestigious shirt of the best football club in the world after their degrading 6-1 loss at the mercy of Manchester City.
Losing by such a large margin to their bitter rivals at home, in front of 55,000 season-ticket holders who pay on average £750 at £40 a game for the privilege, as well as many more from across the country and abroad who've invested ludicrous amounts of money and time to see their heroes, is unforgivable.
It was a highly-anticipated derby clash at Old Trafford which was a complete anti-climax and lacked everything as far as Manchester United were concerned.
No concentration, in attack or defence, limited work rate, no plan B, and most likely, a failure to listen to the wise words of Sir Alex Ferguson at half-time.
And there was also a moment of unbelievable idiocy thrown into the mix when Jonny Evans - who is a statistically proven world class defender with a virtually unbelievable, and unfortunate, level of accident-proneness - decided to get himself sent off.
Down to ten men or not however, the outcome would've still been the same for Manchester United at the final whistle.
After all, this was a game in which United hit 20 percent more misplaced passes than their opponents, and hit less than half the accurate passes than City when in the final third.
In essence, United were never focused and rarely seemed bothered to remember the things they practiced at Carrington.
Not only that but they made less tackles than their opponents, despite having to chase the ball more frequently.
Darren Fletcher may have linked up brilliantly with Javier Hernandez (who couldn't be bothered with all the famous movement malarky that's got him so many goals) to score a wonderstrike, but at 3-0 down it virtually meant nothing after having gave away a ridiculous amount of possession and having failed to adequately protect the defence when possession is turned over.
Anderson was no better in that central midfield, having also had more shots on goal (none of them worthwhile efforts) than tackles won, despite being the holding midfielder.
And when the defensive guy in the middle fancies making some headlines instead of helping out the team, it's clear there are problems.
On the wings, United put more crosses in than City, but less than half of them were as accurate.
Nani has spoken in the past about wanting to be the best in the world, having said: "That's one dream I've got: to be the best in the world."
"This is a big chance to show I can do much more; that I'm a good player with a very strong mentality."
When the Portuguese winger says things like that, then puts in a performance like he did in a huge Premier League clash against Manchester City, he might as well just change his name right now to Mary Muggins.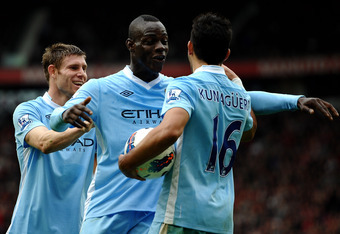 Laurence Griffiths/Getty Images
And speaking of Mrs. Muggins, Ashley Young would be wise to consider a name change too, especially after saying ahead of the game: "I am an ambitious person and I wanted to win titles and play in the biggest competitions."
Such is his ambition, he hoped whacking a few crosses into no-man's land or running into the penalty to try and beat Joe Hart at his near post would do the trick. But of course, it didn't.
As for the defence, they just speak for themselves.
Rio Ferdinand was seemingly desperate to prove the media right today that he's a past-it old man who's no longer got the pace or technique to keep up with Premier League forwards, while Patrice Evra continued his mentoring lessons with Chris Smalling by teaching him the art of not man-marking or adequately tracking back.
And in goal, David De Gea just couldn't be bothered towards the end, and could almost be heard telling Edin Dzeko, "Have another goal mate, you're worth it."
All in all, it was fireworks for Manchester City with Mario 'Why Always Me?' Balotelli stealing the show as he set his enemies' house alight to the tune of Firework by Katy Perry.
Sergio Aguero, David Silva and Dzeko all got in on the act, while Manchester United got in on becoming a circus act.
And in that 6-1 defeat on Sunday, the United players did look more like a bunch of wannabe clowns than Premier League champions, or even just professional footballers.
The only Manchester United shirt those men on the pitch deserved to wear today was a replica one down at their local pub.