Jerome Harrison Brain Tumor: Jahvid Best's Concussion May Save Harrison's Life
October 20, 2011
Hannah Foslien/Getty Images
If Detroit Lions' Jahvid Best wouldn't have sustained a concussion last week, Jerome Harrison wouldn't have a clue that he's got a brain tumor. In an odd twist of events, Best's injury prompted the Lions to send Harrison to the Eagles for Ronnie Brown, and Harrison's tumor was found in the process, according to Adam Schefter.
It's astounding how the ripple effect of events worked out. The Lions are in desperate need of a back to fill the Best void, and while Harrison had to be feeling like a dejected moving block, the team trying to part ways with him is the best imaginable scenario.
What if Best hadn't sustained another concussion? What if the Eagles would have asked for some other sort of compensation?
This has to be a very tough time for Harrison, but while his circumstances are unfortunate, he's lucky to have been dealt when he was. There is no telling how long he would have gone through life without knowing he had a brain tumor.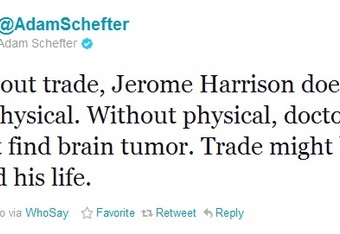 The trade obviously went up in smoke when the mass was discovered in Harrison's brain, but it's hard to imagine anyone is really thinking about Ronnie Brown at this point. There are certain instances that happen that put the game into perspective. This is one of those times.
Whether you believe that everything happens for a reason or not, this is sort of bizarre isn't it? Best is concussed and the Lions are left without a feasible back, but it ended up being the catalyst behind a life-changing physical for Harrison.
The trade may have not gone through, but neither of the parties involved can be upset with the outcome of this deal.