AFC North: the New Black & Blue Division
October 20, 2011
Larry French/Getty Images
With all apologies to the NFC North, the NFL's new Black and Blue division is the AFC North.  If you pay attention to the NFL's official defensive rankings (which I'm trying to get you guys to stop doing), you'll see that every defense in the AFC North is ranked no lower than seventh.  That's ridiculous!  I have these surging AFC North defenses not quite as high but all in the top 14—led by the Baltimore Ravens—of my latest Aggregate Defensive Rankings:
| | | | | | | | | | |
| --- | --- | --- | --- | --- | --- | --- | --- | --- | --- |
| 2011 NFL Aggregate Defensive Rankings (through Week 6) |   |   |   |   |   |   |   |   |   |
| |   |   |   |   |   |   |   |   |   |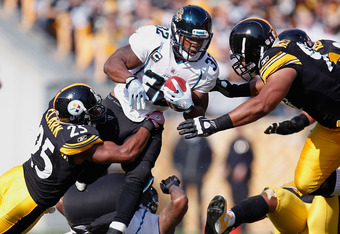 Gregory Shamus/Getty Images
The Pittsburgh Steelers are gaining momentum, moving up 12 spots from 26 to 14.  I know they caught a break facing the Jaguars and rookie Blaine Gabbert.  That being said, a game in which a defense racks up five sacks and allows only 76 net passing yards is quite impressive.  Look for the Steelers to end up where they always do, at the top of the defensive rankings, no matter who's running the numbers.
Now to last week's "prove-it-to-me" teams.  Going into last week, I highlighted three defenses with big tests: the Bills, Cowboys and Redskins.  Of the three, the Cowboys were the most impressive by confusing Tom Brady and the Patriots for most of the game.  Unfortunately for the Cowboys, they gave Brady one too many opportunities and (predictably) he made them pay.  The 'Boys drop one spot from seven to eight in this week's ADR, but the defense looks really solid. 
Although the Redskins' defense has an elite ranking (No. 2 overall in the ADR), they turned in a disappointing performance against the Eagles on Sunday.  Lost in all the talk about the Rex Grossman debacle is the fact that the Eagles went up and down the field on the Redskins D.  Sure they played better in the second half and kept the game within reach, but they failed to stop the Eagles' ground game and allowed them to run off the final two-and-a-half minutes. 
The Bills turned in the worst defensive performance of the three, generating only one sack and allowing 414 total yards to the Giants.  Do you notice something missing there?  That's right, no turnovers.  It's funny what happens when you don't get them. The Bills' D plummets from 16 to 26.
I'll be back next week with a brand new ADR!