2012 MLB Offseason: General Manager Rankings 16-20
October 18, 2011
Al Messerschmidt/Getty Images
We now move on to the next phase of our general manager rankings.
We are moving into the group that we could call mediocre. There isn't a whole lot of separation between these guys, so we could really place them anywhere. Unfortunately, a lot of it becomes a "what have you done for me lately" kind of business.
20. Dave Dombrowski — Detroit Tigers
Best Move: While the move could charitably be called a mixed bag, getting Miguel Cabrera from the Marlins for players that never made it in Florida has to be seen as a success. Dontrelle Willis was a high-profile failure in Detroit, but Cabrera is one of the five best players in the American League.
Worst Move: Detroit overcame a lot this year to win and most of it could be placed on age. Magglio Ordonez and Carlos Guillen are old and broken-down. They will be free agents and they won't be coming back.
Mitigating Factors: You could definitely argue that Michigan has been hit harder by the recession than any other state. Detroit in particular has some of the highest unemployment in the country. So, the Tigers have had to cut back as well.
Known For: Having an older veteran team that was lucky to be in a weak division this year. He got a contract extension based on the team's solid play down the stretch. That play has hidden some questionable decisions over the years.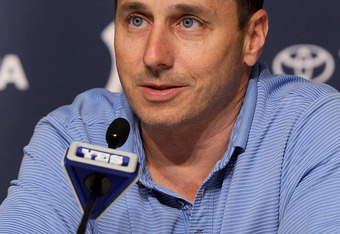 Jim McIsaac/Getty Images
19. Mike Rizzo — Washington Nationals
Best Move: Give Mike Rizzo some credit. Yes, Bryce Harper and Stephen Strasburg fell into his lap, but he has made several selections in the draft that will eventually serve the Nationals. They have an impression stable of young players in Washington and they will come of age soon.
Worst Move: This one is easy. Often hindsight is 20/20, but this time foresight was as well. Signing Jayson Werth to that contract was always a head-scratcher and his lackluster performance last season only highlighted that.
Mitigating Factors: The Lerners are good owners, but Rizzo had to clean up Jim Bowden's mess. Funny how Bowden moves onto greener pastures on MLB Radio while Rizzo does the heavy lifting.
Known For: Rizzo will be known as the guy who gave Werth that deal, but he will be known more for building one of the best young teams in baseball. They could dominate the NL East by the middle of the decade.
18. Jed Hoyer — San Diego Padres
Best Move: Hoyer has a knack for getting affordable pitchers to come in be successful. Mike Adams was the first. Then he brought in starters like Jon Garland and Aaron Harang. All of them performed well in the spacious ballpark and with good defenses behind them.
Worst Move: Padres fans blamed the poor season on pitching that went from brilliant to merely solid, but a lot of that was due to a drop in fielding. Orlando Hudson and Jason Bartlett were brought in to stabalize the defense and neither performed well.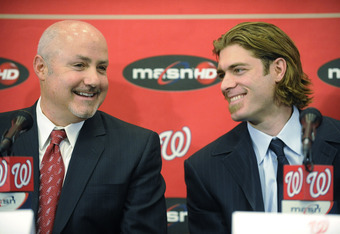 Mitchell Layton/Getty Images
Mitigating Factors: The Padres have very little money, so Hoyer has to be creative. The final grade on Hoyer will come when the fruits of the Adrian Gonzalez deal reveal themselves. One year is always too soon to evaluate deals involving prospects.
Known For: Hoyer will ultimately be known for how the Adrian Gonzalez trade works out. He got several good prospects for the slugger, but prospects are never a sure thing. If they pan out he will be hailed as a great GM. If they don't he may meet a premature end.
17. Dan O'Dowd — Colorado Rockies
Best Move: Ubaldo Jimenez was brilliant in 2010, but he couldn't reproduce that magic this year. Somehow, O'Dowd was able to parlay that into four prospects. Alex White and Drew Pomeranz are excellent pitching prospects that should be in their rotation next year. Jimenez was just as inconsistent in Cleveland as he was in Denver.
Worst Move: Todd Helton's lifetime contract finally comes to an end after 2012. O'Dowd did restructure it to make it more team friendly, but signing him to the huge deal hamstrung the organization. Now, he's done the same with Troy Tulowitzki and Carlos Gonzalez.
Mitigating Factors: O'Dowd has been on the job long enough to where all the problems are his. No excuses, but the Jimenez trade will keep him in good stead.
16. Brian Cashman — New York Yankees
Best Move: At this point, the Curtis Granderson trade has to be viewed as positive. Losing Ian Kennedy and Austin Jackson hurts, but Jackson wouldn't have played anyhow and there is no way of knowing if Kennedy would have succeeded in New York. Granderson was great this year.
Worst Move: It isn't on him, but signing Rafael Soriano was a bad move. Stay tuned for the mitigating factors on this one though.
Mitigating Factors: Most would think Cashman would rank higher. I put him in the middle of the pack because it is difficult to tell where he begins and where Streinbrenner ends. Soriano was a Streinbrenner move. Who knows how many moves were influenced by them and how many moves Cashman could have made without their interference?
Known For: Pundits are saying Theo Epstein needed to move on to prove his worth. Cashman is in more of a need to move. He's won World Series titles in New York, but everyone assumes it's because he has the most money to spend. He needs to go to a mid-market team and turn them around to prove his value as a general manager.
Addendum
If you want to see how the other GMs were rated, you can check those rankings out here. 21-25, 26-30, 11-15, 6-10, 1-5.