Palmer to Raiders: Did Oakland Give Up on Jason Campbell, Kyle Boller Too Soon?
October 18, 2011
Andy Lyons/Getty Images
It appears the Carson Palmer saga is over. The long, meandering, on, off, on-again, off-again, dead-in-the-water, suddenly-alive story has its ending.
Palmer is packing his bags and heading to Oakland to join the Raiders, it appears, in the middle of the season for what could end up being two first-rounders.
Goodness. The Al Davis legacy lives on, indeed.
The whole thing was set in motion Sunday when starting quarterback Jason Campbell smashed his collarbone after being tackled against Cleveland. While pundits spent the next day burying the apparently quarterback-less 2011 Raiders, the Oakland front office was busy finding a solution. It thinks it's found it in Cincinnati in the form of the disgruntled two-time Pro Bowler.
At face value, this move is an overwhelming success. On Monday, the Raiders were relying on Kyle Boller. One day later, they got to put their season in Palmer's hands. On paper, it's an upgrade.
But is it on the field? Was this the right move for the Raiders?
If you say yes, you think Palmer's going to step in and start slinging the ball all over the field. You don't think missing all of the camps, preseason and regular season will have an effect. You think, simply, Palmer can step in and be Carson Palmer.
Maybe he can. But there are a lot of variables in that equation.
Meanwhile, Campbell, though he had surgery, could be back before the end of the season. Boller, while not exactly a Hall of Famer, has been with the team all year. He knows the offense better than any healthy quarterback in the league, and there's no player in the game that relies more on the playbook and on practice and rehearsal of it than the field general.
The Raiders are making this move in order to make a playoff run this year. But to do so, they have to win immediately. Right now. There's no time for Palmer to go through a trial and learning period. The Raiders are trying to emerge from a crowd that includes the Patriots, Jets, Bills, Ravens, Steelers, Bengals, Texans, Titans and Chargers. One losing streak could put them out of the running.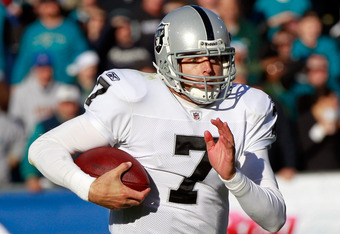 Sam Greenwood/Getty Images
The chances of Palmer, who hasn't taken a competitive snap since last January, stepping in and finding his form are small. For the Raiders to bank on it smacks of desperation.
Of course, maybe the Raiders were desperate. It would be understandable for a team relying on Boller to be desperate. But Boller was best suited to lead the Raiders, and Campbell's season might not be over. The cupboard was pretty bare, but the Raiders still showed no faith in quarterbacks they had been grooming for this situation.
The move is iffy for this season, but the outlook darkens when considering the future. Two first-round picks could be up in smoke for the next two years, all for a quarterback who has failed to up his game from the highs of half a decade ago.
His quarterback ratings were in the 100s and 90s back then, and have sunk to the 80s since. He'll be 32 at the end of this season, and he hasn't been the same since tearing his ACL in the 2005 playoffs. And that's worth two first-rounders?
Those picks could have been used on a franchise quarterback. Or an intimidating pass rusher, or an elite coverage corner or an asset along the offensive or defensive lines. First-rounders are expected to turn into long-term fixtures. Instead, the Raiders are investing their future in a wild card.
When you take a shot in the dark, you're not supposed to wager everything on it.
Oakland's compromised the next few years of a talented team in an attempt to salvage this year, a move without even a high risk of paying off. Campbell's injury was unfortunate, but Boller deserved a shot. It's not the ideal situation, but it never is when a team loses its starting quarterback. Instead, in an effort to keep the starter job from going to Boller or returning to Campbell, the Raiders blew up their future.