BCS Rankings 2011: Washington in at No. 25, Is the Program Back?
October 17, 2011
Harry How/Getty Images
Who is this new Washington team? Ranked No. 25 in the BCS Rankings? Someone has got to be pulling my leg.
Many fans hardly recognize the program that all too recently went 0-12 in 2008, myself included, but the rankings are in and the Dawgs cracked the top 25.
Who would have thunk it?
However the real question now is, is this the new face of the program or just a happy fluke?
With a dominant offense, Head Coach Steve Sarkisian has been making great strides toward creating a deadly attack with several outlets for a young and tenacious QB Keith Price to utilize.
With RB Chris Polk and WRs Jermaine Kearse, Devin Aguilar and most recently added TE Austin Sefarian-Jenkins, it looks like the Husky program is on a huge upswing.
With Sark's dynamic play-calling, the Huskies are making a major comeback to Pac-12 relevancy. 
However there are a few things holding back what could be a potential juggernaut Husky team: the defense.
Defensive Coordinator Nick Holt has busted just about every vein in his head and still the Husky defense has been struggling to make the big plays necessary to back up their offensive counterpart.
In this respect the program still has a long way to go in its climb back to the top.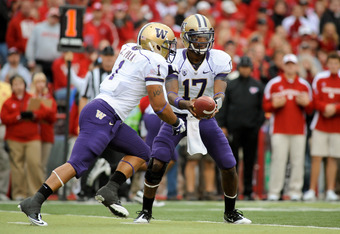 Eric Francis/Getty Images
Many times the defense relies on one man to put the team on his back and carry the defense all on his own.
Two years ago it was LB Mason Foster, and this year the most likely candidate is LB Cort Dennison. Not only does this put a lot of pressure on one player, it cripples the program when that one guy graduates.
At this point graduation is indeed the most problematic thing for the Dawgs to worry about in the coming years.
This next season will be a real test of the Dawgs' resiliency as key seniors will be graduating, including Jermaine Kearse, Devin Aguilar and Kicker Erik Folk just to name a few.
Luckily the Huskies keep a good core to continue building on and relatively new talent to develop i.e. Kasen Williams and Nick Montana, but those graduations will cut deep in the depth of the Dawgs' roster.
However with the recent success of the team, Sark may have a better recruiting class to look for in the coming years.
Players want to go where the wins are and the Huskies have done well to rack up a few at 5-1 this season, 3-0 in conference play.
Ultimately the Washington Huskies are on their way back to prominence slowly but surely.
Exactly HOW prominent is still up in the air, but a top 25 BCS Ranking is definitely a step in the right direction.