Canuck Nation Strong as Vancouver Canucks Defeat Edmonton Oilers
October 16, 2011
Dale MacMillan/Getty Images
The Vancouver Canucks took on the Edmonton Oilers at Rexall Place on Saturday night in what was certainly an interesting game.  The Oilers came out strong and pressed the Canucks back onto their heels with strong offensive play and speed.
It was a tale of fast against slow in the first two periods of Saturday's game, as the Canucks came out looking sluggish and tired.  Had it not been for Luongo's superb play, robbing numerous Oilers on great scoring chances, the Canucks could have been out of the game after 40 minutes. 
While the Canucks didn't come out with their best effort to start the game, a few players impressed.  Aaron Volpatti's fight with Andy Sutton was spectacular, as both men landed a few good blows, with Volpatti taking the final decision. 
Chris Higgins continued his strong play this season netting assists on both of Sami Salo's goals.  With the two assists tonight, Higgins has four points in his last four games.  His speed, intensity and knack for offense have really been on display thus far.
Sami Salo proved that, even at 37, he can still play on both sides of the puck against the best young players in the league.  
Overall, the Canucks proved that even when they aren't playing anywhere near their best, they can still take on a team and win on any given night.  This was a game that the Oilers should have won with the Canucks playing the way they did.  Had it not been for a huge goal by Alex Burrows at the end of the second, I doubt the Canucks would have come back.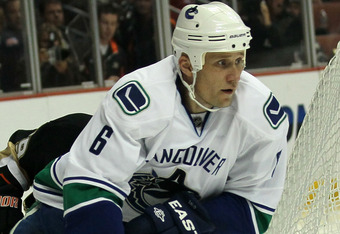 Stephen Dunn/Getty Images
The Canucks, now 2-2-1 on the season, are off until Tuesday when they'll face the New York Rangers at Rogers Arena.  This will be Canuck fans' first opportunity to see Brad Richards play along side Marian Gaborik.  In the past, the Canucks have fared rather well against Eastern Conference foes, so it will be interesting to see what comes of the tilt against the new look Rangers.
One thing is for certain, the Canucks need to pick their game up if they want to be in the hunt for the President's Trophy again.  That being said, I'd be happy with the Canucks finishing eighth in the conference and have them go on to win the Stanley Cup. 
We are only five games in and I don't think anybody in Canuck nation can wait for the postseason.  Let's enjoy the next 77 games and hope that our Canucks come out on top in most of them.
Enjoy your Sunday.
Follow me on Twitter @michaelstuart93