Patriots vs. Cowboys: How a Sebastian Vollmer Return Can Slow Down DeMarcus Ware
October 15, 2011
Jonathan Daniel/Getty Images
Sebastian Vollmer made his return to practice for the Patriots this week and is questionable for this week's game against the Dallas Cowboys, a move that could have ripple effects across the offensive line, all the way to where a 6'4", 260-pound menace will be standing on Sunday.
It'll be all hands on deck for the offensive line this week for New England, and the biggest bit of news was the return of Vollmer, an All-Pro tackle last year who's been limited to one game this year due to a back injury.
The level of urgency on the offensive line is high for a reason: The Patriots will be going up against a good pass-rushing team in the Cowboys, led by DeMarcus Ware—the best in the league at getting to the quarterback.
The Patriots have, for the most part, held their own along the offensive line, but they haven't been tested nearly to the degree they will Sunday. Cameron Wake? Shaun Phillips? Please. They're not Ware. They're not freaks of nature. They can't put up 20 sacks, or 11 in a down year.
Ware will be lining up over Matt Light on the left side (Ware's right), but make no mistake, this won't be a one-man battle. An elite pass-rushing force on Brady's blind side is too big a risk for Bill Belichick and offensive coordinator Bill O'Brien to take with a one-on-one matchup. Light will need help, but with a stretched-thin offensive line, where does it come from?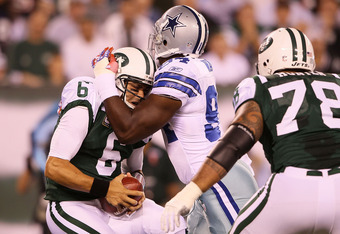 Elsa/Getty Images
If Vollmer returns, that can be the answer.
If Vollmer is good to go on Sunday, he'll slide into the right tackle spot, and the Patriots' line will look like it was expected to at the start of the season (minus Dan Koppen at center, who's on injured reserve). That will leave talented and impressive rookie Nate Solder as the odd man out—and as the Ware neutralizer.
If Solder doesn't have to line up at tackle, he's free to be what Belichick must have drooled over when he was drafting a 6'8", 319-pound bruiser whose natural position was at tight end. Solder can be a top-notch blocker lined up at that tight end position, and he can be parked right next to Light, with the explicit instruction that No. 94 and No. 12 don't touch each other.
That puts six linemen on the field, including two tackles in front of Ware. From there, New England can run in that direction, alternate Rob Gronkowski and Aaron Hernandez next to Vollmer, line up either one out wide or go with three wide receivers. The Patriots can maintain a versatile attack, all while putting the brakes on Dallas' most disruptive player.
This is all possible thanks to Vollmer's return. Without it, Solder's at right tackle, where he's played well, but then either Gronkowski has to block and is under-utilized as a pass catcher, or one of New England's lesser linemen has to help Light.
In other words, Thomas Welch stays on the team and is in there helping instead of Solder. Welch was a screen door against the Jets on one sack of Brady. Now imagine him against Ware. If you think you'd be worried, Brady thought the same thing and his shoulder started hurting.
Ware might still make his presence known. He had 20 sacks one year. You don't get 20 sacks by getting shut down by double teams.
He'll be a test for the Patriots, no doubt. But thanks to Vollmer's return, the Patriots can give him a test as well.