View from the Victory, Volume Four: Is Harry Kewell Worth His Weight In Gold?
October 14, 2011
Mark Dadswell/Getty Images

Mehmet Durakovic's Melbourne Victory continued in their 2011-12 Hyundai A-League campaign when they took on interstate rivals, Adelaide United, at Hindmarsh Stadium.
An important question that needed to be answered was who would start up top: Danny Allsopp or Carlos Hernandez, whose return to the team came as a surprise.
In the end, the Victory manager elected to go for Hernandez against the Reds.
"Carlos comes in as a surprise because he's returned early from Costa Rica, but I expect Carlos to start," Durakovic told David Davutovic of the Melbourne Herald Sun. "He trained really well."
Adelaide manager Rini Coolen was well aware of Kewell's ability on the ball, as seen in a 1-1 draw at Hindmarsh weeks earlier in a preseason friendly.
"Harry Kewell is not only in one position. He swaps during the game. We have to take care of him. He will definitely not be a free player," Coolen told Michael Lynch of the Age. "If you play against the system they play, him or [Carlos] Hernandez in the No. 10 position, you have to be very careful in transition moments, because a player like Harry is very dangerous."
Adelaide and Melbourne have had a strong rivalry with each other, dating back to a couple of Grand Finals, which saw the Victory get the better of the Reds to the tune of 6-0 and 1-0, respectively.
It has been a one-sided rivalry, with Melbourne owning a 14-5-3 record. But history would not be on the Victory's side on Friday.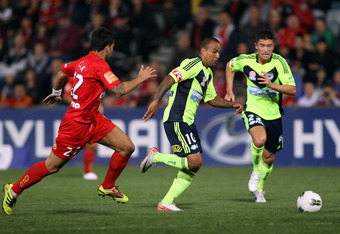 Morne de Klerk/Getty Images
Early in the first half, Melbourne had a bevy of looks but could not capitalize. The same thing could be said of Adelaide, who were unable to finish their opportunities. At the end of the first half, there was no score.
In the 52nd minute, Sergio Van Dijk took advantage of a Melbourne miscue in the back to give Adelaide United a 1-0 lead. The Victory's Adrian Leijer was sent off in the 55th minute after earning a second yellow.
Kewell himself would be cautioned for a challenge in the 82nd minute. That essentially summed up what has been two straight weeks of subpar football from Victory, who dropped their first match of the season, 1-0 to Adelaide, who are now 0-1-1.
The question now is whether or not Kewell is worth his weight in gold. The supporting cast has proven to be the weakest link for Melbourne because of their lack of ability to create a string of passes, the ability to defend and the ability to finish the sequences they generate.
The attention from the local should no longer focus on Kewell, but rather on the entire team's performance. With Melbourne Heart up next on the schedule, it will take a team effort for the Victory to finally get their act together.
Kickoff between the Melbourne Victory and Melbourne Heart at AAMI Park is scheduled for Saturday, Oct. 22 at 7:45 p.m. AEST.