Auburn Football 2011: A Glimpse of the Future of the SEC This Week
October 12, 2011
Chris Graythen/Getty Images
In a year where national punditry has decreased fan interest in college football by record numbers, those same pundits are now desperately grasping for stories that will regain the attention of the average fan. For eight months, fans were fed the line that Alabama and Oklahoma would be the best two teams in college football and others need not apply.
Briefly, LSU changed that media bombardment, and then the load that was fed fans for eight months had one team added, along with two more months. The reality is that national football coverage has been extremely boring this season.
The average fan does not care to hear repeatedly that a particular team, or in this case group of three teams, are the best and others have no chance. In fact, this might be true, and fans might know this, but they lose interest after hearing it for the first hundred times.
Instead of actually finding some interesting stories, the national punditry has taken it a step further and began making exaggerated claims of the same three teams being the best all time at one thing or another. Even color commentators seem to have lost a grasp to the reality of entertainment for the average fan.
There is one simple truth behind all of this. Oklahoma, Alabama and LSU do not have particularly large fan bases in the great scheme of things. In fact, all three added together make up just a drop in the bucket of the college football spectrum.
With teams like Oklahoma State and Wisconsin out there and having very good seasons, they could be added to the current equation, but it would still fall short. In 2010, fan interest was much higher overall, with two teams with even smaller fanbases leading the way in college football.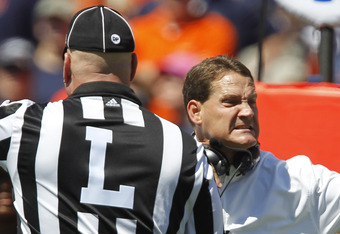 Butch Dill/Getty Images
The national interest in Cameron Newton, LaMichael James and company was much higher for good or bad. Of course, the national punditry had bored fans to death with eight months of spoon fed endorsements of Ohio State and Alabama before that season, and interest did not really peak until October, but peak it did.
The truth is, this football season has been just as interesting; the coverage simply has not presented that to the average fan. When watching a game between LSU and Florida, fans do not want to hear incessant promotion of Alabama. When watching a game between Alabama and Arkansas, fans do not want to hear incessant promotion of LSU and Oklahoma.
The media even managed to ruin the Red River Rivalry this season. It did turn out to be a beat down, but it was an interesting beatdown. Fans on the West Coast must think the pundits have forgotten they even play football.
In the SEC, there are a few sure and certain facts. LSU has been building toward this season for four years. Win or lose, this is their chance. Alabama will absolutely be decimated by graduation and the NFL draft after this season. Both teams will likely move to the background for the next two seasons.
Florida and South Carolina are not legitimate contenders for the SEC Championship this season even if they make the championship game. It would take a huge run of luck to give either a chance against the west.
Georgia appears to be a pretender and headed for several mediocre years if no change is made. Tennessee has taken a step back this season, and further evaluation seems to be in order.
In the west, Auburn and Arkansas are staging to fight it out for dominance in the next two years.
This week, when Florida travels to Auburn, it will begin the struggle that will likely decide BCS Champions in the coming two to three years. It is about the future of SEC football.
If pundits want to regain the attention of the national fan base, they should plant the seeds now and stimulate interest. The approach to this game should be different. Fans already know that Florida was whipped by Alabama and LSU in similar fashion. The ones that decide to watch this game will likely care very little about either LSU or Alabama.
Fans that watch this game will be more focused on how they match up with each other looking to the future.
It is true that both Florida and Auburn have looked like rookies at times. The largest reason for this is that both teams are largely composed of rookies. It is also true that the two teams have lost a combined four games.
All four losses by these two teams were to current top 10 teams. Even though these two teams have looked like rookies at times, it hasn't stopped them from beating every team they should have.
Neither Arkansas nor South Carolina plays interesting opponents this week. For the fan that is interested in the future of the SEC, this ancient rivalry game between Auburn and Florida will reveal more than most.
This series stands at 43-38-2 in Auburn's favor. The first game was played in 1869. Auburn has won the last two meetings and three of the last five. Between 1995 and 2000, Florida won seven games in a row.
Florida, Tennessee, LSU, Alabama and Auburn have dominated the SEC landscape for the last two decades. Auburn is 98-63-2 in SEC play during that time frame; Florida is 135-34, LSU 93-69-1, Alabama 105-60-1 and Tennessee 112-51-1.
The 2011 season begins a new decade, and it appears LSU, Alabama, Auburn and Florida are headed towards another successful decade of conference play. All of these teams have BCS Championships in the last five years.
Make no mistake; fans will be getting a glimpse of the future of the SEC in Jordan-Hare Stadium this Saturday. Pundits should treat the game for what it is.