Texas Football: What Went Wrong with Garrett Gilbert?
October 13, 2011
Erich Schlegel/Getty Images
When I wrote about quarterback Connor Wood transferring, an article published a month before the news was official, I had to consider the other three players on campus. There was nothing solid about Case McCoy or David Ash transferring, but there was definitely nothing about Garrett Gilbert considering another university.
A lot of people discussed with me the options as quarterback and one option was starting McCoy and Ash over Gilbert. People dismissed this as being too unrealistic because Gilbert would likely transfer if that happened.
I scoffed at that statement, but as we found out last week, it was a very real scenario. Garrett Gilbert was released from his scholarship and made it public that he intends to transfer. He was even spotted at a Southern Methodist University practice before the announcement was made; consequently, this ended his run at the University of Texas and what many thought would be a salvageable career after expectations were shattered in 2010.
No matter what side you were on during the Gilbert debate, this is a very disappointing story for all parties involved. It doesn't even sound true when you try to summarize the situation in your head. A 5-star high school prospect recognized by Gatorade and the state for his athleticism goes 7-7 as a starter only to get benched in favor of a sophomore-true freshman quarterback combination? It sounds unbelievable, right?
But that is exactly what happened. Why did this happen? What exactly went wrong that would make a five star prospect transfer? Let's take a look at his time at Texas.
Garrett is selected as Colt McCoy's backup for the 2009 season and doesn't get very much experience despite most games being out of reach by their opponents. He gets some meaningful snaps in the Louisiana-Monroe and Texas-El Paso games and ends up totaling 124 yards of passing offense on 26 attempts with one rushing touchdown.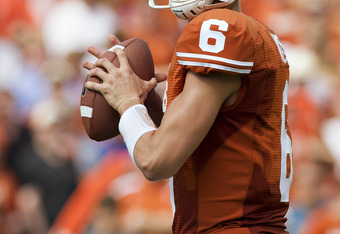 Wesley Hitt/Getty Images
One thing the coaches are unfairly criticized for is his lack of playing time and experience before the National Championship game. Nobody expected the event that happened in Pasadena and for good reason: Why would a true freshman get meaningful snaps in the biggest game of the season? It didn't make sense to the coaches until Jan. 7, 2010 rolled around.
Colt McCoy gets knocked out of the game while an entire state, school and fanbase shifts their focus to an 18-year-old freshman in hopes that he can do what Vince Young did in 2005: win a national title. The pressure was tremendous and when you watch the replay of the game, you can see it in Gilbert's eyes.
He threw two interceptions in the first half including a shovel pass interception resulting in an Alabama touchdown. Texas was down 24-6 and it looked like the beginning of a long night.
There must have been a full moon out that night because what resulted from halftime was close to being the comeback of the century. Gilbert connected with Jordan Shipley for two touchdowns and after a two-point conversion, Texas was within three.
The comeback ended up stopping right there after the Crimson Tide intercepted Gilbert two more times and finished the game with a 37-21 victory.
Longhorn fans weren't looking at the turnovers, the fumbles or the celebration of Alabama players after the game. They were looking at the 24-21 score. It gave them hope that he will be the man to bring them back to the game within the next three years. After all, a true freshman facilitated an offensive drive that almost defeated an SEC football team. How can you not get excited about that?
But ultimately, he would never live up to those expectations. The 2010 season was a disaster and Gilbert was a very unproductive quarterback. The 5-7 season featured wins against teams that had a total record of 29-33. Those five wins include a huge upset against Nebraska but don't get your hopes up:Gilbert completed 4-of-16 passes but racked up 71 yards of rushing offense.
Regardless of the latter statistic, a quarterback needs to be able to have a sustainable passing ability and Gilbert showed none of that against the Cornhuskers.
You can't blame Gilbert for every loss but he certainly didn't help the cause. As a fanbase, we have been spoiled rotten in a good way. We've been lucky enough to have two playmakers as quarterbacks for the past seven years and that only has been a huge contributor to the success of the Longhorns. Expectations weren't met and because of the losing season, we couldn't wait for heads to roll.
Mack got a new coaching staff and brought on the innovative Boise State coordinator Bryan Harsin in hopes that he would bring out the best in Gilbert. Days before the Rice game he was named the starter and a new refreshing feeling swept over Austin. If the man that created the Statue of Liberty play that defeated Oklahoma has confidence in him then we should too.
The Rice game was a big success and the 34-9 victory gave fans a reason to relax. Then BYU came to town.
Gilbert completed four of his eight passes but two of those passes were to the other team. He was benched in favor of Case McCoy and that was the end of the Gilbert era. David Ash continued to get packaged plays but McCoy was no longer the bench warmer.
The events that transpired have me thinking back to the article I wrote talking about Sherrod Harris' exit from the Longhorn football program. It was announced that Harris left in order to focus on his degree but in his interview with Laken Litman, he said that the statement released was misleading.
Gilbert announced that he was having season ending surgery due to an injury sustained in the Rice game but later announced that he intends to transfer from the program. Why would he do that? It seems likely to me that coaches want McCoy and Ash to lead the program in the future and that the quarterback job was theirs to lose rather than his to earn.
He can apply for a medical redshirt and retain those final two years of eligibility but with the promotion of Ash and McCoy and the soon-to-be arrival of Connor Brewer, those were likely the final straw that broke the Texas career of the 20-year-old quarterback.
Then again, he could be a system quarterback and thus destined to fail in a system requiring more from him. Lake Travis High School continues to pump out talent and trophies, and it makes me wonder whether the players in that area are really good or it's their system that is really good.
If Gilbert thought he could get the starting job back then why would he leave? Was the pressure way too much for him? Did the pressure make him feel like he would not be successful in Austin no matter what he did? Am I correct in thinking that McCoy and Ash have been named as the future by the coaching staff and that Gilbert would play second fiddle until both of them proved to be inadequate? Let me know in the comments.
It is such a shame that it never worked out for him at Texas and that fans booed him the way they did during the BYU game. I wish him the best for the future and hope that he finds success, wherever that may be.