Alicia Sacramone: Brady Quinn Has Every Right to Be Envious of His GF
October 11, 2011
Doug Pensinger/Getty Images
If there is one thing that Brady Quinn and Alicia Sacramone have in common right now, it's that they're both doing a lot of sitting.
They're also dating. If that counts. Which I guess it does.
At any rate, Quinn is currently a backup quarterback for the Denver Broncos. He was No. 2 on the depth chart, but today he saw the team pass Kyle Orton's recently vacated starting job to Tim Tebow, who had been No. 3 on Denver's depth chart.
So, with Tebow leading the charge, Quinn will do what he has done best throughout his career: sit.
Sacramone, an Olympic gymnast, is also taking it easy. She tore her Achilles tendon while training for the World Gymnastics Championships last week, and she had to have surgery to repair it. Her American comrades were forced to tackle the championships without her.
They won gold anyway. Better yet, the word from the Associated Press is that they're going to make sure Sacramone gets a medal.
"Alicia is here with us in spirit, and we all knew that her heart was here," said Aly Raisman, a training partner of Sacramone. "We did it for her. She deserved the gold medal and we are really happy that we got it for her."
So, without even showing up, Sacramone will get her 10th World Gymnastics Championships medal. That, by the way, is a record.
Which, in a roundabout way, brings us back to Quinn, Sacramone's esteemed BF. I can't claim to know his thinking (sadly, I am not Professor X), but I can't help but wonder if he's feeling a little on the jealous side at the moment.
Shoot, I know I would be if I was him. While his girlfriend is out winning medals without even doing anything, he's stuck looking up at Tim Tebow just days after he was looking down on him. For all we know, Quinn had Tebow fetch his coffee, like a good lad.
So yeah, come guys just can't catch a break. I guess the good news for Quinn is that it's not like Sacramone is being adored by the masses or anything.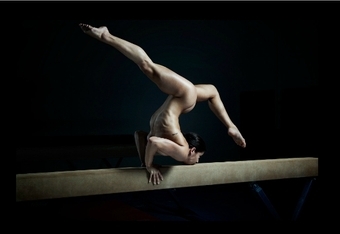 Wait...I forgot that Sacramone took that picture for ESPN the Magazine recently. She's all kinds of popular right now, especially with the fellas.
My guess is that many of these same fellas know all about Quinn and his body of work. But because that body of work includes just 10 touchdown passes and a career QB rating of 66.8, they're probably not that impressed.
Clearly, it's tough being Brady Quinn right now. His career is on the rocks, his girlfriend has the world in the palm of her hand and she's way more beloved than he is right now.
All of this being said, I would trade places with him in a heartbeat. You would too.