Alabama Football: 4 Surprising Midseason Facts About the Crimson Tide Offense
October 11, 2011
Kevin C. Cox/Getty Images
As Alabama reaches the midpoint of the 2011 season, I compared the statistics of the starting quarterbacks and running backs to the 2009 season.  In 2009, that pair was quarterback Greg McElroy and running back Mark Ingram.
Just to review, for those who have been living in a cave:
Rookie starter Greg McElroy quarterbacked Alabama to an undefeated season and a National Championship with the help of first-year starter Mark Ingram, who became one of the few sophomores to ever win the Heisman Trophy. 
I noted four surprising facts.
Surprise No. 1:  Offensive Production Is Almost Identical to the 2009 Season
Greg McElroy attempted 153 passes up to this point in 2009, while AJ McCarron has attempted 150.
Mark Ingram had rushed 112 times, while Trent Richardson has 115 attempts.
To begin the season, I believe Alabama was passing more heavily than in 2009 but shifted starting with North Texas to more power running. 
Alabama's backup runner Eddie Lacy has been injured for two weeks, and Richardson has taken on more load than normal.  In 2009, Richardson was the backup and did not run the ball often the first few games.  The end result are numbers that are remarkably similar.
Surprise No. 2:  McElroy Is the Long Baller
McElroy was a 60-percent passer to this point in 2009 vs. McCarron's 65 percent.  But McElroy had passed for 77 more yards, resulting in a slightly higher yards per attempt.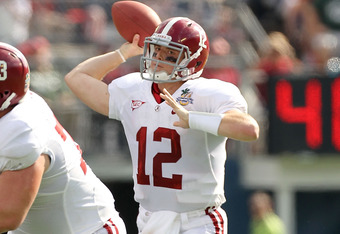 Mike Ehrmann/Getty Images
Certainly the presence of Julio Jones was a factor that McCarron doesn't enjoy, but the reputation of McElroy as the game manager and  AJ McCarron as the gunslinger to this point isn't holding water.
To this point, McCarron's numbers show more accuracy (something McElroy was known for) and McElroy shows more deep passing (something expected of McCarron).
Surprise No. 3: Sacks
One consistent complaint about McElroy was that he took too many sacks.  To this point in 2009, McElroy had taken seven sacks.  I thought that was too many, but AJ McCarron has taken six himself.
Two notes here—I believe McElroy had taken more "bad" sacks in the pocket while McCarron's sacks occurred more often with him attempting to run away and just getting caught. 
McElroy was more mobile than he got credit for, but McCarron appears to have a better sense of the pocket collapsing and is able to escape the straight-on hits that McElroy so often took.
Another odd note is that three of McCarron's six sacks came against North Texas.
Surprise No. 4: Richardson Is Ahead of Ingram
With the slow start for Trent Richardson, I would have expected him to be behind the Heisman winner from 2009, but that is not the case. 
Trent Richardson has 729 yards to Ingram's 668 with only three more attempts.  He is averaging 6.3 yards per carry vs. Ingram's 6.0.
Richardson also has 11 touchdowns to Ingram's seven.
Of course, the most important statistics of all are that McCarron and Richardson are 6 - 0 in 2011, healthy and ready for the second half of the season.