Carolina Panthers' NFL Draft Prospect Preview: Wide Receiver Alshon Jefferey
October 11, 2011
Streeter Lecka/Getty Images
I began my trek of scouting collegiate prospects with Oklahoma State receiver Justin Blackmon, so it's only fitting that we move on to another receiver next. As the season progresses, I'll be scouting the top prospects that the Panthers may be looking at in the 2012 draft and previewing what they have to offer to the Carolina franchise. 
Prospects Scouted: 
WR Justin Blackmon (Oklahoma State)
Panthers' Current Draft Pick: 4-9
This time, we're taking a look at University of South Carolina receiver Alshon Jeffery, who is battling it out with Blackmon for the honor of top receiver in the 2012 class. 
Strengths: 
Jeffery has fought through poor quarterback play and made a name for himself as a player who simply gets the job done. He's put up big numbers, starting with his freshman season, and has not slowed down since. 
The South Carolina product is a physical specimen. He stands at 6'4 and weighs in at no less than 230 lbs. Considering his size, Jeffery moves very well. He doesn't have elite speed by any stretch of the mind, but he's a long strider who glides deceivingly quick. 
One indicator of his deceptive ability in the vertical passing game is in the numbers. His 17.1 yards per reception is impressive for a player who's been labeled as a possession receiver. He won't pick up huge yardage after the catch, but his ability on jump balls will boost that number. 
Jeffery has not shied from competition, either. He's been praised as a very hard worker and for his professional attitude and desire to improve his game. His game elevates to a higher level when necessary—case and point; 192 YDS, 2 TDs vs. Auburn in 2010.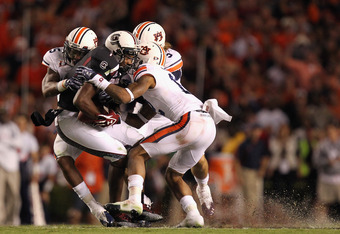 Streeter Lecka/Getty Images
However, Jeffery's greatest allure to NFL general managers lies in his ball skills. He has very soft hands and a huge wing span that makes him an easy target for a quarterback. He has the elite size and strength to make tough catches with defenders hanging on him. He also contains the vertical leap that will draw comparisons to that of Calvin Johnson. 
Like Johnson, Jeffery becomes a huge threat in the red zone. He's South Carolina's go-to-guy once they near the end zone and for good reason. His massive catching radius consistently gives him a chance to make seemingly impossible catches and gives an offensive coordinator a higher sense of confidence in going to the pass when at the goal line.
Weaknesses: 
As will be an issue for many receiving prospects entering the draft, Jeffery has room for improvement as a route runner. He has made serious strides over his college career, but rounds his routes too often and needs to show better burst in and out of his cuts. He shows the ability to do so, but needs to elevate his consistency to become effective at the NFL level. 
His lack of elite speed may create concern for teams considering him in the top half of the first round. It's not a deal breaker in my mind, though. His skill-set is otherwise advanced enough to compensate for whatever he lacks in the speed department and give him the potential to be one of the league's most feared receivers. 
Why the Panthers Should Draft Jeffery: 
There is a plausible chance that Justin Blackmon goes off the board before Jeffery, which gives Carolina a chance to snag him should they end up selecting anywhere around 10. 
He's a pro-ready player who has an extremely high ceiling in the pros. Carolina lacks an elite possession receiver and adding one could without a doubt make this the best offense in football. It's unprecedented for an offense to rank Top 5 in the league—as the Panthers currently do—when it is being run by a rookie quarterback. Adding another weapon to Cam Newton's arsenal would prove to be a smart long-term decision. 
There is little risk in Jeffery as well, which makes him much more attractive as a prospect. He has a great work ethic and no character concerns. He'd be a great guy to have in the locker room and on the field—not to mention a great option on your fantasy team.