Chicago Bears: My Interview with Rookie Tight End Kyle Adams
October 10, 2011
I recently had a chance to meet the new tight end for the Chicago Bears, No. 86 Kyle Adams, at a Motorola launch party. After the event he agreed to do an interview with me.
I asked questions ranging from his start in football all the way up to the upcoming game tonight. He was a very nice guy and a pleasure to speak with. So without further ado, here is the interview.
Thank you for speaking with me Kyle, So what got you started playing football?
I grew up loving the game. My grandpa on my dad's side was a huge football fan so I just grew up loving the sport and wanting to play in the NFL.
What was it like playing football in high school in Texas where football is a way of life for some people?
It was a lot of fun, I really loved my high school, it was a great place to play and we had a great program, a lot of Division I guys come out of that area.  But it was pretty intense down there in Texas. Sometimes I feel like that was the most intense football I ever played because the whole town gets behind you and roots for the team. It was a lot of fun but it was an intense time too.
Did you play any other sports besides football?
I played basketball and I ran track and did pretty well with both of those but football was my main sport. It was the one I was best at.
What made the decision for you to attend Purdue?
My parents had both gone to Purdue, my dad was a marine in the ROTC program and he rowed for them and my Mom was an All-Big-Ten volleyball player so I grew up a Boilermaker fan and Drew Brees came from my high school and went to Purdue so there was some connections from my family and my high school. When the coach offered me a spot during my junior year in high school it was a pretty easy decision for me.
Do how important do you feel it is for athletes to have an education prior to playing pro football?
I think it's really important. It helps you develop as a person and acquire a lot of skills you need for the real world, and even guys who play in the NFL who only play for ten years and at 32 or 33 they are done with the sport, so you have to have something to rely on.
Were there any players from Purdue you were surprised went undrafted?
We had a really good wide receiver named Keith Smith who tore his ACL his senior year and because of that he didn't get drafted and that was a rough situation for him because he's a really great player.
Are there any players currently at Purdue we should be on the lookout for?
There are some good players down there, Nick Mondek, Dennis Kelly, Joe Holland and Albert Evans as well as some young guys who are coming up right now too.
What did you do in between college and joining the bears after going undrafted?
That was an interesting time. I went and trained in Tennessee for my pro day and did it in March. I had a really good game there but went undrafted which was not really surprising given the feedback I had been getting, so it was disappointing. 
Because of the lockout I had to get a job as a janitor at Purdue and had to work and train for the three months during the lockout. It took a lot of faith. By the end of the summer I was fortunate enough to get a chance with the Bears.
During that time was there ever a point where you considered looking for a job using your degree?
There were moments when I was sitting there wondering if I was going to get a shot, but I think in the long term I had faith that this is where I was supposed to be and this is what I was supposed to be doing, so I just kept on doing it.
How did you find out you made the team?
it was an "I didn't get cut" kind of thing. It was cut day and I didn't get a call, so I called some players and one said he didn't get cut so we figured we were on the team.
Who do you think has helped you the most since joining the Bears?
Probably Kellen Davis and Matt Spaeth. They're tight ends who showed me the ropes, gave me pointers on handling the NFL and helped me with my technique.
Who are the top five guys on the Bears who are the hardest to block?
Julius Peppers, Brian Urlacher, Lance Brigs, Nick Roach and Israel Idonije are some of the guys I block during practice and they are all really hard to block.
So what is the biggest difference between a home game and a road game for you?
I guess the noise. Some of the road games you get a lot more crowd noise to deal with, especially on offense. It's the same game just a different place.
So what is the difference in pressure like between college football and playing in front of millions of people on Monday Night Football?
I think pressure is what you make of it. You can let it get to you or you can block that out, all you can do is do your best and play to win.
If you were not playing Football what would you be doing?
Probably working for a non-profit. I have been on a number of trips to Haiti and one to Africa, and I really have a place in my heart for people who have a lot less because there are a lot of places where people don't have nearly as much as we do. So I think I would be trying to help people in third-world countries get themselves out of poverty.
So what got you started in charity work?
I got involved with the Fellowship of Christian Athletes and the chaplin, a guy named Marty Ditmar, asked me if I wanted to go to Haiti. At first I was hesitant, but I thought about it and it really started to feel like I was supposed to go, so I ended up going to Haiti and it changed my life completely. It was probably the best thing I have ever done.
Other than joining the Bears, what is your greatest accomplishment in football?
I was voted team captain my senior year of college by my teammates at Purdue, and that is the accomplishment I hold closest to my heart. It was awesome to know that they respected me enough to vote me captain.
So how do you like Chicago so far?
I really like it, it's a great city, a lot of great people here and lots of stuff to do. It's been great so far and the weather hasn't been too cold yet so that's been good too.
What has been your favorite part about living near Chicago?
Just going into the city and down to Lincoln Park with buddies, there is just so much to do. I am single so Chicago is a good place to be.
So I have some quick questions for you just to find out a little bit more about you and your opinions.
Michael Jordan or LeBron James?
Jordan.
Cubs or White Sox?
Cubs.
Lakers or Knicks?
Knicks.
Red Sox or Yankees?
Red Sox.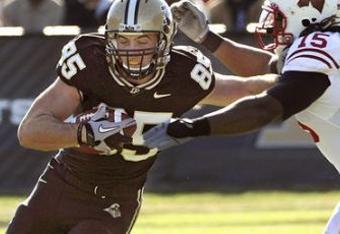 Summer or Winter Olympics?
Summer.
Cats or dogs?
Dogs.
Thin crust or deep dish?
Thin crust.
What is the last movie you saw?
Fast 5.
Favorite TV show?
Probably Entourage.
Blondes, brunettes or redheads?
Oh man, that's a tough one. I like them all but I guess I would say blondes.
Can you leave us with an original Kyle Adams quote?
"Keep your head on a swivel." To be fair, it's my college coach's quote. You just gotta be prepared for anything.