Ryan Howard Injury Magnifies Phillies' Offseason Woes
October 9, 2011
Drew Hallowell/Getty Images
Ryan Howard's ground out did more than just end the Phillies' 2011 season.
The former NL MVP ruptured his left Achilles tendon, and his start for the 2012 season is now in jeopardy.
A USA Today report likened the injury to David Beckham's a year ago. The international soccer star was out all of six months before returning.
That means Howard's opening day status for 2012 would largely be in jeopardy.
This is just another problem the Phillies have to worry about going into this offseason.
According to USA Today's report, there are several other Phillies who will likely require surgery.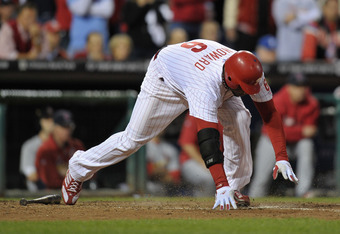 Drew Hallowell/Getty Images
Starting pitcher Cole Hamels is slated to have "loose bodies" removed from his left elbow and will also need surgery to repair a hernia.
Both second baseman Placido Polanco and right fielder Hunter Pence possibly face surgery to deal with hernias, and first baseman Ross Gloud will have arthroscopic surgery on his right hip.
Add Howard to this mix, and the Phillies have quite the laundry list of players going under the knife.
To make matters worse, Philadelphia has to find a way to get better after winning a club-record 102 games this season.
Howard, who was awarded a massive contract in 2010, has seen his numbers decrease every year since his MVP performance.
He's still been very productive, but not on the level some Phillies fans want to see.
Much like the Yankees, this team has some tough decisions to make this offseason about where and how to get better.
They have no problem spending money—but that isn't the issue.
Now, in addition to all that, they have to worry about Howard and his status for the first month of the season.
Postseason appearances don't mean anything to this team. Not with the amount of talent they have. Winning world championships is the only business the Phillies are in. 
Ryan Howard's injury is just another problem they have to worry about in their pursuit of a title.