Ravens Are Roosting: What's a Baltimore Football Fan to Watch in Week 5?
October 8, 2011
Rob Carr/Getty Images
The Ravens are off this weekend. Boo!
Well, maybe not.
While I'd love to see them play, I can't complain too much. Normally, early bye weeks are not great for a team, but it might be good for the Ravens. There are several players who are injured, and extra time to recover may help with the healing.
The Ravens will just have to earn themselves an additional bye week this year. They can do it.
So, in lieu of watching the Ravens defense run ragged through an opposing offensive line, what are some other NFL games this weekend that might be of interest to Ravens fans?
Tennessee @ Pittsburgh at 1 p.m. (CBS)
If you're on the east coast or in the southeast, this is probably your early game on CBS (unless you're near Jacksonville). It's also on in scattered western states (mostly up the western side of the Rockies and a few northern states).
I will warn you that Dan Dierdorf is scheduled to be in the broadcast booth, so you if you tune in, you may have to listen to him gush about how good "Ben" is. It is not pleasant to listen to an NFL commentator expressing his man-crush for a player, but unfortunately we can't choose our own announcers, so we're stuck with him.
The ever-hated Pittsburgh Steelers take on the only team that has beaten the Ravens this year, the Tennessee Titans. Both of these teams have the potential to make the playoffs.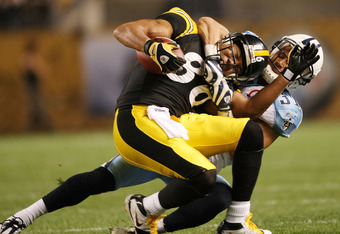 Elsa/Getty Images
Pittsburgh appears to have a Super Bowl hangover this year, even struggling to beat a Manningless Colts team in Week 3. Baltimore trashed the Steelers in the opening week of the season but had their own hangover in Week 2, losing to Tennessee.
Technically, the Steelers have the best passing defense in the NFL, giving up only 630 yards in their first four games, but that does not tell the whole story. Pittsburgh's rushing defense is a poor 22nd in the league, and the team has given up 4.8 yards per rush attempt.
However, the Titans have the worst rushing offense in the NFL. They do have the eighth best passing game, so we will see whether or not the Steelers secondary can stop Tennessee's air attack.
Tennessee's defense is good against both the run and the pass. Pittsburgh has had a weak running game this year, so they may rely on Roethlisberger to carry the team.
(On a completely unrelated note, my computer suggested that I change Roethlisberger to "Spitsbergen." How odd.)
The game is at Heinz field, so the Steelers will be happy to be home after playing three of their first four games on the road. Tennessee has a bye week after this game to rest, so they will probably bring everything they've got.
The Ravens will definitely play Pittsburgh again this year. They might also play Tennessee again.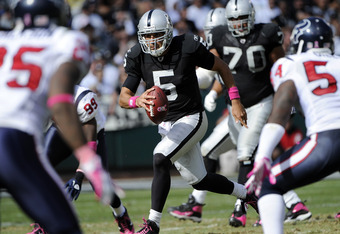 Thearon W, Henderson/Getty Images
Also on at 1 p.m. ET: Oakland @ Houston (CBS)

The Texans will play the Ravens after their game against the Raiders, and it is probably one of the three toughest games remaining on Baltimore's schedule. This game is scheduled to show on most of the west coast and in and near Texas, Oklahoma and Colorado.
The NY Jets @ New England Patriots at 4:15 p.m. (CBS)
This game is scheduled to be on stations everywhere east of the Mississippi as well as scattered western locations.
For two more teams that Ravens fans love to hate, you've got the Jets visiting the Patriots in New England.
As Ravens fans saw last week, the Jets have a great secondary but not much more than that. Baltimore's defense annihilated New York, scoring more points on its own than the entire Jets team (as well as scoring more than Baltimore's own offense).
The Patriots have Tom Brady, Wes Welker and a scary passing attack (the best in the league). Their rushing game is also good enough for ninth in the league. Where they are weak is on defense, having given up more passing yards than anyone else so far. Their rushing defense is mediocre (19th best in the NFL) but not awful.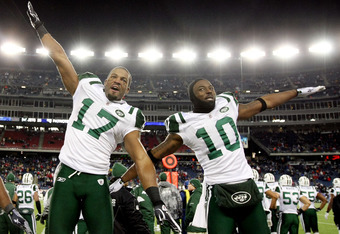 Al Bello/Getty Images
It will be interesting to watch Brady matched up against a good secondary. I'd expect that they'll run the ball enough that it will force the corners and safeties to pay attention to the rushing game, and the Jets will have a very tough time stopping New England.
Baltimore is not scheduled to play the Patriots this year and they already clobbered the Jets. But the Ravens may see one of these teams in the playoffs.
Green Bay @ Atlanta on Sunday Night Football on NBC at 8:20 p.m.  and Chicago @ Detroit on Monday Night Football at 8:30 p.m.

All of these teams are NFC teams, and none are on the Ravens schedule (unless they meet in February), but each game features one of the NFL's remaining unbeaten teams.
At 4-0, The Green Bay Packers are the defending Super Bowl champions. Atlanta is 2-2, and the combined margin of victory in their two wins is only six points. Atlanta is home for this one.
Just three years ago, Detroit had a two-season record of 2-30, which included failing to win a single game in all of 2008. But since the end of 2010, they are on an eight-game winning streak. The 4-0 Lions take on Chicago, which is in the bottom third of the league in several major statistical categories.
Next week, the Ravens will take on the Houston Texans. Houston and Tennessee will both be contending for the AFC title this year. Expect at least one of them to make the playoffs and possibly both.
Until the Ravens play again, there are other football games worth watching. Tune in!