UFC 140: Jon Jones Feels Rashad Evans Is Ducking Him and Goes off About Rivalry
October 7, 2011
Jon Jones and Lyoto Machida were announced to headline the UFC 140 fight card in what will be Jones' fourth fight in 2011.
Jones was expected to face rival Rashad Evans, but due to injury, Rashad was unable to claim the title shot yet again. Jones talked to MMA Fighting's Ariel Helwani about Rashad's injury and how it affected their match for UFC 140.
"Well, [UFC President] Dana White basically needed someone to save 140. I didn't necessarily want to fight at 140, but because it was Rashad, I said, 'You know what? I would take the fight in nine weeks.' I'm already in shape. I already know what I want to do," Jones told Helwani.
"Rashad, predicting that I would say no, he kind of kicked himself in the butt because I said yes, he turns around and says, 'Oh, I didn't expect Jon to say yes. I don't want to fight him that soon.' So in reality, he's kind of the one who's ducking the fight. I feel like he's ducking the fight."
Was Rashad trying to play Jones and make Jones look like the bad guy to the fans? Jones seems to think so.
"Exactly. 100 percent that's what I'm trying to get at. He's tried to call me out on nine weeks' notice. Obviously, who wants to fight on nine weeks' notice? I just got a new car, I want to drive that around. I want to hang out with my family and relax and sleep in my own bed for once," said Jones.
"And now Rashad calls me out, predicting that I would say no, to make me look like I was ducking him again, and I say yes, and now he says, Oh, I didn't know he would say yes. I don't want to fight him. He called Dana White, asked for 140, Dana White called me and said Rashad wants this fight. I gave him the fight he wanted and then he pulled out."
But now again Rashad is the odd man out and will lose his title shot again to another fighter who leap-frogged him. So like last time, does Rashad take a fight while he waits for Jones or should he just keep out and wait for his shot?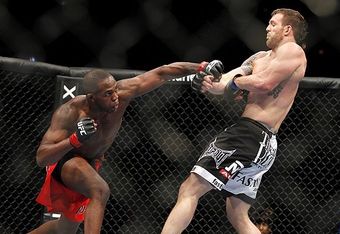 Jones thinks it is only fair if Rashad takes a fight.
"Yeah. Obviously, I want to fight him. But how long are you going to get to wait and sit around? You go from not fighting for a whole year, and then you get a fight like Tito Ortiz, which everybody knows where Tito is at in his career, and now he just gets to sit around and be the No. 1 contender again?" said Jones. "It looks like he's the one that's sitting on his glory and riding his glory. There's tons of guys out there.
"I think when he gets better, he should have to fight Phil Davis or Dan Henderson. How does he get the right to just sit around and say who he is going to fight and when he is going to fight and continue to be the No. 1 contender while everybody else fights all year long?"
For the full interview on MMAFighting.com you can click here.