Calvin Johnson: Detroit Lions' Megatron Still Not a Top-5 Receiver
October 6, 2011
It started as a basic question here on September 27th and has ballooned to full-fledged debate. The question was simple—is Calvin "Megatron" Johnson a top-five wideout?
The responses varied, but the consensus was he is if you ignore all relevant categories—which basically means he is not.
The beginning of the season has brought hope to the habitually-bad franchises in the Bills, the Texans and the Lions.
Given their recent history, one should expect the blinded enthusiasm their fans have, but please stop with the Calvin Johnson nonsense. He is a top-five wide receiver like Ryan Fitzpatrick is a top-five quarterback.
Now in actuality, Johnson is a better wideout then Fitz is at quarterback, but you get the point.
The wide receiver position, like most positions in the NFL, is tough to grade from an impartial point of view. If you are a Detroit Lions fan, Megatron is the best receiver in the game, and if you are a Packers fan, it is Greg Jennings that gets you going.
So the viewpoint is tainted when looking through your home-team window.
This is why fans need writers to smack them back to reality from time to time.
What makes Megatron a top-five receiver? Their answer to that question is an opinion wrapped around misguided perceptions.
However, the facts prove—or better yet, confirm—why Johnson is not a top-five receiver.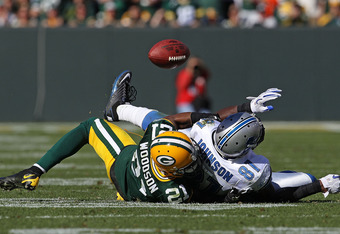 Jonathan Daniel/Getty Images
We will start with last year's numbers, since the season does not end in four games despite the desperate pleas from the Motor City.
There is no doubt that there are five categories to look at for receivers. They are receptions, drops, yards, yards per reception and touchdowns—with yards per game and receptions per game being appreciated but not the deciding factors.
Beginning with 2010, Johnson ranked 15th in receptions with 77. Do not start with the Matthew Stafford was hurt argument—if Megatron truly is elite he would have gotten it done.
Davone Bess, Brandon Marshall, Steve Johnson and Danny Amendola were some of the notable players who had poor quarterback play and still managed to rank above Johnson.
The next test is drops, where the Lions wideout is again far from the top, but this time in a good way.
Reception yards are again where he fails to even rank in the top five. In 2010 Johnson sat at No. 9 in reception yards with 1,120, but it is his lack of down-the-field plays that really leave you shaking your head. Thus far, Johnson has ranked in the top five in one of three categories.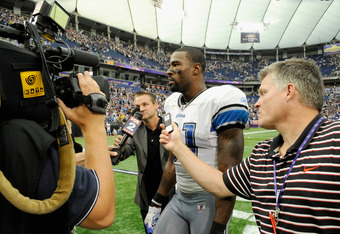 Hannah Foslien/Getty Images
Sadly, it does not get better for you Lions fans. He ranks seventh in yards per catch, and that is out of receivers who went for 1,000 or more yards. If you include receivers that had 900 or more yards, Megatron drops to No. 12.
The presumed Lions great does rank second in touchdowns—however, this begs the question if he can score without Stafford, why is it so difficult to catch the ball without Stafford?
Of Johnson's 12 TDs, only three came from Stafford last year. Just for good measure, Megatron is 13th in receptions per game with 5.1 and was 10th in yards per game with 74.7. Ouch.
Unofficially, that is two out of five categories where Johnson is in the top five, and drops is left up to interpretation since he is tied with a plethora of players.
How that equates to elite is a mystery unless—again—you are a Lions fan.
The water gets darker when you look at this year's numbers. The basis for most who argue on Calvin's behalf is the four games he has played this year.
Nothing could be further from the truth.
In those four games that seem to have elevated him to Hall-of-Fame status, he ranks seventh among wideouts in receptions with 24, 12th in receiving yards with 321 and 50th in yards per catch.
But hold up—he is first in touchdowns with eight. So he is certainly elite with those numbers.
The most telling statistic is the big plays that people are quick to point to and say he so frequently makes. They do not exist.
They are a figment of your imagination, and nothing more. This year, Megatron is tied for 17th in plays of 25 yards or more with three. In 2010, he had seven catches of 25 yards or more, which placed him outside of the top 20.
If the numbers say he is a good receiver, where are people getting this notion that he is elite?
Is it the "eyeball" test that has them all gassed? The same eyeball test that Cris Carter used when he made his statement, a man who should know a thing or two about what makes an elite wide receiver?
More than anything, Carter was known for just catching touchdowns, so he should recognize what Johnson is.
The only thing Carter did wrong was back off his statement. He was 100 percent correct in his assessment of Calvin Johnson.      
When a player reaches elite status, the debate changes from if they belong in the group to if they are first, second or third.
Elite comes with no excuses. Elite is steadfast and nonnegotiable. Elite is Larry Fitzgerald catching 90 balls despite having "Bob the Butcher" throwing to him. Elite is uncompromised.
There is no logical reason to continue an argument that has no statistical evidence to prove it correct. The Lions are a good story, and it is nice to see the Lions win four games, but the season is 16 games, not four. It takes a season of great to be elite, not a few moments.
Johnson has revitalized a fanbase that has yearned for hope since Barry Sanders walked away, but right now he is more Herman Moore than Michael Irvin—whose name, along with other Hall-of-Famers, you evoke when you use the word elite.
Kwame can be heard on the radio every Monday, from 4:00-5:30 at www.WPMD.org, click "listen live". Previous shows and articles can be found at http://kwamefisherjones.weebly.com/.