NHL Predictions 2012: New York Islanders Will Return to Playoffs
October 6, 2011
Bruce Bennett/Getty Images
Despite their inability to secure a new building on Long Island to replace the 40-year-old erector-set shack they currently reside in, there is much excitement and hope on what was once "Strong Island" back in the days of Michael Bossy, Brian Trottier, Denis Potvin, Clark Gillies and Billy Smith.
So how can the New York Islanders, who haven't won a playoff series since the series finale of "Cheers" was viewed by millions, finally win one this season? How can a team that went through a 1-20 game stretch last season, and have major questions in goal and on defense, finally break through in a very talented Eastern Conference?
First off (now don't laugh here), few teams have the Islanders' depth at the forward position. Their top three lines could all feature players with 40-plus points, and that doesn't even include Nino Niederreiter, who could definitely reach that total if he stays healthy.
Last year, no team featured three 30-goal scorers, but the Islanders came about as close as you can get with Michael Grabner (34) and Matt Moulson (31) reaching the mark and John Tavares (29) finishing just short.
After missing most of last season, American-born Kyle Okposo returns healthy to start the season. For Okposo, who was genuinely upset that he was left off the 2010 Olympic Team, now is time to prove he is one of the best young forwards in the NHL.
He should be paired with Grabner and Frank J. Selke Trophy hopeful Frans Nielsen, who posted a career-high 44 points last season along with leading the NHL with seven short-handed goals.
Right behind Nielsen in that department was Grabner with six, for an Islanders team that led the NHL with 15 short-handed goals on the season.
Speaking of the penalty kill, that should only get better with the addition of fourth line center Marty Reasoner, who posted a career-high 32 points last season with Florida.
The 34-year-old should be an excellent addition in the locker room, while helping an already very strong young defensive forward core (Tavares, Josh Bailey, Nielsen and Grabner all finished in the top 14 in takeaways in 2010-11) that finished 12th with a 83.2 penalty-kill percentage last season.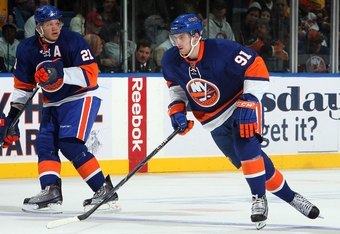 Jim McIsaac/Getty Images
Rounding off the Islanders' talented youngsters are Bailey and Blake Comeau, who should pair together with either Niederreiter or Brian Rolston on the third line. For Bailey, the clock is ticking as the "potential" tag will start to expire if he doesn't finally start to play consistent hockey.
Last season got so bad for Bailey at one point that he was sent down to Bridgeport to work on his game. To his own credit, he did so without complaint and was a much better player upon his return, averaging .423 PPG compared to just .333 prior to being sent down.
That being said, Bailey still has much to improve on, and if can finally put together the talent that saw him drafted ninth in the 2008 NHL Draft, he will make the Islanders that much harder to match up with.
Comeau hopes to improve on his breakout 2010-11 season that saw him finish fourth on the team with 24 goals. More consistency from Bailey will lead to more scoring chances for Comeau, who could finish with 30 goals and over 55 points if he keeps improving.
Playing with Rolston should also really help the youngsters, as the 38-year-old is a proven winner.
Ryan Strome, the fifth overall pick in the 2011 NHL draft, was impressive during rookie camp and rookie games and will also start the season with the big club, but his stay might be short and he might be sent back to juniors after nine games like Niederreiter was last season.
The power-play unit should be much better thanks to the return of All-Star defenseman and new team captain, Mark Streit.
Streit missed all of last season after suffering a shoulder injury in preseason and leads a young and talented defensive crew that will only get better as the season moves on.
Andrew MacDonald and Travis Hamonic gained experience and started to blossom last season. The rest of the defensive crew (Milan Jurcina, Matt Mottau, Steve Staios and Mark Eaton) should hold the fort enough until youngsters Calvin de Haan, Matt Donovan and Aaron Ness are ready to take over.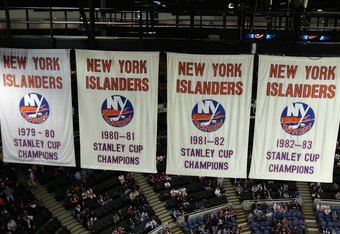 Jim McIsaac/Getty Images
No question the biggest concern for the Islanders playoff chances in 2011-12 lie in net.
Contract albatross Rick DiPietro still has 10 years left on his 15-year contract, so he will get the first chance to prove he is healthy and can get back to the form that saw him win 30 games in consecutive seasons in 2006-07.If he falters, waiting in the wings will be former All-Star Evgeni Nabokov.
The last time Nabokov was in the NHL in 2009-10, he won 44 games and posted a 2.43 GAA for San Jose. While it's unrealistic to expect Nabokov to be at that form, it's also unrealistic to expect that he won't still be effective.
Behind those two is Al Montoya, who thrived in his late season audition in Long Island last season, going 9-5 with a 2.39 GAA and .921 save percentage.
For these young Islanders, the term "potential" no longer applies. Ask anyone in that locker room or anyone that has been around these guys and they all will say the sky is the limit with this team.
That said, no one will stand up and notice until you make some noise and win some games. Expect the Islanders to do that this season, especially early when they play a lot of home games, and nothing is worse for opponents than coming into the once "Fort Never Lose" and dealing with the 1970s locker rooms and amenities.
When they skate onto to the ice and see the four Stanley Cup banners and retired jerseys, they will also have to deal with a young, hungry team that is ready to prove themselves to the rest of the NHL.
Call me crazy (and many will), but I believe this group can be excellent. I also predict that Garth Snow will look to really put the team over the top by using some of his endless prospects and possibly Nabokov, and bring in another very good defenseman or sniper.
If that does happen, 95 points or more along with home-ice advantage in the first round isn't a pipe dream. Even if Snow stays still, the Islanders still have enough talent and depth to get 90-95 points and earn a playoff spot.