UFC 136's Joey Beltran Sheds Light on Fighting Style, Fan Expo, and Family
October 4, 2011
Richard Wolowicz/Getty Images
Joey Beltran is one of the toughest individuals to ever step foot inside the world famous Octagon.
His three round battle with Pat Barry this past January was one for the ages when talking about sheer toughness.
Five months later, Beltran (13-5 MMA, 3-2 UFC) returned to action against Strikeforce veteran Aaron Rosa at UFC 131, where he put his heart and toughness back on display by earning the knockout victory. Additionally, by putting on thrilling fights each time he steps in the Octagon, he's become a clear fan favorite.
"A lot of it boils down to I have to have tons of cardio to fight like that," Beltran recently told BleacherReport.com. "I'm always the first to admit that I'm not the most athletic person, I'm one of the least athletic people, at least top five in the UFC. So, I got to use my other skills that I have. One thing that I can take advantage of is my cardio.
"If I push myself and I'm miserable for three months then I know on that one night I can go and go and go and not stop. So, that's a really good tool to have in your back pocket. It also helps having a really good chin too, so I think that's my God given talent is my ability to take a shot."
The aforementioned victory over Rosa this past June not only marked Beltran's return to the win column, but it also signaled the return of a fighter who makes it a top priority to put the hurt on his opponents.
"UFC 131 was actually the beginning of my new approach to fighting, or actually it's my old approach that I readopted," Beltran said. "After the Pat Barry fight, even going back to my first UFC fight I kind of put a mental block on myself where I started talking myself down like these guys are in the UFC, they're top notch and I can't just walk in there and handle business, I have to be smart and have a gameplan. I really talked myself out of my fighting style, which is 'I'm going to come beat you up and it's your job to stop me.'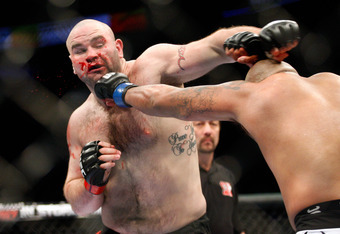 Richard Wolowicz/Getty Images
"After the Pat Barry, I know that if I would've went in that first round with the attitude I had in the middle of the second round. I remember the moment where I was like 'Oh, shoot I'm hitting this guy and it's hurting him, keep going.' If I would've came out guns blazing in the first round, who knows what would've happened?
So, I promised myself, my coaches, (and) my family that I would never, ever wonder what if ever again. Every fight from Aaron Rosa to now on, I'm coming out with that approach that I'm coming out to take your head off and it's your job to stop me."
That job will be handled by undefeated newcomer Stipe Miocic (6-0 MMA, 0-0 UFC) this Saturday live on Facebook, and it remains to be seen if he can prevent "The Mexicutioner" from implementing his aggressive style.
In addition to the action packed event, which includes two championship fights live on pay-per-view, the organization is holding an Fan Expo on Friday and Saturday.
Beltran couldn't be more thrilled to have the opportunity to showcase his skills during arguably the biggest fight weekend of the year.
"Pure excitement when I realized that I was going to fight on the Fan Expo card," he said. "I knew way before the fight was announced, it's just naturally the way things happen. As more and more of the fights were announced, as a fan, I was just like after I handle business I get to go and sit back and watch these great fighters, watch my peers perform on the biggest stage in the world.
"It's just awesome and it's really a surreal feeling, I think that 'Well Joey, you're one these fighters that's fighting on this huge show.' I'm not trying to pat myself on the back or anything like that, but it is a pretty cool feeling to know that I'm not fighting first or second fight, I'm middle of the card right before stuff gets televised on Spike.
"It's pretty cool and I know if I do well and stop this guy or get a solid a win that it's going to be I get back to the main card. That's my first short-term goal is to make it back to the main cards and start getting the wins there and we'll see what happens."
His long term goal is ultimately to continue winning and secure his spot in the organization. With support from his home gym at Alliance MMA combined with the support he receives from his wife and family, fighting in the sport's premier organization is a dream come true.
"It's definitely a dream come true just to be a professional athlete, one that makes sufficient enough money that really that's the only job I need to have, that's awesome," Beltran said. "But also on the other side of the coin, now that I am providing for a family, not as if I wasn't taking it seriously before but now every fight, every training camp is so much more serious, (and) it's all about business. I clock in a certain amount of hours every week in the gym like I would if I was working at Wal-Mart or a construction job. I make sure that I maintain that level of what I expect from myself in training.
"My coaches have a hard time with me, they get mad at me for overtraining, constantly telling me to take time off or don't do a certain session today. But then on that one night it's time to perform and I have a very, very, very workmanlike approach to what it is that I do and I don't take it lightly. I know it's a blessing that I get to fight in the biggest organization in the world and it's something that I fight for, fight to maintain and I'm fighting for my family now."
For additional information follow Joshua Carey on Twitter.