NFL Power Rankings: Pittsburgh Steelers and 3 Teams Sinking Fast
October 3, 2011
Bob Levey/Getty Images
Three teams opened the season with an exceptional amount of promise and whispers of playoffs circulating around them, but after four weeks, they've fallen out of favor and southward in the power rankings.
The Pittsburgh Steelers are chief among these teams, dropping from eighth in my rankings last week to 13th this week.
After coming off of a Super Bowl-losing season, the Steelers entered 2011 as a favorite to return to the big game. However, in four weeks of play, they've proven they cannot defeat the good teams, even while notching two victories over the dregs of the league.
Their problems stem from two things: a lack of run defense and a poor offensive line. They've managed their O-line problems in the past, most notably with last year's Super Bowl team, and it's likely their run-stopping will improve as the season continues. But the longer that takes, the greater the odds that the losses will continue to pile up.
The Philadelphia Eagles have suffered from a precipitous drop in the rankings that coincides with their 1-3 start to the season.
Last week, I ranked them a generous 11th, still holding out hope that their considerable roster of talent would yet fulfill its potential. Instead, they've squandered yet another first-half lead on their way to a disappointing loss, and that has dropped them to a below-average 19th in my Week 5 rankings.
Finally, the New York Jets, a team that has reached the AFC title game for two consecutive seasons, are another major team to drop as the weeks pass by. Ranked seventh last week, they are now 11th in my Week 5 rankings, due in part to their embarrassing loss to the Ravens in Week 4 and also because their actions are simply not living up to the hype surrounding the team as they have in the past.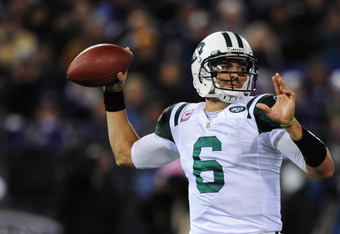 Patrick Smith/Getty Images
They are a perfect hybrid of the Steelers' and Eagles' problems: a weak offensive line, a declining defense and a roster full of talent that isn't doing much with it. Quarterback Mark Sanchez, always receiving the sideways glance from skeptical fans and analysts alike, seems to be settling into his role as a player who can't quite lead his team to victory but can certainly cost it one.
Without significant improvement, these teams will likely languish in their current spots. But with additional regression, they will continue their free fall into the league's basement in 2011.
NFL Power Rankings, Week 5*
 
1. Green Bay Packers
2. New Orleans Saints
3. Detroit Lions
4. New England Patriots
5. San Diego Chargers
6. Houston Texans
7. Baltimore Ravens
8. Buffalo Bills
9. Tennessee Titans
10. Oakland Raiders
11. New York Jets
12. Washington Redskins
13. Pittsburgh Steelers
14. New York Giants
15. San Francisco 49ers
16. Atlanta Falcons
17. Chicago Bears
18. Dallas Cowboys
19. Philadelphia Eagles
20. Carolina Panthers
21. Cincinnati Bengals
22. Cleveland Browns
23. Arizona Cardinals
24. Denver Broncos
25. Kansas City Chiefs
26. Jacksonville Jaguars
27. Minnesota Vikings
28. Miami Dolphins
29. Seattle Seahawks
30. St. Louis Rams
*Unranked: Indianapolis Colts, Tampa Bay Buccaneers (playing Monday night)