Jacksonville Jaguars: Lack of Skilled Wide Receivers Holding Back Entire Offense
October 3, 2011
Sam Greenwood/Getty Images
The Jacksonville Jaguars lost their third straight game Sunday, falling to the New Orleans Saints 23-10 at home.
What held back the Jaguars didn't seem egregious, but the statistics after the game said otherwise. Jacksonville, in fact, had the look of a contender after a slow start that saw them give up two touchdowns on New Orleans' first two drives.
The defense bowed its back, played with some attitude and helped the Jaguars stay in it, despite giving up 500 yards of offense to the Saints.
No, the Jaguars weren't embarrassed. They fought; they made plays and forced two Drew Brees interceptions.
Time and time again, the Jaguars were challenged, but their revamped defense refused to cave.
So, what is holding this team back?
The Jacksonville offense was again the culprit in a lackluster showing that saw the Jaguars score only their third touchdown of the season when Blaine Gabbert connected with Zach Miller on a second-quarter touchdown pass.
How does an offense with a promising young quarterback, one of the league's best running backs and a Pro Bowl tight end struggle so mightily? Can any finger truly be pointed in the right direction?
The statistics don't lie, and this is no exception. It's ugly.
The Jaguars are 30th in the NFL, averaging just 264 total yards per game. Worse still, the Jaguars are last in the league in scoring, averaging only 9.8 points per game.
Jacksonville is also 31st in the league, averaging just 14.8 first downs per game. The quarterback rating between Blaine Gabbert and Luke McCown is 50.5. Also last in the league, the Jaguars gain a first down on only 23 percent of their passing plays.
How do you fix something like that? Obviously, we know that the Jaguars offense is bad. But, can we pinpoint why it is so bad?
Coming into this season, Jacksonville returned a tandem of starting receivers who were more workman-like than spectacular. No one expected Mike Thomas or Jason Hill to impersonate Jerry Rice and John Taylor, but the Jaguars' top two wideouts have been worse than ineffective.
They have been a liability that trickles down and affects all other facets of the offense.
Thomas and Hill get arguably the least amount of separation out of all the NFL's starting receivers. Through four games in 2011, most passes thrown in their direction have been slants, screen passes and quick-outs.
Time and time again, a Jaguars quarterback throws the ball to a receiver blanketed by the opposing defense's cornerback. Thomas, thought to be a 4.3 40-yard-dash caliber speedster, plays slower than what he's been officially timed.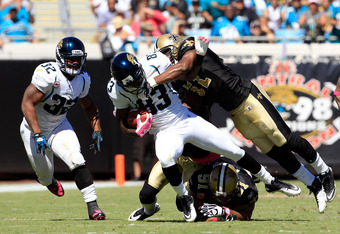 Sam Greenwood/Getty Images
Against the Saints, Thomas broke free on a screen pass only to be chased down from behind like he was running in a phone booth.
4.3? Really?
Jason Hill is the castoff from the 49ers in 2010. He was obviously so bad, said the 49ers, that they cut him loose mid-season. Hill jumped from the scrap heap into the Jaguars' starting lineup.
Is this the explosion of a playoff team that the fans in Jacksonville were promised?
Jacksonville's lack of explosive playmakers in the passing game allows defenses to put seven, eight or even nine men at the line of scrimmage. Teams are allowed to send exotic blitz packages with the comfort of knowing that, whoever their cornerback is, they can definitely blanket Hill or Thomas.
"No double-team," says the cornerback, "I've got this." The Jaguars receivers are beyond nonthreatening.
They're laughable.
Thomas, the team's "deep threat" and No. 1 receiver, has a mere 212 yards on 20 catches in 2011. But, is there something being covered up here?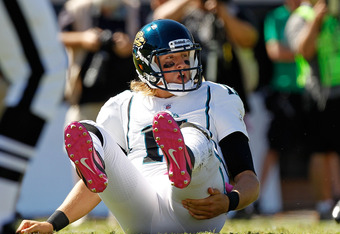 Mike Ehrmann/Getty Images
Thomas' season-long reception of 47 yards came against the Saints yesterday. Subtract that one play, and Thomas is averaging just 8.7 yards per catch. His other long reception this season was a fluke touchdown last week against Carolina, a 38-yard touchdown just before halftime.
To get a more accurate picture of Jacksonville's No.1 target, subtract both plays and you have a receiver with 18 receptions for 127 yards. It doesn't take a mathematician to see how paltry the average is.
Jason Hill has only two official drops this season, but anyone who has seen a Jaguars game can tell you there are countless other passes Hill couldn't wrangle that most other NFL-caliber receivers regularly haul in. In actuality, Hill has likely dropped as many passes as he has caught—seven.
The Jaguars' ineptitude at receiver makes life hard on their young offensive line, including tackles Eben Britton and Eugene Monroe. The two, when healthy, are often overloaded at the line of scrimmage with blitzes that simply have them outnumbered. Rookie guard Will Rackley seems overwhelmed.
The Jaguars simply have to upgrade the receiver position to compete.
The front office gave the fans the "company line" all offseason, while the fans asked for just one dependable target. The team responded that they felt good about their guys. They then released their primary target, Mike Sims-Walker, leaving the fans to scratch their collective heads.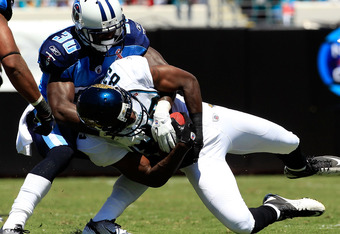 Sam Greenwood/Getty Images
A team that was depleted at receiver simply couldn't afford to make that move.
Instead, Blaine Gabbert is growing up rough, and it likely won't get much better this year. Gabbert clearly has plenty of talent and will be an excellent quarterback, but you can't possibly throw into smaller windows than what is being asked of him.
Running wild in open field, Thomas, at 5'8", still presents a small target. Blanket him with a cornerback, and he disappears.
Hill, who is 6'2", is plenty tall enough to present a decent target but isn't a physical receiver and doesn't possess the speed to run away from a defender.
As a result, Gabbert is forced to throw footballs into thimbles, resulting in his 16-of-42 performance on Sunday. Gabbert started well, but as the Saints defense adjusted, the target windows got smaller. Everyone, on every play, seemed to be double-covered.
Jacksonville was dead-on-arrival for the second half.
Being stuck with Hill and Thomas for the rest of 2011, the chances of resuscitation look pretty slim.