Angry Jets Fans Deserve Better After Another Embarrassment in Prime Time
October 3, 2011
Patrick Smith/Getty Images
Before I begin this article, it should be noted that the opinions here are not meant to be personal. This is not about Rex Ryan and Mark Sanchez, but only about their performance on the football field as a head coach and quarterback.
The love affair with the media is now over for Rex Ryan. After suffering another embarrassing loss on a national stage, the Jets head coach had little answers after his team performance in the Ravens 34-17 win on Sunday Night.
"I've been around football a long time and I've never seen anything like that," Ryan said speaking of the domination the Ravens' defense performed on Mark Sanchez and the Jets' offense.
"We've got to get better in a hurry," Ryan said. "There's no question about it, but we're a team and adversity is part of this business, and you've got to face it."
The final score wasn't even as close as 17 points, as the Jets offense totaled just 150 yards and couldn't get out of its own way the entire game. At one point I almost felt bad watching how overmatched and out-coached the Jets were. For a team in the NFL, that's about as horrible a thing that can be said.
Perhaps even worse though is the continued deterioration of Mark Sanchez. Before the season started, Ryan anointed Sanchez captain of the offense and predicted that Sanchez would take a "huge leap" forward in leading the Jets to the Super Bowl.
Sanchez looked like a deer in headlights when the NBC cameras showed him right before the Jets first offensive set. He quickly proved just how overmatched and afraid he was on the first play from scrimmage when he was stripped and sacked, and watched as the Ravens recovered the ball and ran it in for a TD. While most quality teams learn from their mistakes, the Jets proved that they don't qualify, as Sanchez again fumbled and watched it be returned for a TD in the second quarter. Later in the 3rd quarter, Sanchez was intercepted by Ravens CB, Ladarius Webb, who danced 73 yards untouched into the end zone to put the game out of reach.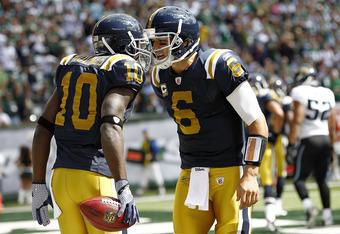 Jeff Zelevansky/Getty Images
While most young QBs and third-year head coaches deserve some slack for poor play, this duo on the Jets sideline does not. It almost has been nauseating over the last three seasons to hear all the talk about the potential of Sanchez.... The press, his teammates, front office, and coaching staff have all guaranteed that this kid is the real deal. Right now the sieve of an offensive line is actually protecting Sanchez from some of the criticism ... DON'T BUY IT. Sanchez has been inaccurate, has had a hard time reading defenses, and most of all has been way too prone to fumbling and turning the ball over.
"He struggled mightily, there's no question about it," Jets coach Rex Ryan said. "It wasn't his best day, that's for sure, but he's our quarterback and I believe in him." Does that sound like someone who has confidence his QB can turn this around? To be fair to Sanchez, it was Ryan's own big mouth and constant praise of a QB who has a career QB rating of 71.0 with a 54.5 completion percentage and three more INT than TD, that has exposed him to being the most overrated QB this side of Tony Romo.
Moving on to Rex Ryan, the time has finally come that the media and fans have had enough of his bravado and swagger. It was nice when the Jets went to back-to-back championship games, but now that his team has been completely humiliated and outcoached the last two weeks, Ryan looks befuddled in front of the camera. The rally cry of "we'll get it fixed" doesn't work anymore. The "that has never happened to me" excuses are old. The "we will lock arms and win a Super Bowl" talk is almost funny since it's so pathetic.
Its finally time that someone speaks out and challenges this coach and his GQ QB. Instead of bragging about how great his old, slow defense is, let's see them rally behind their coach and hold the Patriots to under 20 points this week. Last season's upset of New England is gone, and Jets fans and their coaching staff have lived off of that for the last eight months. Tom Brady certainly remembers that defeat, and things will get VERY ugly if Ryan's defense doesn't come prepared.
While Sanchez has posed for GQ and enjoys going to Broadway shows, his play this season has left fans wondering how much he has put into preparing. Say what you want about the Jets' offensive line, but Sanchez, Brian Schottenheimer, and the rest of the Jets coaching staff had no clue what to do on Sunday. To say they looked like they never met before and were playing on the playground isn't even good enough for how overmatched they were.
I apologize for being so harsh, but such is the world of sports, especially in New York and especially with this franchise. Jets fans had so much hope coming into this season. All throughout the offseason fans were excited about what Rex Ryan and Sanchez were going to accomplish. However, since coming back from the lockout, Ryan and GM Mike Tannenbaum have been totally exposed.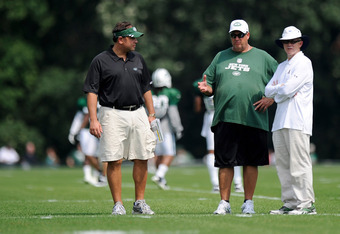 Patrick McDermott/Getty Images
Tannenbaum was left scratching his head when Rob Turner and Nick Mangold went out with injuries since he never bothered to provide quality backups on his offensive line. Because of those injuries, Wayne Hunter and Vladimir Ducasse were forced into action.
There has been no player in the NFL this season that has played worse than Hunter through four games. Ducasse should find himself cut this week, because every time the former second-round pick finds himself in the game, he almost gets Sanchez killed. After not properly providing the team with quality backups on the offensive line, Tannenbaum again overvalued his secondary as starting safety Eric Smith has been constantly burned in coverage this season. One player who could have stepped in at safety to provide help was traded for nothing before the season started as Dwight Lowery was traded to Jacksonville.
As the Jets prepare to face the Patriots, there is dread in Jetsworld that this is only the beginning of the wheels coming off. Derrick Mason, Santonio Holmes, and Plaxico Burress have all openly questioned the game planning of Schottenheimer. It's only a matter of time before those three start openly questioning the ability of their young QB. All three players are also capable of destroying the unity in the locker room. One more performance like last night and Ryan will not be able to control the animosity that will come from them. As each pass from Sanchez went over their head, through their legs and into the Ravens chests, Holmes, Burress, and Mason were left laughing at the audacity that Sanchez is a competent QB.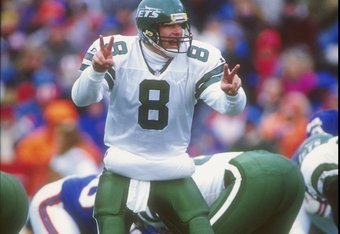 Rick Stewart/Getty Images
"There are some things that need to change," Mason said. "Until we identify the cracks, we're going to keep having the same problems."

"It starts up front with our big guys, they need to do a better job protecting Mark and Mark has to do a better job making his reads and getting the ball to playmakers," Holmes said.
Sanchez' performance last night makes Jets fans cry out for Browning Nagle, Bubby Brister, Matt Robinson, Neil O'Donnell, and Kellen Clemens. Any of those QBs would be a better option at QB right now than the Sanchize.
It'll be very interesting to see how the third year QB reacts to this abortion of a season he is heading for. Every week experts have predicted that he would be able to expose their opponents secondaries, but the only thing Sanchez is exposing is himself to social security. His teammates are the most immediate worry for Sanchez, but if the Jets lose to the Patriots on Sunday he will be forced to deal with a VERY, VERY distraught fan base that will be ready to run him right out of town come Monday night against the Dolphins.
When you brag about the talent of your team and guarantee Super Bowls, no one wants to hear you talk when your team performs as badly as the Jets have the past few weeks. More than that, the poor, abused Jets fan is now left being the laughing stock of the NFL as other teams can't wait to rub the Jets lack of success in their face.
Some of my best friends are Jets fans and the anger and frustration they expressed to me after last night were extremely alarming. Getting embarrassed and humiliated in prime time is nothing new for Jets fans, who only have to look back to last seasons 45-3 loss at New England. That Jets team was able to rebound and provide a couple of playoff wins before choking against the Steelers. The only thing the Jets will be choking on come playoff time this season will be their dinners.
The other thing that really stuck with me is the genuine anger and disappointment fans have in this team. They put a lot of faith into Ryan and Sanchez and have continually stuck up for them despite many objections from other fans. Performances like last night makes them look like fools for believing in a coach, GM, and QB that right now are making them all look like fools.
What does the future hold?
Let's be totally honest right now. This Jets team is not very good.
This is only the beginning for what could become possibly the worst season in team history considering the expectations this team had. The defeat of New England and consecutive championship game appearances are long gone. If the Jets think that things are bad now, just wait until Sunday's game is over, and if a very poor Patriots defense dominates the Jets and makes Sanchez look bad, it's anyone's guess as to who will jump ship first. There are plenty of candidates with players like Holmes and Burress, who came here to win, not to be shown up by an overrated QB. 
It's very rare that a team looks as bad as the Jets looked last night. That wasn't just a team playing poorly; that was a team that is bad. It's very possible that everyone in the media and NFL overvalued the talent on this team and the fact that Sanchez was better than he is. The Jets' worst nightmares are coming true right in front of them, which is that Sanchez is not the answer at QB, the defense is old and slow, the offensive line is incapable of protecting the QB or running the ball, and the coach and GM are without answers as to what to do next.  
I know this is a harsh depiction of this team right now, but after watching last night's game, it's very clear to me that this is a bad football team. The fans of the Jets deserve so much more for the love they have for this franchise. I really feel for a fanbase that shows up in droves and has to put up with years of torment and torture from other fans. I thought that Ryan and Tannenbaum understood this and really wanted to make a difference, but they appear to be as lost as the offense was last night.