Vernon Davis Needs to Be the Go-to Guy for the 49ers to Improve on Offense
October 3, 2011
Jamie Sabau/Getty Images
The San Francisco 49ers had an incredible come-from-behind victory against the Philadelphia Eagles on Sunday. Trailing 23-3 in the second half, the 49ers rallied to score 21 unanswered points and gutted out a 24-23 win. The 49ers now stand 3-1 and lead the NFC West by two full games.
I credit head coach Jim Harbaugh for giving the 49ers enough confidence and belief that they were able to pull out two come-from-behind wins in their past two games on the road. I also credit Harbaugh for listening to his star tight end Vernon Davis, when Davis came to him and discussed being a bigger part of the 49ers offense.
The timing of Davis' conversation with Harbaugh could not have been any better. Following a tough defeat to the Cowboys, Davis went to his head coach and we have seen very positive results.
In the two games since their discussion, Davis has been an integral part of the offense. Against the Bengals, Davis caught eight passes for a season-high 114 yards. This week, against the Eagles, the 49ers spread the ball around quite well. Davis had four receptions for 45 yards and a crucial touchdown.
Davis needs to be the focal point in the 49ers passing game. He is by far their best weapon. He creates huge matchup problems for opposing defenses. He is too fast to be covered by a linebacker and too big and strong to be covered by a defensive back. 
Opposing defenses have realized the threat that Davis poses. They often try to bracket him with double coverage or they will roll their zone to his side. The attention opposing defenses must pay to Davis also gives other receivers single coverage to work against.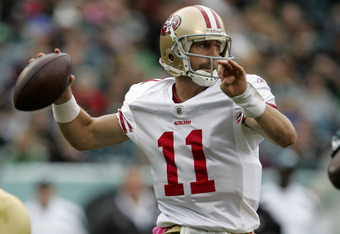 Rich Schultz/Getty Images
Harbaugh and offensive coordinator Greg Roman have also tried to employ formations and motion to isolate Davis, which makes it tougher for defenses to double cover him. It is no coincidence that, as Davis has become more involved in the Niner offense, the team has been making positive strides.
Davis is also a tremendous blocker. However, to keep him in as a blocker on a pass play is a mistake that Davis pointed out to Harbaugh after Week 2. It's fine if the 49ers use Davis to chip a pass rusher before he goes out into his pass pattern, but he must get out.  
Whether Davis is catching a pass or acting as a decoy, he is immensely valuable to the 49ers offense. The team will be well-served to continue getting the ball to Davis. He is, quite simply, their best playmaker in the passing game.
The Niners are off to a surprising start and their offense is improving. Along with continued improvement along the offensive line, Davis being the focal point in the passing game is a big key to the success of the 49ers offense.