2011 MLB Playoffs: Uncertainty Surrounds Yankees for A.J. Burnett's Game 4 Start
October 3, 2011
Jamie Squire/Getty Images
On Sunday afternoon, MLB.com reported that A.J. Burnett would get the start in Game 4 of the American League Division Series between the New York Yankees and the Detroit Tigers. Yankee manager Joe Girardi originally planned to use Burnett out of the bullpen in the ALDS, but with stud starter C.C. Sabathia expected to once again pitch in Monday's Game 3, the Yankees' plans changed.
Understandably, this move concerned Yankees fans and caused some heated discussion. Over the season, it was clear that Girardi and Yankees general manager Brian Cashman had faith in Burnett, but Burnett did not always repay that trust. He had a tendency to give up hits and home runs at the worst times, and he lost his temper more than once when things did not go his way in a game.
So should this be a concern for the Yankees as they could potentially look to put the Tigers away, or do they have nothing to worry about?
Burnett had a solid September in which he went 2-0 with a 4.30 ERA and totaled 36 strikeouts over five starts. His best performance came against the Boston Red Sox on Sept. 25, where he pitched seven and one-third innings and gave up just two runs. This was a refreshing change after a poor August, where he went 1-2 with an 11.91 ERA in five starts.
He finished the regular season with an 11-11 record and a 5.15 ERA in 33 games. His ERA was down from 5.26 in 2010, and he also somewhat improved on last year's 10-15 record. He also totaled more strikeouts in 2011 with 173, as opposed to his 145 in 2010.
When it comes to the postseason, he has only ever pitched with the Yankees. In six playoff games, he is 1-2 with a 5.67 ERA and 28 strikeouts.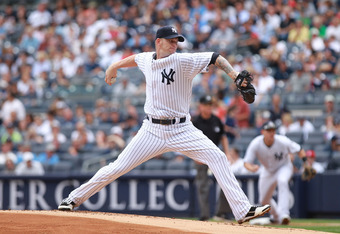 Nick Laham/Getty Images
Burnett has had his solid moments in the playoffs. In the 2009 World Series against the Philadelphia Phillies, he started Game 2 and pitched seven innings, striking out nine batters and allowing just one run to the then-reigning World Series champions.
Last year, Burnett did not pitch in the ALDS against the Minnesota Twins, but took the mound in the ALCS against the Texas Rangers. In the sixth inning of Game 4, a game in which the Yankees were attempting to tie the series, Burnett allowed a three-run home run to Bengie Molina as the Rangers cruised to a 10-3 win. The Rangers took the 3-1 series lead and eventually closed out the Bronx Bombers in six games.
He did get into the 2009 ALDS, which was also against the Twins. Although he did not receive a decision, he gave up just one run and posted a 1.50 ERA.
Burnett will be getting his first start at Comerica Park, and his road record this season leaves a lot to be desired. In 14 away games, he was 4-5 with a 6.28 ERA and gave up the most home runs (12) and runs (58) of any Yankees pitcher.
Despite many shortcomings, Burnett has shown he can turn in solid performances, and he has earned the backing of his teammates. In the MLB.com article, catcher Russell Martin feels that Burnett can carry the Yankees to ALDS success.
"I have all the confidence in the world in A.J.," Martin told MLB.com's Bryan Hoch. "He's had some good postseasons, so I think, in his mind, he's ready to go."
Yankee fans, though they pan Burnett when needed, have backed the pitcher when it's deserved. After strong outings, he receives a standing ovation from the home fans as his teammates wait to congratulate him in the dugout.
But that confidence isn't always widespread, just as it isn't with any player who is inconsistent. There are still some Yankees fans who would rather see Phil Hughes, their dog or their 85-year-old grandmother on that mound for Game 4, just as long as they don't have to watch Burnett. 
In order to hush his detractors, Burnett needs to take the mound in Detroit on Tuesday with the same power and confidence that helped him finish the regular season on a high note. He'll need to be the pitcher who helped the Yankees to their last World Series pennant, not the pitcher who gave up a back-breaking home run to put his team in a big hole in the 2010 ALCS.
But if we get the Burnett who throws so many wild pitches (he led the majors with 25 this year) that some wonder if Russell Martin needs to stretch more before catching for Burnett, then it's going to be a long night. And when it's over, the Yankee faithful will be screaming for Joe Girardi's head, saying he defends Burnett to the point of ridiculousness.
The Yankees could be going into Tuesday's game ready to send the Tigers home. Is Burnett really the right man for the job of finishing off the Yanks' first opponent?
I don't have a crystal ball, so I can't tell you which A.J. Burnett will show up.
I just hope it's the one who receives standing ovations at Yankee Stadium and allowed one run against some of the most dangerous hitters in baseball in 2009.
Alison Myers is covering the 2011 MLB Playoffs for Bleacher Report and is also an NHL Featured Columnist. You can e-mail her with questions, comments or writing opportunities at alison.myers@mail.com or request a follow on Twitter.