AP Football Rankings Week 5: 5 Teams Who Should Be In, 5 Teams Who Should Be out
October 2, 2011
Kevin C. Cox/Getty Images
Dazzling defensive stops, stunning offensive standouts and some of coaching's best play-calling define our list of the best in this week's Associated Press (AP) college football rankings. 
Making the cuts for those teams most worthy of mention include some surprises. 
Look for some Southern dogs to bury their preseason bones and the Spartans to armor up with a slate full of more energizing victories.
As for the worst teams in this week's poll, brace for some surprises. The Sunshine State is getting cloudy. So who out of the AP's picks should be in the poll and who should be out? Let's start in the south.
Who Should Be In: The Georgia Bulldogs
The Georgia Bulldogs have hunkered down enough to prove they are worthy of re-entering the Top 25 rankings. Mark Richt and his coaching staff have trimmed the hedges of this team's weak links and polished the shine on their standout players like Isaiah Crowell and Baccari Rambo.
In the first two quarters of their game against the Mississippi State Bulldogs on Saturday, the Dawgs wracked up 237 yards. Crowell has recorded three consecutive games of 100-plus yards. The Bulldogs are 3-2 and 2-1 in the SEC, but progressing with each week. Now, if they can work on conditioning this team to play 60 minutes, chances are they'll sway the votes their way, back between the hedges.
Who Should Be In: Michigan State
Those in doubt of the validity of Michigan State's defense can doubt no more after their 10-7 Big 10 win over an Ohio State team with swagger. Maybe the ciphering was off, but the Spartans were left out of the rankings this week, a move that many might deem inaccurate. Leaving Buckeye fans speechless, the men in green and white were 10 seconds from shutting out this Ohio State team in recovery from scandal and sanctions. It would have been the first shutout in the 40-game series that started in 1912.  
Next week, the Spartans will have another chance to catch the eye of the voters as they take on their rival at East Lansing.  The Spartans, 4-1 overall, are 1-0 in conference play, and we think they are worth a Top 25 mention.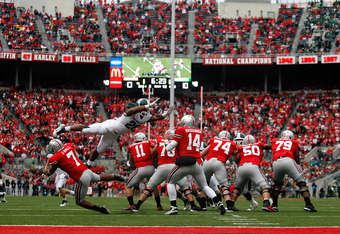 Kirk Irwin/Getty Images
Who Should Be In: SMU
Could a math error be to blame in the absence of SMU from this week's rankings? Their 40-33 upset of No. 20 (last week) TCU ended a 22-game home winning streak for the Horned Frogs. The sting came in overtime after TCU rallied to overcome a 16-point deficit in the fourth quarter. The Frogs tumbled out of the rankings, a fall that wasn't too far from where they started, at No. 25 in Week 2.
Who Should Be In: Pittsburgh
Pitttsburgh ran over South Florida (16) like Bama did to Florida in the Swamp. With Pitt's running back Ray Graham showcasing the battle of the Bulls and Panthers with 226 yards rushing and two touchdowns, this is a team that is underrated and deserving of a Top 25 slot. The 44-17 win over South Florida could be a message to the voters that quarterback Tino Sunseri's 216 yards worth of throws are for real. How real? Tune in to next week's matchup against Rutgers. They'll come in 3-2 and 1-0 in conference play. 
Who Should Be In: Washington
The Huskies' blowout (31-14) over Utah on Saturday went down in the book of firsts for this team. This was the largest margin for a road victory for this team since their 18-point win in 2007 at Stanford. Not only that, they spoiled a Utes record for a 10-game winning streak when coming off a bye week. Huskies quarterback Chris Polk rushed for 189 yards and now totals 3,172 yards, just 934 behind the school record-holder, Napoleon Kaufman.  
This team has a bye week next weekend before they venture into (Colorado) Buffalo territory on Oct. 15 with a 4-1, 2-0 in Pac -12 record.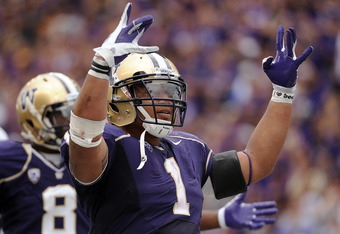 Harry How/Getty Images
Who Should Be Out of This Week's Rankings?
Dare we be the first to take the shine out of sunny Florida? Gasp! Say it isn't so. With their first string quarterback John Brantley possibly out as they head to LSUs Death Valley this weekend, the Florida Gators (4-1, 2-1) bring a banged up team into a tough conference road schedule. Their new head coach, Will Muschamp, builds a young team back to national prominence, and that may take this year to complete.
Dropping to No. 17 this week after Bama beat them 38-10, we're predicting the Gators will fall out of the Top 25 soon, followed by their rival, Florida State, now hanging on to their spot at No. 23 (2-2, 0-1).
Our final prediction for teams dropping out of the rankings include Virginia Tech, failing the test against a rising Clemson team yesterday, Baylor (3-1) and No. 24 Texas A&M (2-2), who put on a good show but not enough points to beat the Arkansas Razorbacks.