Arsenal Reaction: Should Park Chu-Young Be Preferred to Chamakh in Attack?
September 29, 2011
Clive Mason/Getty Images
It was a passage of play that was to become lost amid the media-encompassing swirl from Arsenal teen Alex Oxlade-Chamberlain's scintillating debut in last week's Carling Cup tie against Shrewsbury Town, but it gave me pause nonetheless.
With one swift movement Park Chu-Young, enjoying his first start in an Arsenal shirt that Wednesday night at the Emirates, neatly collected a pass in the inner-left portion of the Shrewsbury penalty area, cut back onto his right foot and fired a shot across goal that fizzed just wide of keeper Benjamin Smith's goal.
I paused my replay, rewound back and watched it again. It was a savvy bit of play from the South Korean international captain. But there was something else about it that grabbed my attention.
Then it came to me: Have I ever seen Marouane Chamakh do that?
As hard as I pressed my mental faculties, no bit of play from the languid Moroccan floated into mind. For all his admirable qualities (at the present moment, there are few), Chamakh will never be known as a striker who can create his own shot on a consistent basis.
His is a game predicated upon well-timed headers and courageous lunges onto crosses played into dangerous portions of the penalty area. He was at his best with Arsenal, and to a greater extent, previous club Bordeaux doing just that. One example: he gave Olympiakos fits in the Champions League Round of 16 in 2010 with his movement, constantly turning defenders with his darting runs into the six-yard area.
During his auspicious beginning to his Arsenal career in the fall of 2010, he became the link-up striker Arsenal had lacked ever since Nicklas Bendtner, well, lost himself in his ego. It was a consistent element that had been missing from Gunners attacks—we remember all too fondly Andrei Arshavin looking like a dwarf among men during his employment as the lone striker of the 4-3-3 due to the rash of injuries in the '09-10 winter.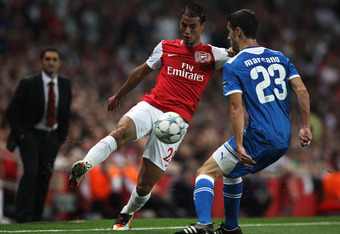 Clive Rose/Getty Images
Yet despite his prolonged run of good form, Robin van Persie was instantaneously preferred by Wenger as the central attacking fulcrum upon recovery from his ankle knock last winter. Chamakh didn't take to the media to vent his frustration, though he was clearly hard done-by. Rather, his confidence ebbed away.
Van Persie is far and away the more complete player, but the fact that Wenger elected not to pair the two of them in a 4-4-2 formation, as the Frenchman had previously done with van Persie and Emmanuel Adebayor in 2007-09, seemed to confirm that Wenger was intent on maintaining his 4-3-3 formation, predicated upon creative central midfielders and industrious side wingers swirling around a central forward technician with the ability to roam to devastating effect in the attacking third.
To his obvious chagrin, Chamakh came to stick out like a sore thumb when brought on in the latter stages of the 2010-11 campaign. His confidence drained like that last bit of bath water.
But to the Moroccan's credit, he has looked much more lively in attack this season when given the chance. And despite his slow start in Wednesday's Champions League fixture against Olympiakos, he came on strong in the second half, working well with teammates and holding up play with aplomb, before ceding to—you guessed it—Robin van Persie in the 71st minute.
It is obvious that a mobile, industrious central forward is essential to Wenger's 4-3-3. Van Persie fills that role expertly—he can join up in attack, or link up play wonderfully as he drops into deeper-lying roles, playing in wingers or attacking midfielders behind the defense. It is that dynamism going forward that separates van Persie from his taller colleague.
Back to Park—the Korean has seen too little time to be presented with an accurate assessment, but I did watch him play with Monaco back in January 2010, when the principality side came up to Paris to take on PSG at the Parc des Princes.
Park was on his own in attack that night, and while Monaco would win on the back of a howler of an own goal by Parisien keeper Apouala Edel, the Monaco point man gave quite a good account for himself.
He is technically proficient, and far more accustomed to attacking defenses at speed than Chamakh, who can hold up play brilliantly when on form, but leaves something to be desired in 1 v 1 situations.
We remember how Zlatan Ibrahimovic—perhaps unfairly—never truly integrated the Barcelona side he had joined in 2009-10 after the Eto'o swap deal. For all his obvious talent and ability to hold up play, the lanky Swede never quite meshed with the quick, fluid passing that has come to define recent Blaugrana sides.
Within a year, he was deemed surplus to requirements, effectively replaced with the signing of David Villa, who proved much more at home with the Catalan play predicated upon passing and rampant movement.
Chamakh (though no one will ever confuse him with Ibrahimovic) appears to fall into that same register with Arsenal. It's a bit of a problem, really.
Glaringly ineffective when used in the 4-3-3, he can still be brought on as an impact sub when Arsenal are forced to press forward in attack, launching balls into the attacking third—see the Blackburn game, where Chamakh entered as a substitute, and headed home the third Arsenal goal, which nearly brought the Gunners back from the death.
While he lacks the season's-worth of Premiership football that Chamakh can claim, Park has Champions League experience (three games' worth with Monaco), and looked in his element in attack against Shrewsbury, a decidedly "English" opponent, what with their playing style and defensive shape.
Tottenham are certainly a step up (as much as I hate to say it about the "other" North Londoners) talent-wise, but why not nudge Park in before Chamakh in the strikers' depth chart?
He might as well be given a shot, seeing as how Chamakh has done little to merit a starting role, particularly after his slow beginning against Olympiakos.