F1: A Defence of Lewis Hamilton Amidst Singapore Sorrow
September 27, 2011
Paul Gilham/Getty Images
Singapore in mid-September is known for a few things; tropical thunderstorms, bronzing ex-pats and the glamour of a night-time Formula One event.
Two days from yet another incident-filled race for Lewis Hamilton, yet more criticism has been leveled against the 26-year-old from Stevenage. Caught up in another skirmish, this time with ex-championship rival Felipe Massa, the young Briton has found himself at the centre of a storm on more than one occasion in 2011.
Many conclusions have been reached regarding the state of Hamilton's mind, or the level of his driving ability. From an acrimonious personal life to an overrated set of driving skills, every man and his dog has put forth his own reason for the 2008 World Champion's various misdemeanours in a tough season that has seen Sebastian Vettel utterly dominate.
Whilst Hamilton has not been involved in what one may determine as a serious, life-threatening or overly dangerous incident during 2011, he has had a number of niggling, avoidable shunts with others.
Some may agree and some may not on where the fault should lie with the aforementioned events. It has certainly appeared that the long-hoped for consistency from Formula One's stewards has been on the wane this year, with Hamilton being sat on the proverbial naughty step where others may have gotten away with such behaviour.
What is causing Lewis Hamilton to be involved in a larger than usual number of incidents? One must analyse the circumstances of man, machinery and environment in order to answer such a question. 
Following on from the end of 2009, it was clear that the Red Bull team had begun building a fundamental base on which to showcase the wizardry of Adrian Newey's mind. They slowly began to gain strength, success and championships, which culminated in capturing both titles on offer in 2010.
Paul Gilham/Getty Images
The degree with which Red Bull held the upper hand ascended at the beginning of 2011, after a scintillating 2010 season in which five drivers were involved in the race for the title. Consequently, every driver that isn't named Sebastian Vettel has been forced to drive at, and over, the limit in order to taste victory.
Hamilton has carved out a reputation as a driver who takes risks, who drives on the very edge of adhesion in order to capture the elusive thousandth of a second that will propel him to top spot.
As somebody with a small degree of racing experience, and one who has been criticised for being overly-competitive, I sympathise with the mindset of Hamilton.
The ultimate pursuit of racing glory sheds away any distraction aside from the 50 metres in front of you, the apex of the corner that you're about to hit and the sounds and movements of what is in your hands and underneath your posterior.
The car is an extension of the body, one controls himself when he controls his machinery. You straighten the corner, fly over raised kerbs and physically push yourself forwards and down.
In this mindset, any wandering distraction can raise negative tension to the extent that you assume that it's not there. When it's finished, you walk away. Elated. Elated that you've pushed yourself to the limit and captured the essence of what it is to race.
In Formula One, there is more than one type of person who succeeds. To be successful, you must not only be cunning to the extent that you have to manage your relationships and possess a political mind that guarantees you the correct set of circumstances at all times, but you must possess a racing spirit.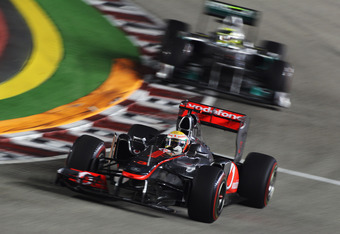 Mark Thompson/Getty Images
The latter guarantees you speed and thrill, and usually comes with a natural gift that not everybody possesses. Hamilton carries with him such a natural feel, a talent that cannot be taught and can only be felt, that he needs little improvement.
Lewis does, however, need a readjustment in his mindset. His pure, racing mind needs to be afforded an on/off switch, as he cannot carry on trying to compensate the lack of pace relative to Red Bull with his own natural skill. Mistakes are inherently made.
Incidents such as his tangle with Massa on Sunday are mistakes. To take the case in point, Lewis was not attempting to overtake as he briefly locked up on Felipe's outside and clipped his front wing on the Brazilian's rear-right tyre. No.
Such was his eagerness and drive to get past, it was simply a misjudgement as he cut in, in order to gain speed on Massa's outside for the next corner who had compromised his line to defend from Hamilton.
I shall argue that Singapore saw the best from Hamilton. Aside from what was, without a doubt, a misjudgement of minimal proportions, Lewis used his inherent speed to pick cars off without locking a wheel or making overly-reckless moves.
Lewis Hamilton doesn't need to calm down, he needs to remember why he loves racing. The elation of driving almost subconsciously, the increasing thrill of getting nearer the front as you pass one after the other.
One can't win all the time, it's part of racing—and it's why we love it. It's the pursuit of victory Lewis, not the automatic victory.
As Michael Schumacher once wisely commented; drive fast, don't crash.