Aaron Curry Trade Rumors: 3 Teams That Would Revitalize Curry's Career
September 26, 2011
Andy Lyons/Getty Images
Aaron Curry was supposed to be a can't-miss product. He is missing. Curry is battling for a starting spot on the Seahawks with rookie fourth-rounder K.J. Wright. It is not all that surprising.
Curry has been a disappointment. He has just five sacks in three years, and the Seahawks renegotiated his contract this offseason, which left him with an guaranteed salary for next season. 
He has the athletic ability to succeed, he just hasn't been a good fit for Seattle.
Curry is 6'2", 255 pounds, and has 4.52 speed, but he has toiled as a strongside linebacker. Curry needs more freedom and a chance to rush the passer to show off his athletic ability.
According to one NFL executive, quoted on boston.com: "Curry may ultimately be better with a hand on the ground."
Here are three teams that would help Curry get his career going.

New York Jets
Rex Ryan knows how to put his players in a position to succeed. He is constantly aligning his defense with different fronts, and utilizes exotic blitz packages.
Ryan loves to send his linebackers after the QB. He also has plenty of linebackers with the strength to hold the edge and play the strong side. This would free up Curry to get after the passer and keep an eye on backs on the weak side.
The Jets are also in dire need of his athleticism. The Raiders ground game exposed the Jets' slow linebackers.

Oakland Raiders
The Raiders have been accumulating big linebackers. Al Davis has also always loved to take former first-round draft choices and put them in a position to succeed.
They recently did this with Kamerion Wimbley. Wimbley moved to linebacker from defensive end. While he spends the majority of his time at linebacker, Wimbley puts his hand in the dirt on passing downs and has had great success rushing the passer.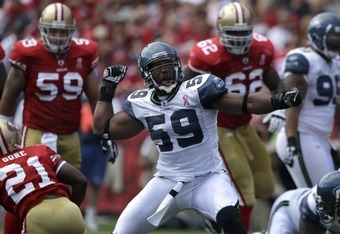 Curry would give the Raiders a similar player on the weakside. While Curry is not the surest of tacklers, he would be a step up from current Will, Quentin Groves.
The Raiders would find downs to move Groves onto the line and let him rush the passer, and Curry would spend the rest of his snaps solidifying the Raiders' weak side.

New England Patriots
Bill Belichick is not afraid to take others' castoffs. He also has plenty of picks to deal for players in a trade.
The Patriots defense is in dire need of a pass rusher. They are being picked apart by opposing QBs.
Curry could come into New England as a pass rush specialist, and Belichick has gotten pass rush production out of players with far less athletic ability than Curry in the past.